The rise of public cloud and its modern consumption models have shaken up the enterprise technology industry. This shake-up is particularly evident when it comes to storage.
Sizing for datacenter storage is not an exact science. It requires an in-depth analysis of data change rate and storage efficiency, for example. It also takes into account guesstimates as to what future growth could be. All of that work leads to a rough idea as to what storage requirements should be. When it comes to such a large capital investment, is 'should' a realistic consideration? Until cloud storage came along, it was pretty much the only option.
Now that cloud is mainstream, organizations realize that OpEx pricing models are here to stay. In addition to paying only for consumption, the public cloud makes storage provisioning as easy as a few mouse clicks. Simplicity and flexibility are two huge factors in the explosive growth of public cloud storage.
SaaS
While the public cloud has many attractive features, enterprise organizations still have business-critical workloads running in private cloud environments. Some of these workloads are not necessarily viable for lift and shift or ready for refactoring or modernization. That means traditional storage infrastructure is still a requirement for private cloud, but it doesn't have to also come with conventional CapEx pricing.
Pure Storage is no stranger to innovation when it comes to product offerings. Pure has been a storage technology leader and pushed the envelope from a traditional storage CapEx standpoint with its Evergreen subscription model. This innovation helped propel Pure Storage to the front of an already crowded storage landscape by giving customers a longer runway for their storage investments. It also helped customers think about things like upgrades and maintenance in a completely different light.
Simultaneously, public cloud adoption has been growing steadily, bringing a whole new set of customer expectations regarding technology. The ability to provision on-demand, pay for only what you consume, and unburden from complex management operations are a few of the vast public cloud drivers. This may seem very easy for the large cloud providers to pull off, but is this cloud-like consumption even a possibility for enterprise storage?
Pure as-a-Service is new storage as a service (SaaS) offering that aims to bring modern, cloud-like consumption to the world of private cloud storage. This SaaS service is the next step in the evolution away from traditional hardware purchases or leases to make storage more consumable in the cloud era.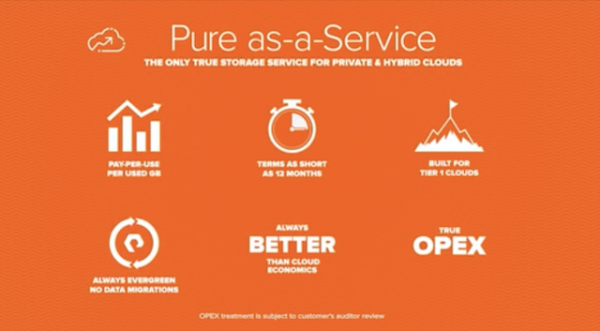 Requirements
The Pure as-a-Service platform gets off the ground floor with a 50 TB and 12-month minimum commitment. Hardware required for the service is owned, installed, and maintained by Pure Storage. The subscription also includes access to the Pure Cloud Block store, which allows for AWS native storage to integrate with the Pure ecosystem. Pure1 is the management platform that gives visibility across the entire Pure Storage hybrid cloud infrastructure.
The full spectrum of storage services (Block, File, and Object) are available with Pure as-a-Service. There are also different performance tiers available to choose from and a capacity tier for Block storage. With the Pure1 storage management platform, full Rest API access is available for cloud-scale operations.
Cloud brings a whole new set of offerings and platforms to choose from that change the way we think about enterprise technology. Pure as-a-Service enables customers to utilize a modern storage platform across their private and hybrid cloud infrastructure with an OpEx consumption model. Enterprise storage will continue to bridge the gap between on-prem and cloud thanks to innovative storage platforms like Pure as-a-Service.