The Pure//Launch event saw Pure Storage announce two new services alongside an AI-enhanced Pure1 management service. Unlike launches from storage vendors in the past, the Pure//Launch event made no mention of new arrays, new flashy bezels or any word of hardware at all. Instead, the Pure//Launch event focused purely on Pure's vision for the future and the announcement of two brand new service offerings to help customers transition to the latest DevOps led world of IT, led by the movement to modern applications by enterprise businesses.
Following the launch, I was lucky enough to meet with Ajay Singh, Chief Product Officer of Pure Storage, to discuss his initial 10 months with Pure, the Pure vision, and to find out more about these announcements. (You can watch the interview in full at the bottom of this blog post)
The Bottleneck Between Dev and Ops
When Pure discussed the announcements and their vision, two sentiments stood out: Pure is helping IT operations Teams become the new Data Services Providers and "Reducing Human Middleware". I felt these summarised well the direction of travel in both enterprise IT and the announcements from Pure.
With agile IT practises and a focus on modern applications, developers need quick and easy access to the resources that matter to help them improve the time to value. Container-based technologies now mean that it is easier than ever before to develop modern applications. However, there often becomes a bottleneck between dev and ops and between modern IT and traditional. This bottleneck is what Pure describe as human middleware. For example, if the developer needs to log tickets to request storage provision or storage operations or if ops need to manually manage day two operations for new or changed services, the time to value is slowed down dramatically. These manual interventions are precisely where the announcements from Pure are focusing, ultimately helping IT Operations Teams to become internal Data Services Providers, delivering services accessible as code to the developers whilst inherently taking control of day two operations.
Pure Fusion
The first announcement from Pure was Pure Fusion, allowing you to unify all of your Pure assets across the enterprise into one single storage cloud. Allowing it to be consumed via a storage as code API whilst intelligent data services help take control of elements such as scale, self-service, workload management and more. Effectively, this makes the complexities of the storage transparent to the dev team whilst allowing operations to configure policy and ensure that the storage needs are effectively managed.
Portworx Data Services
The second announcement focused on furthering the capabilities of Pure's Kubernetes-focused offering PortWorx. PortWorx data services allows users to deploy fully managed data services quickly and easily on top of Kubernetes. Supported are services such as Cassandra, Elasticsearch, Kafka, MongoDB, and more. These services aren't just deployed through full-service automation, but day two operations such as availability, backup, monitoring, compliance, and more are also taken care of. Often when the speed of change is high, these are areas that can get overlooked.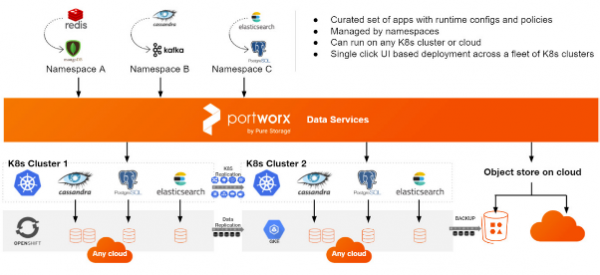 Pure1
The final announcements focused on innovations in Pure's AI-Driven IT Operations platform Pure1. These updates allow IT operations teams to have further visibility into their Pure estate, including Service Level Agreements, monitoring applications protected by SafeMode snapshots, and visualizing their PortWorx container infrastructure. Importantly Pure1 allows for proactive management by delivering recommended actions for workload optimization ahead of time.
Final Thoughts
I have been impressed to see how Pure Storage has embraced modern IT standards, firstly with the acquisition of PortWorx and ultimately leaving this as a product that can still work alongside other storage vendors whilst integrating with the Pure Storage Platform. And now, by further embracing a services strategy that adds real value to their customers and isn't just an attempt to switch a Capex model into an Opex model like many are doing.
With these announcements, Pure is bringing a set of services that will bring real value to IT operations teams, helping them deal with the increasing demand for speed to deliver services coming from developers and the business and ultimately helping the IT Operations Teams of today become the Data Services Providers of tomorrow.