You will know that Pure Storage has a focus on simplifying storage in everything they do. Pure1 Edge Services takes you one step closer to delivering storage with SaaS-like simplicity.
Recently, I met with Pure's Prakash Darji to discuss Pure1 Edge Services. Prakash spoke about the need for data to be close to the associated applications. However, this creates challenges for multi-point management. Taking inspiration from IoT models, Pure1 Edge Services delivers a smart connected control plane for your Pure Storage Arrays.
Pure1 Edge Services allows administrators to treat Pure Storage arrays as edge devices that can be run, operated, and managed centrally via policy. Pure1 Edge Services provides secure communication to a trusted agent, enabled by storage admins and run directly on the array. This agent creates a secured connection to Pure1 in the cloud allowing it to receive relevant updates and instructions.
Pure1 Edge Services has been built on a framework of trust, utilizing the latest in security standards seen in mission critical IoT and edge connected solutions worldwide. Today we trust our cars, security systems and more to be cloud-connected; it's time for storage to be connected, enabled, and trusted in the same way.
With Pure1 Edge Services you will be able to evaluate and configure centralized policies. These policies can be deployed to the arrays as required. This allows for not just smart recommendations but smart actions to take place.
Today there are 3 solutions currently available via Pure1 Edge Services
Self-Service Upgrade Services – With Pure1 Edge Services you can configure policies to control automated non disruptive storage updates. We live in a world where security vulnerabilities are detected daily. With Pure1 Edge Services, based upon the configured policy, these vulnerabilities can be quickly and effectively mitigated without user or Pure support intervention.
Pure Fusion – Pure Fusion utilizes Pure1 Edge Services to undertake centralized policy-based management. Tasks like workload rebalances can be orchestrated based upon defined policies.
Purity Optimization Agent – Automated Issue Mitigation – With the Purity Optimization Agent, customers are able approve recommended corrective actions on their devices. Once approved the updates are automatically downloaded, verified, and installed.
This however is just the beginning for Pure1 Edge Services. Pure1 Edge Services sets the foundations for future possibility. Imagine a future where your storage can utilize its own intelligence to not just help you make decisions, but to make the decisions based upon your defined needs.
Final Thoughts
I am seeing Pure Storage tackle the challenge of storage in different and innovative ways. Their mission to simplify storage is far reaching, from their arrays to cloud and containers. But what is of real interest to me is the connection between the business and the technology. Pure are building a future where storage can be orchestrated based upon business needs and smart intelligence. Gone will be the days when daily monitoring and manual tasks need to be undertaken. Gone will be the days when careful consideration and deep analysis will need to be made before placing a workload. With smart connected storage solutions, you will focus on centrally setting policy, defining outcomes and needs, whilst the centralized cloud control plane will make the decisions to achieve these goals across your storage estate.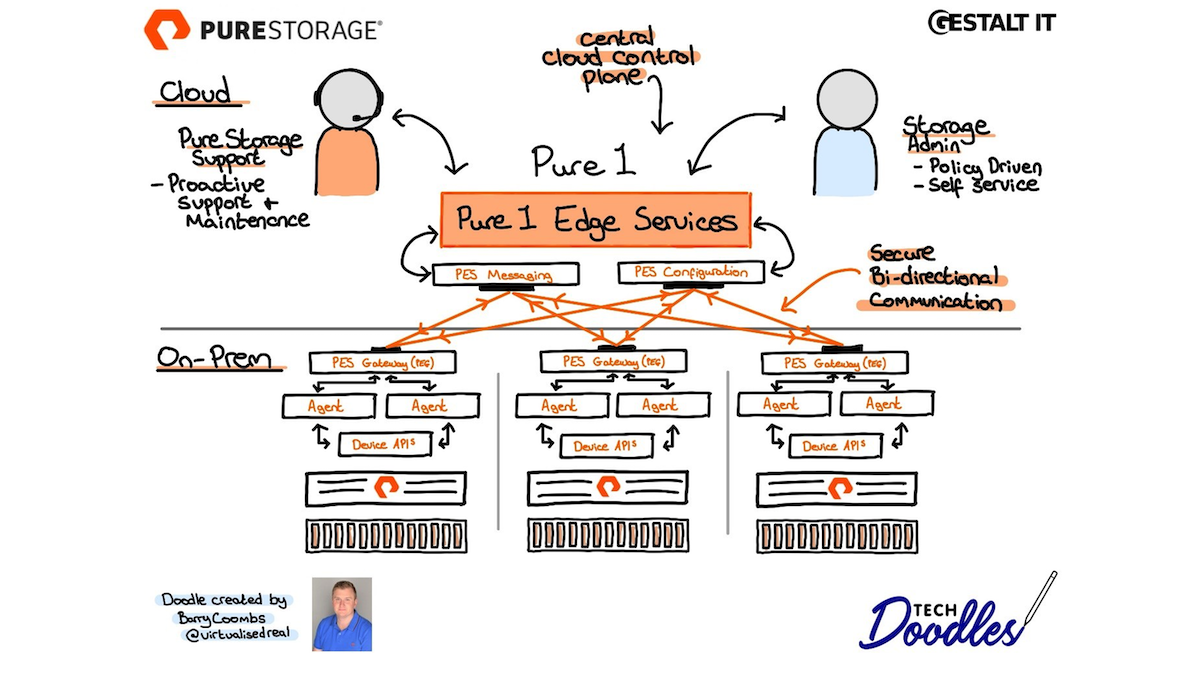 Guest
Prakash Darji, General Manager of the Digital Experience Business Unit
Moderator
Barry Coombs
Follow us on Twitter and SUBSCRIBE to our newsletter for more great coverage right in your inbox.