Recently, I had the privilege to attend a special Tech Field Day Exclusive event in which Scality launched their ARTESCA product. ARTESCA is a lightweight, cloud-native object storage solution deployed on and orchestrated by Kubernetes.
Launch Details
The interesting part of the launch is that they are partnering with HPE exclusively for the first six months, as well as a cloud service through HPE GreenLake. This will be supported on a broad range of all-flash and hybrid intelligent storage servers. According to their published announcement, they are offering subscriptions in one, three, and five-year procurement models starting at $3800 per year, including 24/7 enterprise support.
Enterprise, DevOps or Both
According to Scality, they are tackling the Enterprise DevOps challenge of long-term data retention across multiple clouds and the edge with their target audiences being application owners and DevOps engineers that don't have to be storage experts.
For me, this is where things get a bit blurred on their lane or lanes. During our session, I asked the question of whether or not they should choose a lane and stay in it. In no way at all do I know this answer. I feel this is where the challenge might come in. From my experience in DevOps and Enterprise, the direction and decisions generally do not align, especially around buying software. But again, I possibly may be looking at this in the wrong context. However, this is a challenge that I can foresee as being an issue. But it possibly could not, and I am not going to spend too much time here trying to debate that.
S3
ARTESCA provides S3-compatible object storage, which does bring a lot of value to cloud-native solutions. This in itself should make application development with other S3 object storage simple enough to integrate. And, from an Enterprise perspective, the fact that ARTESCA does provide Enterprise features that other S3 solutions do not provide, such as the visibility and control of data across multiple clouds from a centralized management perspective.
Edge, Core, and Cloud
ARTESCA is positioned as a solution to address use-cases at the edge, in the datacenter, and the public cloud. The value prop here is that a consistent solution can be used in each scenario, and, at the same time, provide the ability to centrally manage globally in a single namespace.
During the event, I had been extremely interested in hearing more about edge use-cases. As usual, handling data at the edge does not generally come with ease. Once I got my head wrapped around using ARTESCA at the edge, some very interesting ideas came to mind. One particular use-case would be from a big-data perspective. Providing the ability to ship data from the edge back to performing big-data analytics.
The fact that containers are at the edge makes a lot of sense in many cases. The data consumption using a solution like ARTESCA could simplify some of the challenges. But again, this opens up a lot of really interesting use-cases.
Architecture
From an architecture perspective, ARTESCA hits all of the key elements of a cloud-native design: A truly distributed, containerized, scale-out S3 object-storage solution, including load-balancing. And, regarding security, ARTESCA supports multi-tenancy using the AWS IAM model.
Scality is currently distributing their solution leveraging MetalK8s, which is a custom Kubernetes distribution meant for bare-metal deployments. They have plans of supporting additional Kubernetes distributions and deployments in the future. I'd like to see additional container orchestration solutions supported, in addition to Kubernetes as well. But they are still evaluating this, so stay tuned for that.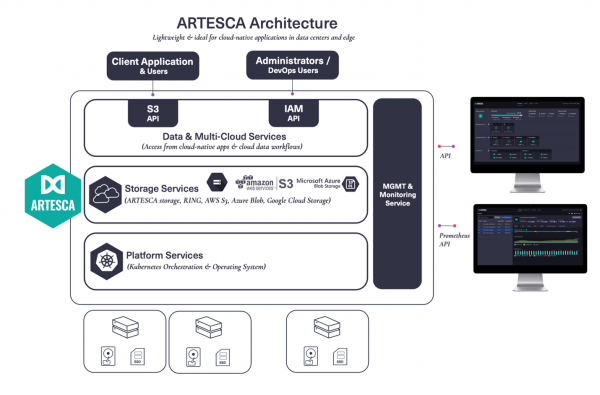 Conclusion
Overall, I feel there is a lot of value that a solution such as ARTESCA can provide. Even though I got caught up in the Enterprise and DevOps angle, which should not take away from what ARTESCA brings to the table. I find the solution very interesting and would like to dig deeper into it to get a better sense of its potential and use cases.