The life of a network operations engineer is becoming more complicated every day. There are more devices than ever before demanding network bandwidth, and every company must react to these demands in their unique way. Configurations and standards that may work for a college don't necessarily make sense for a financial firm, for instance. Many customers may not even know there are issues on their network until they become a severe problem. Aruba hopes to help customers ease the network operations team's pain using artificial intelligence with the Aruba Edge Services Platform (ESP). It introduced the platform and described its vision for AI Operations (AIOps) at AI Field Day last fall.
Operations Meets AI
AIOps is a relatively new term in the operations industry. In 2019, Gartner addressed and defined AIOps: "Artificial Intelligence for IT Operations combines big data and machine learning to automate IT Operations processes, including event correlation, anomaly detection, and causality determination."
Operations teams already rely on logging and event data to determine their environments' health, but it can be challenging to separate the signal from noise. Applying trained AI models to this data at scale can enable the software to predict issues accurately and allow the operations teams to react appropriately. Beyond intelligent alerting, AI has the potential to reduce time to resolution and even identify scenarios that could lead to problems before they become issues in the first place.
Aruba ESP Combines Operations and AI
Aruba created ESP to help network operations teams automate and protect their networks. The platform consists of three pillars: AIOps, Unified Infrastructure, and Zero Trust Security.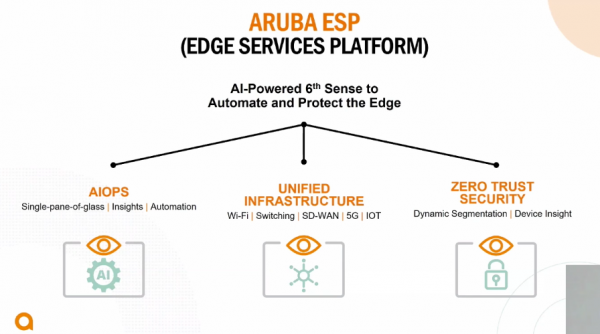 The AIOps pillar gives its customers a single pane of glass portal for their networking environment. This portal provides a view of their entire network, providing insights into areas that need attention, areas of improvement, and provides opportunities to automate. These services are unified through the entire Aruba infrastructure and provide dynamic segmentation and device insights for any client using the network. These capabilities combine to provide an AI-powered platform that works almost like a sixth sense for network operations, predicting problems and enabling quick resolution.
Great AI Operations Requires Great Data
Aruba AIOps aims to accomplish three primary outcomes: Resolving known issues, identifying and resolving unknown issues, and continuously optimizing the network. Aruba ESP can only achieve these three outcomes with an effective model. An AI model is only as good as its data, and Aruba has amassed a data lake of information taken from millions of devices across all industry verticals. Data is collected from more than one million devices and 55 million clients, providing a diverse set of real-world use cases. Aruba uses this extremely rich data to train the model, which provides informed insights into a customer's specific situation.
Many customers purchase equipment and use the default factory configuration. A default configuration may work for a small office, but the configuration is generic and unoptimized. AIOps can look at a customer's network data and provide insights to recommend changing specific configuration settings to optimize the device. An access point configured in an office may need to be adjusted to optimize for web meeting traffic. In contrast, a stadium may need to configure its access points to better handle device handoff as a mobile device moves through the facility. AIOps enables customers to realize these specifications and suggest changes based on their collection of 65,000+ customer configurations saved in their data lake.
Artificial Intelligence can ease the pain of network operations. The Aruba ESP platform evaluates a customer's specific environment using AI trained by the vast amount of data from their data lake. In short, Aruba ESP has seen it all, and this insight will help their customers understand their environment better and help it perform optimally. To check out Aruba ESP and see the insights in action, watch Arbua's videos from AI Field Day.