Organizations around the world have embraced the cloud, integrating cloud-native solutions into their existing infrastructure environment. Adopting a hybrid cloud model enables an enterprise to make intelligent decisions for where their data lives and how it is processed. Scality creates scale-out storage and multi-cloud data management solutions to help their customers manage their data at scale. They presented their RING and Zenko platforms at March's Cloud Field Day event.
Data is Everywhere
Managing data on a single platform is a complicated endeavor. The level of effort required to provide, secure, and protect performant, petabyte-scale storage becomes more challenging if there are multiple vendor solutions in the environment.
Workflows created for an on-premises storage solution won't directly translate to a different vendor or a cloud provider. The more target destinations an organization uses, the higher the chances of a critical breakdown in performance or security processes. The risks to the organization are very high without a solution to allow operators to manage data consistently.
RING Hybrid Cloud Storage
RING is Scality's scale-out file and object storage platform. It leverages commodity hardware to provide a petabyte-scale storage system. RING's distributed architecture enables its customers to architect a system that is highly performant and durable. Enterprises demand hybrid cloud features that extend beyond RING's core feature set, so Scality decided to focus development effort on solutions for 3 commonly requested hybrid cloud data use-cases:
On-premises to cloud archiving
On-premises to cloud compute bursting
On-premises to cloud disaster recovery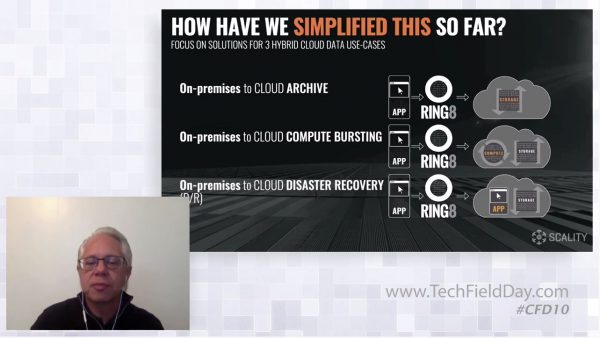 Scality addresses their customer's use-cases by integrating RING with the public cloud providers. They can directly address a cold-storage solution like AWS Glacier to archive on-premises data directly to the cloud. They can replicate data into a cloud object storage solution for cloud-bursting. Powerful cloud compute instances can process the data on-demand, enabling outcomes that weren't possible on-premises. Finally, they can keep a mirrored copy of their data in a public cloud, enabling business continuity in the event of a disaster.
Zenko Multi-Cloud Manager Simplifies Hybrid Storage
Scality RING provides powerful hybrid cloud storage capabilities, though Scality knows that customers have data everywhere and need one unified console to view, manage, and secure that data, no matter where it resides. Zenko is Scality's open-source multi-cloud management software, designed to manage data across multiple cloud providers and on-premises storage. Zenko enables a global namespace across on-premises storage providers like RING, NAS, or third-party object storage systems and public clouds. Zenko translates their API calls into the native API for all compatible providers, enabling developers to use one API for all their data management operations, no matter where the data resides.
Zenko is metadata aware and allows users to add metadata to any of their managed data. Metadata tagging enables data management policy enforcement. Storage administrators can craft policies to specify where specific data types can be stored, which clouds and locations the data can reside in due to regulatory and sovereignty requirements, and extract information from the data to store as metadata tags.
Hybrid data management is a critical consideration for the success of an organization's storage strategy. Without a cohesive strategy and proper tooling, the data sprawl and differences in vendors and cloud providers can overwhelm operations. Scality offers RING hybrid storage and Zenko multi-cloud manager as a solution suite to manage storage and provide hybrid cloud features to their customers while offering strong policy-based management and powerful metadata searches. Customers can find any of their data, no matter if it's in the cloud or on-premises, in a simple and secure portal.
To learn more about Scality, check out their recent Cloud Field Day presentation.