The diminishing effect of Moore's Law has meant that vendors and organizations have needed to look beyond the CPU for optimizing performance and scaling. Innovations like hardware acceleration cards and Intel Optane Persistent Memory have risen to solve these challenges. During a recent Storage Field Day appearance, Intel showcased a few of its Optane customers and asked them to share some of their experiences and lessons learned when adding Optane to their datacenter or implementing Optane into their solutions.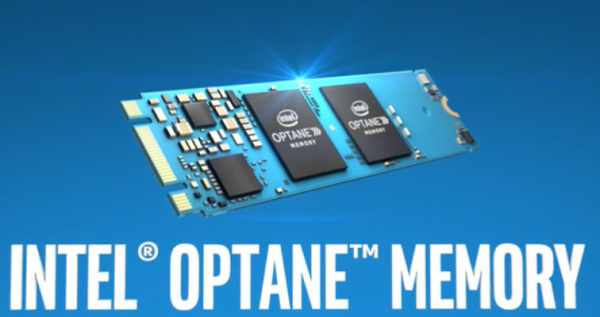 On-Premises Workloads Need Speed, Too.
Fear of the cost of public cloud, security concerns, and a myriad of other requirements means that some workloads are on-premises for the foreseeable future. However, the same desire for scalability and performance that customers demand from the public cloud also exists for on-premises workloads.
The slowdown of Moore's Law and what it means to processor speeds means throwing additional CPUs at performance or scaling problems can be wastefully inefficient. A crop of solutions aimed at offloading tasks from the processor or caching memory has risen in a quest to optimize performance and scale workloads.
The Path to Leveraging Persistent Memory
During its Storage Field Day presentation, Intel invited some of its Optane customers to talk about their experiences and lessons learned when adding Optane to their datacenter or when implementing Optane into their solutions. Before delving into any of these stories, let's clarify what Intel Optane is. Intel Optane refers to two different storage/memory solutions: Solid State Drives and Persistent Memory (PMem). Both forms of Optane accelerate workloads. For this post, though, we'll focus primarily on Optane™ PMem.
PMem also includes other benefits like offering greater memory capacity. Optane™ PMem resides in a server's memory bus. In app direct mode, PMem is both persistent and byte-addressable. In memory mode, PMem looks like DRAM to systems and has no persistence. Previously, organizations that wanted to take advantage of the performance gains and byte-addressability of Optane™ PMem often needed to re-write their applications or leverage a third-party solution to leverage this performant, persistent memory.
Additionally, implementing Optane™ PMem solutions usually meant working directly with Intel and setting up Proofs-of-Concept (POC) to work through how to best configure and implement PMem in their environment. This struggle has almost reached an end for general-purpose PMem implementations. Intel now has customers in production that skipped the POC processes altogether. White papers on sizing and configuration with pre-configured SKUs for Optane™ PMem solutions make it much easier for organizations to add persistent memory to their environments.
Customer Story: Running Optane Persistent Memory on vSphere Workloads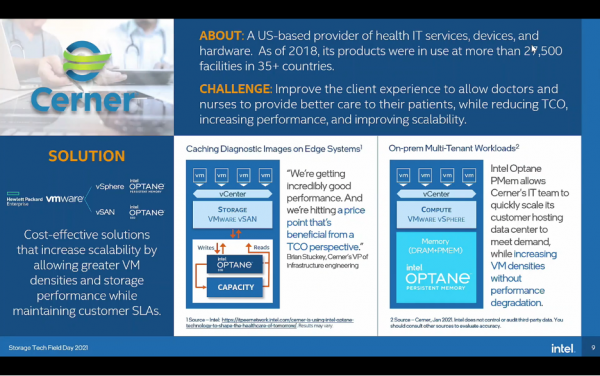 First up at Intel's customer roundtable was global electronic medical record provider, Cerner. Cerner leveraged both Optane SSDs and PMem. Optane™ PMem accelerates on-premises vSphere workloads with vSAN for storage and allowed for greater VM density per ESXi host. Intel worked with Cerner to determine what workloads would benefit from the addition of PMem. With greater VM density, Cerner didn't need to add additional hosts. The hosts with PMem added also had networking and storage upgraded to minimize any performance bottlenecks. Cerner is only one of a few stories from Intel's Storage Field Day presentation.
Conclusion
Intel shared the stories of a few of its Optane customers. Additionally, vendors like VAST and Pure Storage have added Optane to their offerings. VAST storage was one of Intel's customer stories shared during the event.
One of the challenges around PMem, though, has always been implementation. As PMem adoption picks up, Intel has been able to make deployment less complex and more straightforward. To learn more about Optane and hear the stories of Intel's Optane customers, check out Intel's Storage Field Day presentation.