Enterprise applications are evolving thanks to the adoption of cloud computing. Organizations are keen to take advantage of the flexibility, elasticity, and simplicity of cloud computing, though some workloads don't typically fit that model. Core enterprise applications, such as SAP HANA, are typically unable to be migrated.
How can an enterprise combine the tried-and-true model of on-premises enterprise applications supported by proven solutions with the new paradigm of moving to the cloud? Azure NetApp Files is a native Azure solution developed by NetApp designed to provide enterprise-grade performance and features of an on-premises NetApp solution into the cloud. Jeff Whitaker, Sr. Manager Public Cloud Services, discussed Azure NetApp Files and how it can enable core enterprise applications in the cloud at Cloud Field Day in November.
Migration Comes Down to "What Do You Want to Do?"
Migrating applications to the cloud is an exercise in opportunity costs. An organization needs a solid plan for what they want to accomplish and where they want to direct their efforts. They can choose to rehost, refactor, rearchitect, or rebuild their applications. Rebuilding an application typically reduces the operational costs of running an application in the cloud. However, it requires significant redevelopment and assumes the application can operate with cloud-native solutions. Many enterprise applications aren't developed internally and may not be compatible with the cloud.
Businesses often decide to rehost these applications. Rehosting reduces the time to market for moving an application to the cloud by lifting and shifting the servers into the cloud. The downside is that the cloud doesn't behave exactly like a datacenter, and many foundational services aren't available or are not as feature-rich as their on-premises counterparts. Cloud File Services are notoriously challenging to implement and require a DevOps team to manage compute instances that serve NFS file shares. Even if they adopt this needlessly complicated architecture, the performance is lacking, requiring expensive overprovisioning of compute resources to compensate for slow performance in the storage layer.
Azure NetApp Files Brings Enterprise File Storage to Cloud Applications
NetApp realized the gap in the industry and developed Azure NetApp Files. This product is a native Azure service intended to provide core enterprise applications high throughput, low latency storage. Azure NetApp Files provides the widest choice of file protocols in the public cloud, enabling NFSv3, NFSv4.1, and SMB access for compatibility with a wide range of applications. It provides on-premises class availability and performance with multiple storage tiers.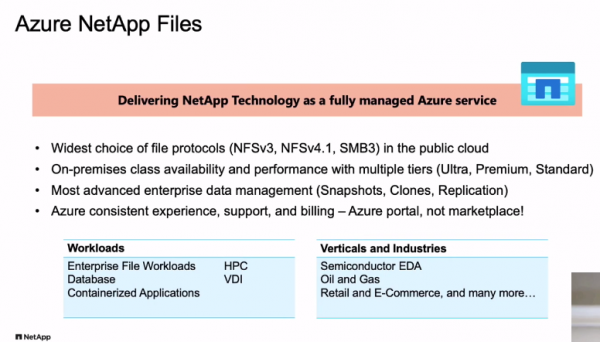 Azure NetApp Files also brings many advanced data management services, such as snapshots, clones, and replication. Since it is an Azure native service, it provides a consistent experience, configuration, support, and billing are all native to the Azure Portal, not in the marketplace.
Solving for Core Enterprise Applications
SAP HANA is a critical, core enterprise application and very difficult to migrate into the cloud, as mentioned above. It requires extremely low latency and high throughput between the application and storage to function. However, meeting the performance alone isn't enough. The application requires enterprise scalability, data protection, and replication are required to operate effectively and efficiently. Many customers transact billions of dollars through their SAP HANA environment, so they can't afford downtime or a solution that doesn't perform well. Azure NetApp Files is the only file storage service in the cloud certified for use with SAP HANA.
Azure NetApp Files enable efficient, scalable solutions to meet the high demands of an SAP HANA database. Azure compute is very efficient at scaling up, offering up to 6 TB of memory. Pairing this with Azure NetApp Files enables the business to scale out as well, up to 15 nodes and a HA Standby. In the event of a node failure, the standby node can join the cluster within 5 minutes. NetApp Snapshot enables efficient backups of the SAP HANA database, reducing the backup time by up to 99% in some environments. Azure NetApp Files native replication enables a resilient disaster recovery environment without having to architect a new solution.
Azure NetApp Files brings enterprise-grade performance and on-premises storage features to the cloud. Azure NetApp Files creates a compelling story supporting multiple file protocols, scalable performance across multiple tiers, and features like snapshots and replication. To find out more about how NetApp enables migration of the un-migratable enterprise application, check out its coverage at Cloud Field Day.