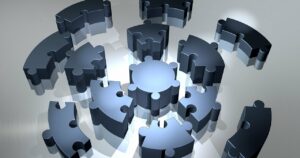 Operational consistency matters in a hybrid cloud world in which organizations pivot and continue on their journey to modernize their apps. Rarely do organizations desire to scrap everything and abandon the processes, tooling, and the skill sets of their staff who have helped build their businesses. VMware's vSphere 7 platform lets organizations run both virtual machines and containers from the same platform and with the same VMware tools that they've come to know and trust, thus enabling organizational consistency, whether on-premises or in the cloud.
The Importance of Operational Consistency
As applications and workloads transition to run in either a virtual machine or run in a container, organizations grapple with how they can leverage the benefits that containers and cloud-native can bring without re-tooling everything or breaking the bank. Often, the hybrid cloud becomes the way and means operating workloads both on-premises and in the cloud.
More often, Dev and Ops teams approach the need to ensure operational consistency with different approaches. The Ops way typically means lifting-and-shifting those virtualized workloads into the cloud relatively unchanged. Because these workloads are not optimized for the cloud, running them can quickly become costly.
The Dev approach is to refactor all workloads to use more cloud-native technologies like containers. The challenge with this approach is refactoring all of their workloads, which can slow down all development efforts until refactoring is complete. It also ignores the infrastructure management skills that the Ops teams can bring to the table.
What's an organization to do?
A Platform To Unify Dev and Ops
At Tech Field Day 21, VMware highlighted the addition of Kubernetes support to vSphere 7 via VMware Cloud Foundation (VCF) 4.0, VMware's Software-Defined Data Center solution for the Hybrid Cloud. This greatly anticipated announcement from VMware allows enterprises to unify virtualized and containerized workloads into a single platform that can be centrally managed.
Interestingly, vSphere 7 with Kubernetes unites Dev and Ops in a way that is not solely lift-and-shift or solely cloud-native, but something in the middle.  vSphere 7 will run Kubernetes on-top of a customer's existing virtual environment or also in the cloud.  It's a solution that is an amalgamation of the Dev and Ops way.
The Power that VCF 4 with Tanzu Brings
Because the VMware Cloud Foundation (VCF) is software-defined and the hardware is abstracted away, the same workloads can run on-premises or in the cloud. Part of VCF's power is its automated workflows. When you couple automation with support for multiple environments, including virtualized and containerized workloads, you end up with a flexible solution that can provide operational continuity.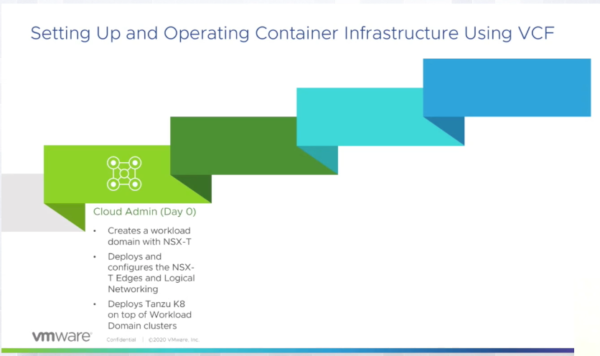 More than just operational continuity, VMware says other advantages of its Kubernetes on vSphere implementation (also known as Tanzu) includes "improved economics" from having a shareable Dev-ready infrastructure from your existing hardware, centralized lifecycle management, and also increased velocity because Ops teams won't need to learn new tools or technologies.
Tanzu, specifically, is an umbrella term for the workload management plane that comes with vSphere 7.0. To date, Tanzu only manages containers, but virtual machine management is currently a preview feature. Driving this integration of Kubernetes into vSphere is the creation of VMware Cloud Foundation services that run on VMware Cloud Foundation.
These VCF services were built to "power modern applications" and also enable the self-service creation of objects. The Virtual Infrastructure Admin or Ops won't need to learn containers to build out the Kubernetes cluster. VCF has a workload wizard for that.
Conclusion
The promise of containers (and modern apps) outweighs the complexity that can come along with Kubernetes. Fortunately, with vSphere 7.0 and VCF 4.0, organizations can embrace this without the extra complexity and can also keep their virtual infrastructure and management tools.
To learn more about how the addition of support for Kubernetes and VMware's Kubernetes offering for vSphere 7 seeks to overcome some of the significant challenges that organizations struggle with, such as operational consistency between and scaling that organizations face when they want to unite, check out VMware's presentations from Tech Field Day 21.