Tech Field Day returns to Las Vegas next week with the Networking Field Day Experience at the Atmosphere conference from Aruba, a Hewlett Packard Enterprise company! We've got Field Day presentations, an on-stage discussion, a Twitter takeover, and more live from Las Vegas, March 28-31!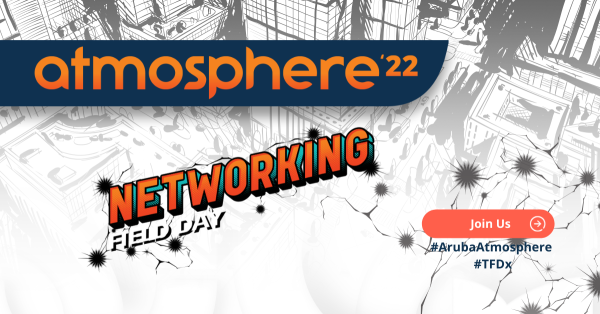 Gestalt IT and Tech Field Day has been participating in Aruba's conferences for a decade, and they are always a lot of fun. Unlike the massive expos we sometimes encounter, these are more personal and engaging. Attendees will often spot the presenters in the halls, at dinner, and at social events and get a chance to get to know them personally. And there's no bad seat at the keynotes and sessions.
It's not too late to sign up to attend Atmosphere '22 March 27 to April 1 in Las Vegas or online.
Aruba has grown since we first went to Airheads in 2012, but they have always welcomed the Gestalt IT community enthusiastically. Once again, you will be able to join the Networking Field Day delegates for a live roundtable discussion as part of the Atmosphere schedule on Wednesday afternoon.
You can also join the fun online by signing up for Atmosphere '22 virtual. You can attend sessions and keynotes from anywhere! And watch the Tech Field Day channels for our private sessions and briefings recorded at Atmosphere. These will be posted to our website and LinkedIn page and shared on our YouTube channel after the event.
Keep an eye on the Tech Field Day page on LinkedIn and Twitter using hashtags #ArubaAtmosphere and #TFDx for some special surprises too! Stephen Foskett will be taking you behind the scenes at Atmosphere in a special video tour, and our Field Day delegates will take over the @ArubaNetworks Twitter account during the keynotes on Tuesday and Wednesday! We would love to have you join the fun on Twitter or LinkedIn too!