Facial recognition, despite being a gift of a technology has been off to a rough start. There have been constant questions about the ethicality of the way facial recognition is in practice. But what if there was a clever facial recognition system that was legal and ethical? AnyVision, now officially Oosto makes a presentation of its two facial recognition solutions in the Security Field Day of October which besides being intelligent systems also seem to get those two things right.
A Bit of Background First
Automated facial recognition has been around a long time but it was been worked upon and developed into an AI technology only recently. Packed with technologies like deep learning and neural network, facial recognition algorithms of today are smarter than ever, and more accurate than they ever were.
However, the concerns of legality and ethicality always hung in the background. Facial recognition systems have often been attacked by civil rights organizations on grounds of violation of privacy and law enforcement owing to the blurry practice policies which oftentimes is nobody's fault since it's practically impossible to have surveillance without compromising privacy even in the slightest.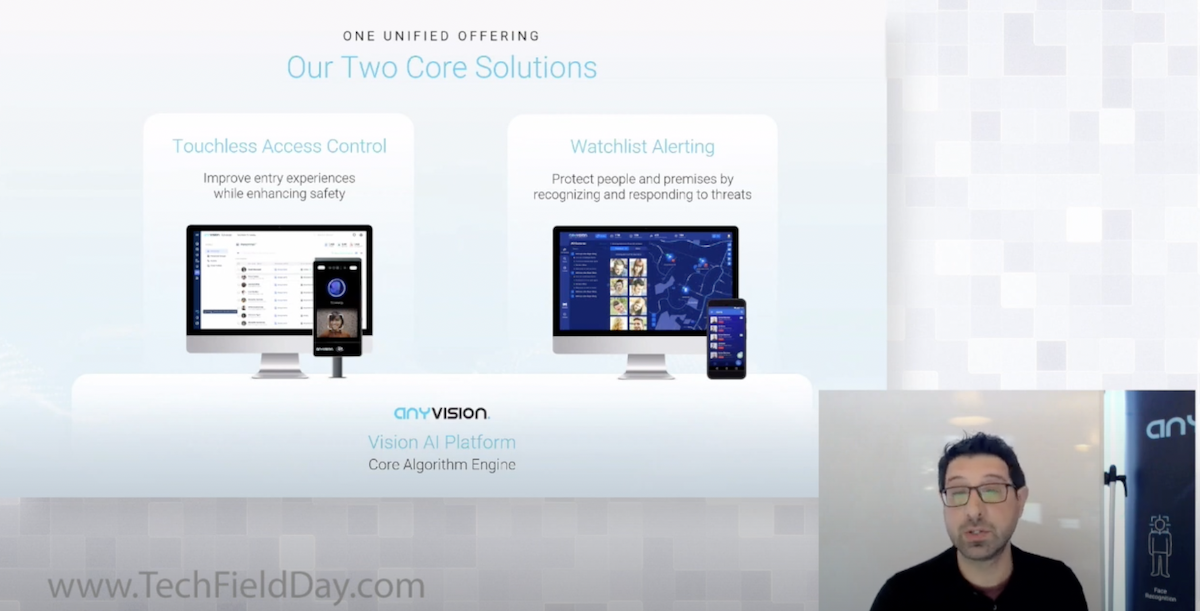 Oosto In the Computer Vision Race
Among the companies that have been working on making facial recognition come clean of its smeared reputation is Oosto. Formerly called AnyVision, Oosto was founded only 7 years ago and is now backed by some of the industry's biggest names like Qualcomm and Schneider. The company raised an investment the size of $235 mil in the last round which is one of the biggest computer vision investments on record.
Oosto is a visual AI platform company that designs, develops and deploys software solutions for security. They serve a diverse client base that comprises casinos to non-profit agencies and more. At the moment the company is invested in tackling ethical facial recognition with its twin solutions.
Ethical Facial Recognition in Action with Oosto's Twin Solutions
In the Security Field Day Event in October, Mark Sadler, director of Product Management and Ziv Tsarfati, VP of Engineering made a presentation in which Sadler talked about the company and the solutions in general and later gave a live demo of its two core solutions, namely Touchless Access Control and Watchlist Alerting.
With the goal to remain within the boundaries of legality and ethicality, Oosto designed its two products- Touchless Access Control and Watchlist Alerting. Using computer vision, the applications focus on not just mapping and reading facial features but also the body or anything attached to it, even behaviors and poses.
In order to keep up with the recent changes, Oosto has adapted both the products to read faces in facemasks which is quite interesting since that means working with 50% less input. Oosto is also achieving milestones in the matter of ethicality through these products by staying away from the practice of scraping data off of the internet without the consent of the users.
Based on the same technology, both the systems use vectors to look up and see things in front of the camera in real-time which enables them to accumulate a wide diversity of data on its own instead of having to rely on public sources. Trained with images of different angles and qualities, the applications are equipped to work in real-world conditions. The Touchless Access Control is designed to layer on top of the existing access control system to enable biometric access.
Final Verdict
With ethicality always being in question with technologies like facial recognition, it's interesting to see that a company is working to mitigate the concerns of the users through ethical policies and bending to legal restrictions while bringing to the people solutions that are both intelligent and effective. Watch their full presentation to learn about their facial recognition solutions and the recent Intel integration.