In light of today's rapidly decentralizing IT environments, hyper-converged infrastructure (HCI) offers a way to ensure performance and value from the data center all the way to the edge. Dell VxRail stands at the top of HCI solutions, as showcased during Dell's exclusive Tech Field Day event.
The Rise of Hyper-Converged Infrastructure
As organizations continue to grow and expand in light of the recent decentralization of IT, many are finding hyper-converged infrastructure to be the best option to keep their operations running smoothly. There are several key industry trends paving the way for the switch to HCI:
Data Center Modernization: New technologies pave the way to expand core infrastructure, simplifying and transforming IT operations.
Edge Computing Growth: Decentralized workforces and growing AI / ML models require global data availability.
Hybrid Cloud Acceleration: Blends of on-premises and cloud infrastructure enable more consistent experiences for remote workers.
Cloud-Nativity Adoption: Containerization and other cloud-dependent technologies are becoming the new norm for IT operations.
With these trends in mind, IT organizations now need a dependable solution they can use to establish or expand their hyper-converged infrastructure.
Dell VxRail: From Data Center to Edge and Everything in Between
Dell has innovated their VxRail product to serve the HCI needs of today's IT organizations. VxRail is the only jointly engineered HCI solution designed with, for, and around VMware, making it incredibly useful for today's decentralized organizations.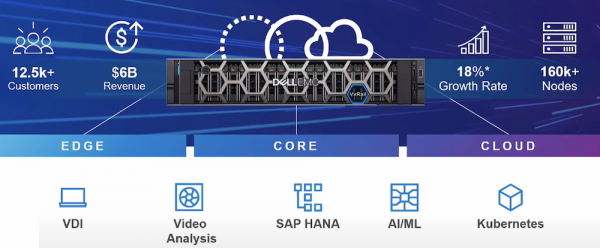 VxRail builds off of its core HCI software to allow for increased flexibility and usability. For example, VxRail is vRealize and vSphere ready, with the option to add VMware Cloud Foundation, Tanzu, and your choice of vSAN to the mix as needed. As such, VxRail allows for management via REST API, cloud-based management tools, or the dedicated VxRail Manager. Admins can even implement data protection options through RecoverPoint or vSphere Replication software.
VxRail in Action
During their exclusive Tech Field Day event, Dell's Ash McCarty, Senior Consultant for Product Management, detailed VxRail and its role in HCI. While presenting, McCarty shared some intriguing statistics regarding VxRail and how it dominates the HCI space.
Because it is the only HCI solution that fully integrates with VMware products, VxRail has set the benchmark for HCI performance. That's not all just marketing talk from Dell; McCarty provided facts and figures from VxRail customers to back it up.
According to McCarty, VxRail services over 12,500 customers across 160,000 deployed nodes. Those customers (as shown in the graphic above) have experienced a collective $6B increase in their revenue leveraging VxRail, resulting in an average 18% company growth across the board. Such statistics just go to show not only how powerful the switch to HCI is for today's organizations, but how VxRail facilitates said switch by leaps and bounds.
Zach's Reaction
Regardless of how your organization operates, when you need decentralized performance at scale across the entirety of your environment, VxRail delivers.
Learn more about why VxRail is so powerful, including a story from VxRail customer, New Belgium (one of my favorite CO breweries), by watching the rest of their Tech Field Day presentations.