Making your name heard as a cloud-based service provider these days is tough. After all, practically everyone claims to be cloud, so the companies that rely on the cloud as the key driver of their business need to find ways to make themselves stand out from the rest.
Few spaces have been more saturated recently with "cloud washing" than the file storage space. In order to get recognition, players like Nasuni have opted to offer an all-in-one, "Built-for-the-Cloud" approach to cloud services, putting their customers at the forefront of their business. Let's explore the benefits of such an approach, and how Nasuni differentiates their product in their own words from January's Storage Field Day event.
Differentiation in the Cloud Era
With remote work at an all-time high, more companies are leveraging cloud-based resources now than ever before to get work done from anywhere there's an internet connection. This demand for extensible, accessible work resources sparked a mass shift of service provider companies to remain relevant by providing cloud options, even if their original offerings were not originally available from the cloud at all.
Dubbed "cloud washing", the marketing of a product or service that uses the internet as a cloud-based solution made "cloud" as a selling point seem banal. To quote Syndrome from Disney's The Incredibles, "If everyone's super, nobody is." Replace "super" with "cloud" and you have generally set the scene of the modern tech space.
So, how can today's organizations, especially those who operate in spaces that have historically been located on-premises like storage, differentiate their cloud-based service from their competitors?
A Cloud-Native File Storage Platform
For decades, companies have stored their files on-prem, leveraging physical server stacks to house critical data and applications. Although on-prem data centers allow for configurability, security, and efficient scaling, recent shifts to remote work demand that files are accessible anywhere and at any time.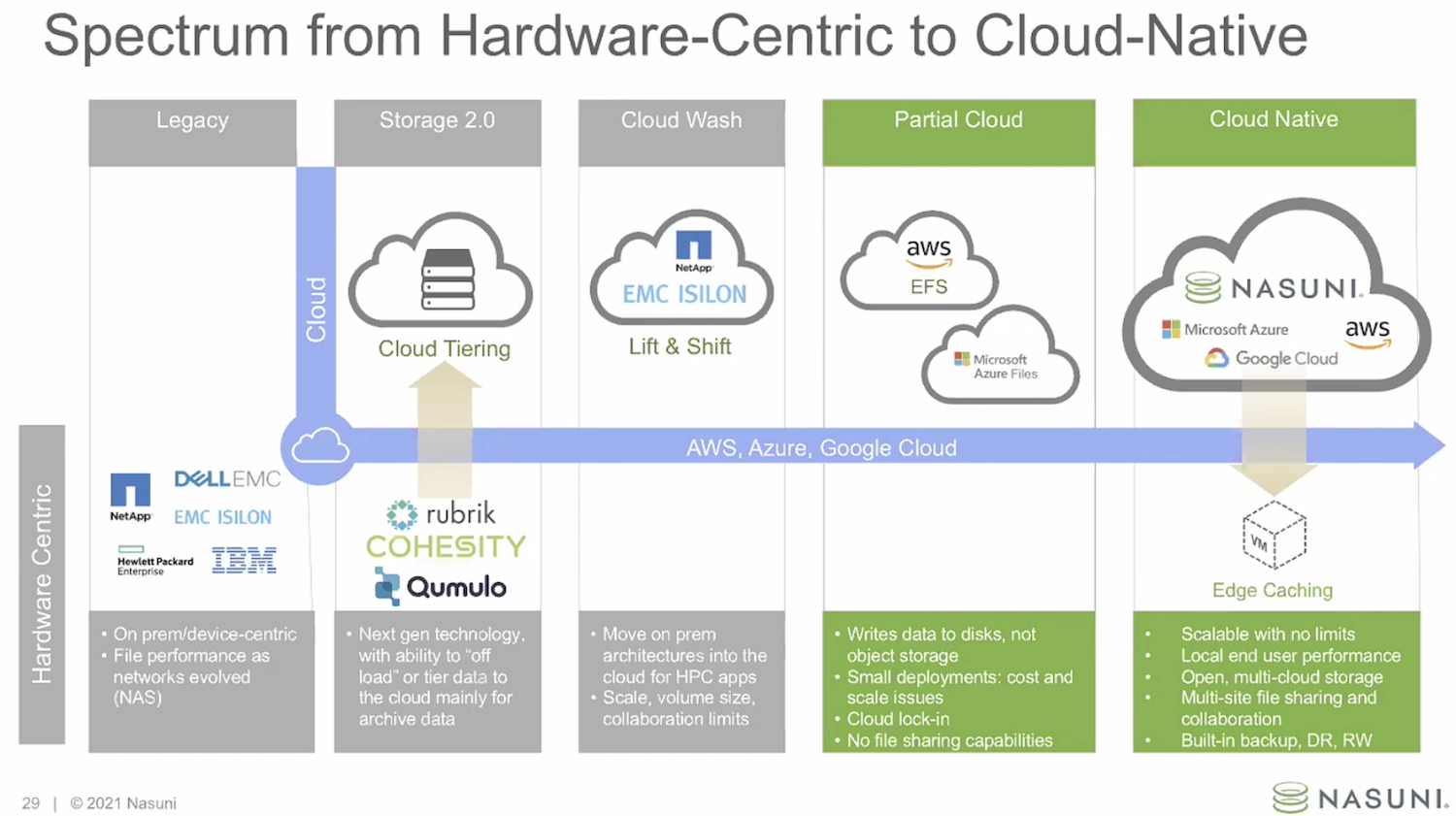 Nasuni accommodates these needs through their unlimited, georedundant "NAS Unified" product. Nasuni combines nearly all facets of object storage: primary storage, backup, disaster recovery, synchronization, archiving, etc. into a single solution, available from the cloud. In practice, Nasuni's product helps companies keep their data accessible regardless of where employees are working, enabling collaboration across an infinite global file system. Unlike many storage tools that rely on a hybridized approach, Nasuni is fully cloud and has been since day one.
Unfortunately, in spite of their revolutionary approach to file storage, Nasuni has struggled in the past to differentiate among the dozens of other companies offering cloud-based storage solutions. Stacking up against giants like AWS S3 and Azure Storage or cloud-washed offerings from other vendors, Nasuni faced the same challenges met by many cloud providers as they try to make their name in the space.

Making the Argument for the All-in-One Platform
A key differentiating factor that Nasuni's cloud-based approach to file storage provides is their singular point of access through their centralized orchestration center. According to Nasuni VP of Technical Marketing, Tom Rose, at a recent Storage Field Day event in January, this "air traffic controller," if you will, allows organizations to manage all of their distributed file shares from a single pane of administrative glass.
Taking a step back, the condensed capabilities of this tool are astounding: nearly all facets of file storage, available globally and without limits, all managed from a single, web-based console. It's a far cry from the days of physically attending to each file server stack, doting on them individually as if they were beloved houseplants. In today's fast-paced, remote world, no one has the time nor capacity to do this, especially if they can't even operate out of their physical office anymore.
What really fills Nasuni's sails here is the all-in-one nature and fully-cloud delivery of their platform. By combining everything into one package, their customers no longer have to worry about picking the best-in-class of primary storage, backups, DR, etc. Heck, they don't even need to concern themselves with setting up and maintaining servers and their failovers on-prem. Instead, they can pay one simple price for a storage experience that scales as they do, regardless of where they operate. From a customer perspective, it seems like a no-brainer to choose the option that provides you with the most benefit for the lowest cost.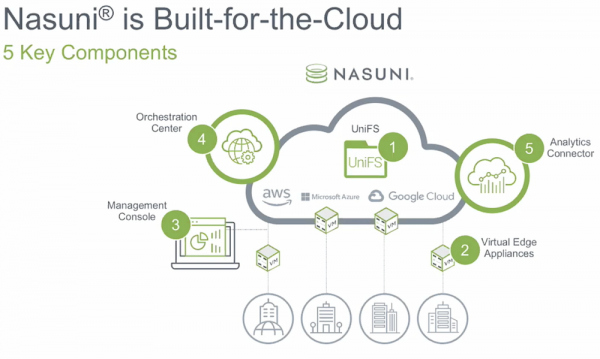 Zach's Reaction
When you need to differentiate yourself as a cloud service provider in a market full of cloud service providers, consider how your offering puts the customer first, helping them solve their problems while saving time and money in the process. Every cloud-based solution will provide extensibility at a moderate operational cost, so how does your product give them the most for their money? That's for you to decide.
To learn more about Nasuni and their cloud-native file storage platform, check out the rest of their Storage Field Day presentation here.