When looking to optimize cloud performance, instead of focusing solely on software abstraction approaches, according to Intel, organizations should instead build around performant storage hardware to improve performance at scale. Appearing at June's Cloud Field Day, Intel proved once again that, armed with facets of their cloud product line such as Optane, customers can make the most of their cloud architectures while also making the most of their allotted budget.
Making the Most of Cloud Storage
In ideal circumstances, data pipelines in the cloud are invisible; they work without any supervision or micromanagement… that is until they don't. When the "plumbing" of the cloud gets backed up, everyone is affected by the sudden halting of processes and flow of data.
To combat this, as cloud architects scale their operations, some organizations have a tendency to over-provision their local storage capacity based on the maximum possible needs of the compute nodes involved, ultimately underutilizing said storage for most operations. Although this does prevent clogs in the proverbial cloud plumbing, it also creates hang-ups by way of wasted, underused resources, taking tolls on cloud budgets.
Disaggregating Cloud Storage with Intel Optane
To maximize scale and performance without introducing waste, organizations can instead disaggregate their storage with hardware like Intel Optane and the rest of Intel's cloud architecture portfolio. Using Intel's product line, organizations can build off top-of-the-line hardware to achieve throughput and performance so IT admins can focus on software and abstraction.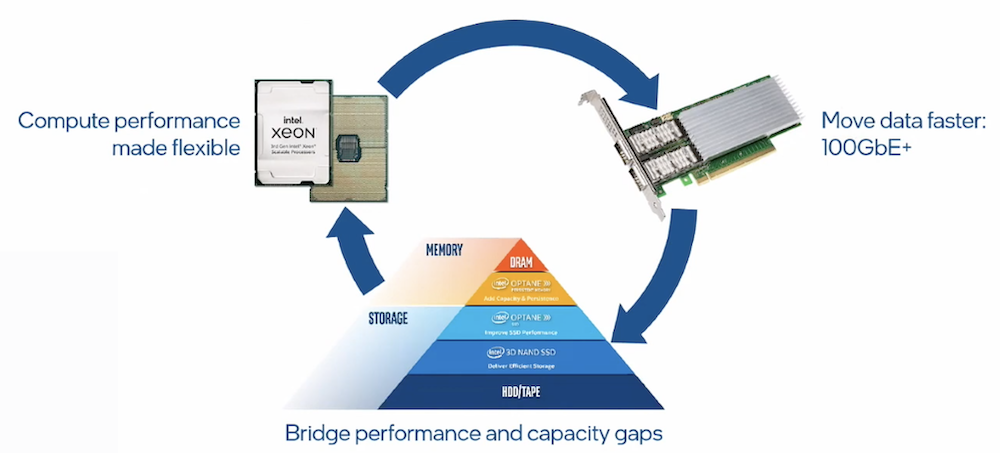 The results of building off Intel hardware are severalfold:
Offloading storage compute from app compute nodes for efficiency
100 GbE+ for 12 Gb/s throughput with 0.5 µs latency
Reduced latency for transactions, down to 15-30 µs
Sizable, scalable, and adaptable storage capacity
These are only a few of the potential benefits customers reap from leveraging Intel hardware in their cloud architecture. Here are some actual examples from customer use cases.
Real-Life Examples of Disaggregation with Intel Optane
At their Cloud Field Day appearance in June, Intel's Senior Principal Engineer and Director of Optane Solutions Architecture, Allison Goodman, and Product Lead of Disaggregated Storage, Vivek Sarathy, presented examples of Intel customers who experienced upticks in performance and dataflow with Intel products.
Goodman presented the use case of Intel customer Tencent, the Chinese multinational tech conglomerate, who use Intel Optane Persistent Storage for their cloud offering. By optimizing their architecture with Intel, Tencent found that their write latency reduced from 120 µs obtained using their traditional disaggregated solution to just 60 µs. Additionally, their read latency, which was originally 130 µs was cut down to only 40 µs with Intel, a massive increase in performance, thanks to Optane PMem.
Then, Sarathy presented another example use case, this time featuring Intel customer Finanz Informatik Technologie Service, or FI-TS, the German finance cloud company. With a slightly different build, FI-TS leverages more of the Intel product portfolio than Tencent but has still seen similar improvements in results. In summary, Intel's product line has helped FI-TS see a 50% increase in performance compared to their previous architecture while also noticing a 30% decrease in overall costs, thanks to the optimization of their cloud storage that Intel products provide.
Zach's Reaction
Intel has shown us once again that they not only dominate the cloud server architecture space, but help their customers using their products to maximize their output while keeping costs low. Learn more about how you can make the most of your cloud architecture with Intel hardware by watching the rest of their Cloud Field Day performance, or by visiting their website.