Today's IT organizations need ways to handle data archiving at the massive scale of modern data operations while also being conscious of budgets, which haven't seen much increase over the past year or so. Presented at August's Storage Field Day event, the Object Archive solution from Fujifilm offers a software-defined method for archiving data from the cloud back to on-premises data centers.
Dealing with Growing Data
IDC reports that, by the end of 2021, we will have created at least 59 zettabytes of data worldwide. We've also seen that, amidst this trend, there is also a growing shift of data from file to object stores, and adding to that, about 60 to 80% of that data is archive data, meaning it doesn't need frequent access.
In light of these numbers, let's look at the flip side of this coin. Despite these growing amounts of data, IT budgets have remained fairly flat over the past year, meaning organizations need innovative ways to use their existing infrastructure to accommodate for the uptick. Also, with storage growing increasingly distributed following advancements in remote work and edge compute capabilities, IT organizations also need a way to funnel that archivable data back to a core storage mainframe.
Fujifilm: Taking on Massive Amounts of Archive Data
Fujifilm is well aware of these issues and has a solution that can help IT organizations archive data at scale while keeping costs low. First, a bit about Fujifilm itself.
When one first hears Fujifilm, naturally thoughts might tend towards cameras, film, and printers. Looking at the numbers from last year, however, we see that Fujifilm does far more than just that. Out of the $20B in revenue generated by the end of March '21, the majority (48%) of Fujifilm's business came from their healthcare and material solutions.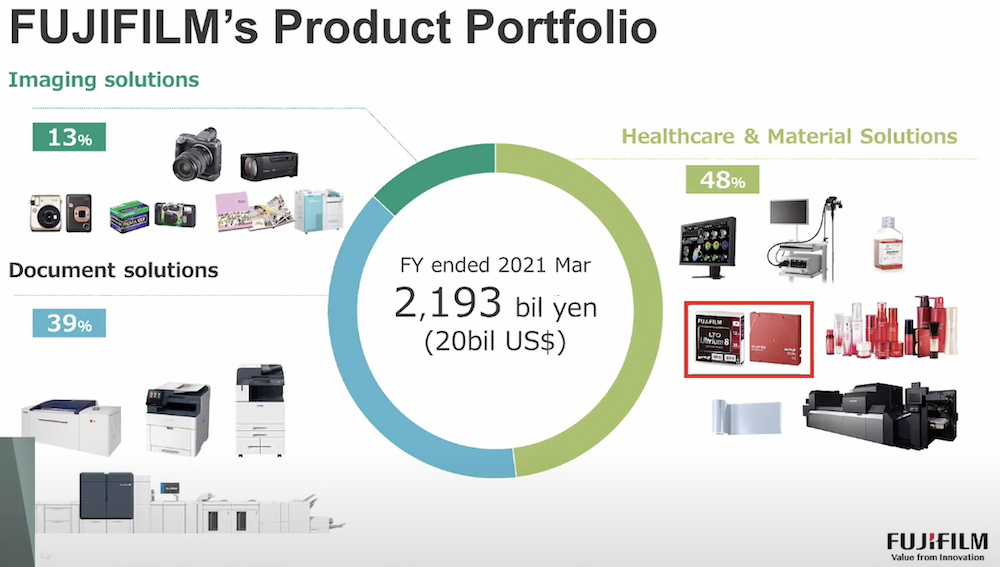 Out of those solutions, the two highlighted above represent their recorded media enterprise storage solutions, including the Object Archive product, Fujifilm's first-ever in-house software, which was launched last year. Created to help companies future-proof their data, Fujifilm's Recording Media Products division has built on 50+ years in the industry to become the world's top manufacturer of data storage tapes with over 170M sold worldwide.
Fujifilm Object Archive
In order to tackle the problem of archiving data at scale, Fujifilm has created their Object Archive software. Nami Matsumoto, Director of DMS Marketing and Operations at Fujifilm, presented the product at a recent Storage Field Day event.
The S3 compatible software sits between primary / secondary data stores and an organization's mainframe, intaking object data and writing it to either film or disk storage found there. That way, in the face of growing amounts of distributed data, organizations can create an air gap between their cloud and edge data and their archived data back in the core.
By keeping non-essential data archived through a software-defined solution like Object Archive, organizations can continue leveraging their existing storage infrastructure while ensuring data is stored efficiently. Such an approach to data archiving at scale makes Object Archive an effective solution for workflows like digital preservation, research, storage optimization, and others.
Zach's Reaction
In response to burgeoning amounts of data, Fujifilm's Object Archive offers a simple, effective, and more importantly, cost-conscious method to keep data moving smoothly and securely throughout an organization. That's why Fujifilm continues to deliver value from innovation, as made apparent by their excellent numbers from the last fiscal year.
Learn more about Fujifilm Object Archive by watching the technical demo from their Storage Field Day appearance, or by visiting their website.