When ransomware attacks first came into news, they were targeted at big businesses. The rest of the world quickly dismissed it as a problem of the big corporations, and went about their day. Now new data has emerged that shows no organization is safe from it.
As ransomware tore through the nation the past couple years, several city governments have declared states of emergency. Schools were canceled mid-week. Airline companies have been forced to cancel flights last minute. Hospitals lost patients' private medical information. And countless small businesses have shut down never to open again.
Last week, at VMware Explore US 2023 in Las Vegas, Gestalt IT interviewed David Aldrich, Director of Sales Engineering at Zerto. Zerto is a Hewlett Packard company that specializes in disaster recovery and ransomware resilience. We asked Aldrich what companies can do to stay safe from the ongoing digital assault, and what Zerto is doing to warrant safety of its customers.
We learned that Zerto has announced the new Zerto 10 in May. The new version comes with two powerful enhancements designed to unlock early detection and rapid recovery. The first is real-time encryption detection, and the second, a Cyber Resilience Vault. Combined, the features provide a two-pronged approach to achieving the ultimate defense against ransomware.
Time Is of the Essence
The most recent cases of ransomware have made it amply clear that time is on the side of the attackers. Despite racing against the clock detecting and eliminating threats, security operators are outfoxed by clever attack tactics that are not only untraceable, but also frighteningly fast.
"Ransomware has really come to the forefront, and our customers need to be able to detect and react quickly when they see a ransomware type of event," said Aldrich.
To beat attackers at their game, these companies need a solution that provides the twin benefits of spotting cloaked threats, and spotting them prematurely. That's just where Zerto 10 cuts its teeth in. Its real-time encryption detection makes all monitoring tools appear sleepy and sloppy.
Real-time encryption detection allows Zerto to inspect data for encryption as it enters the environment. Within minutes of data streaming in, Zerto 10 alerts users about all suspicious elements present, unlocking swift elimination.
"Our whole intention with designing this encryption detection solution was to allow our customers to have recovery time objectives (RTOs) to minutes," said Aldrich.
What can take a standard backup solution up to 24 hours to discover, Zerto 10 does in minutes. But more importantly, it can zero down an encryption to the second it began. This allows operators to roll back to the precise point in time.
The precision is made possible by Zerto's virtual replication journal present in every VM protected by Zerto. These journals record changes at a frequency of few seconds with a checkpoint time-stamp, making point-in-time recovery precise.
Precision is in Zerto's DNA, and it extends to the platform's alert fidelity as well. In its latest version, the alerts are minimal. In other words, every alert generated is a priority. "We're going out and having conversations with our customers that a lot of these are not false positive alerts, and they really need to take these seriously," Aldrich emphasized.
Being API-based, Zerto 10 integrates with a broad ecosystem of security tools allowing operators to cast a wide net.
An Impact-Free Zone Untouched by Ransomware
Twinned with continuous monitoring and early detection, Zerto has introduced a second element to Zerto 10 that is key to cyber resilience – immutability and air-gapping.
"Back a year or so ago, it was a nice-to-have. Now it's a need-to -have for a lot of organizations," noted Aldrich.
The Cyber Resilience Vault is a clean, physically air-gapped space where immutable data copies can be saved in a zero-trust architecture. The vault is completed isolated from the rest of the environment, so much so that it has no connection to the production network or the internet. For maximum safety, it is made free of compute – the lifeforce of ransomware. "We don't have compute powered on in the actual vault and that's a big difference," Adrich commented.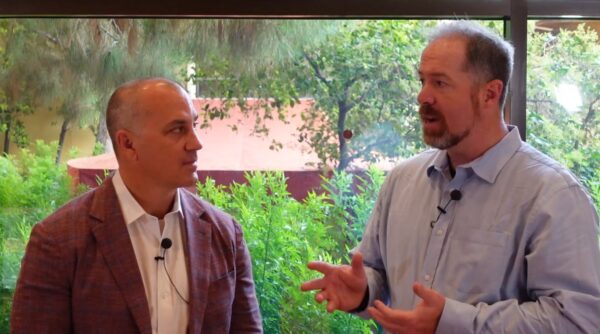 Fuss-Free Support
Of late, vendors have increasingly embraced security trends like real-time detection and zero-trust security, resulting in overly complex solutions. Overwhelmingly, these solutions contribute to add to the workload of IT staff.
"Some of the IT staff is really overwhelmed and understaffed. They don't have enough manpower," Aldrich pointed out.
Zerto was resolved to make a difference with the Zerto platform. So it packed in white-glove support service to make it easy and consumable for customers. Available in what Zerto calls "t-shirt sizes" – small, medium, large and XL – it provides customers different types of professional support for deploying the Zerto Cyber Resilient Vault and help tune it to meet their requirements.
The support is an extension of HPE's robust and centralized support system, giving all customers "one number to call and one support process to engage through", said Aldrich.
Among things in the horizon, Zerto is focused on continuing the work of improving the solution, streamlining and fine-tuning the two features in the upcoming versions of the platform.
"As we move through this process, we get customer feedbacks, and get it more out into the field at that point," he said.
Wrapping Up
No enterprise must not take ransomware trivially. Coming out of an attack is not like paying a few hundred dollars and getting stolen items back. Ransomware penetrations are deep and catastrophic. The only way the situation can reverse is, if enterprises, instead of furnishing the possibilities with cavalier disregard, fight back with lethal weapons of cybersecurity that can destroy the resolve of attackers and turn them away to try different doors. For this, Zerto 10 is a solution of great value.
For information on Zerto real-time encryption detection and Cyber Resiliency Vault of Zerto 10, head over to Zerto.com. Be sure to take advantage of their on-demand labs to explore and test out the solution before getting in touch with their field team for an in-depth demo. Check out the full interview above, or their in-depth presentations at the recent Cloud Field Day event.