Exploring alternative viewpoints is critical to driving business velocity. One macro trend is driving this point home by crushing the stereotype in IT. It is called open networking.
The concept, like open source, had been sitting in the bucket lists of many for a while. As the pandemic spurred a wave of digital transformation compelling businesses to look for new ways to stay afloat, it bubbled up as a priority.
Buzzy and hopefully phrases dotting the pages of the press made it clear that this technology merits consideration. But the concept of open networking is less defined and somewhat unclear to the audience. So, we sat down with Max Simmons, CMO of Micas Networks, to dig into it and gain understanding of how their solutions are driving this strategy.
Breaking the Proprietary Lock-In
Micas Networks is one of the pioneering names in the datacenter open networking space. It's driven by a simple mission – to help businesses unlock their networks from the proprietary hold. It is set to make networks agile and adaptable to evolving business needs with something called "whitebox switching".
For years, network equipment have been sold in bundles of hardware and software. The two components come tightly integrated, and are therefore, provided by the same vendor. These are commonly called "black box" products. The concept is very similar to a carrier contract where a vendor offers a latest model of smartphone on a BOGO deal. The caveat, you will have to stay on their network for entire term of the contract, which may last years.
Open networking decouples the software from the hardware, making it possible, for the first time, to run a Linux-based software on any choice of hardware.
Having an open network as opposed to a closed ecosystem has a big advantage. Companies can upgrade their switches more flexibly, adding smarter, more capable technologies to the stack on demand.
Some of the biggest names in the industry – Dell, and HPE – are driving this technology, paving the path for businesses to boost their ROI with smart investment.
In the recent years, a parade of cutting-edge technologies, namely, 5G, edge computing, and AI, has entered the scene. These workloads claim sky-high network performance. The demand has left legacy infrastructures stressed in unexpected ways. And now, slowly cracking under the weight of more unprecedented workloads, the architecture is begging for an upgrade.
But building out a shiny new infrastructure is neither easy, nor cheap, and amid a budget squeeze that is felt across the board, it is that much harder.
Open networking comes as an answer to this. When you think about it, the network is the ground zero of implementing any technology. It is the backbone that supports the entire infrastructure. A network that is efficient and well-operated can not only bear the load, but accelerate innovation.
The biggest challenge CTOs face with building an optimum network is finding the right set of hardware and software. With open networking, companies can customize the infrastructure one component at a time, without touching the software.
A White-Glove Support Service
However, the migration to open networking can be messy, says Simmons. Like all IT transformations, this too is carried on the backs of internal teams. Getting to an open-networking based architecture requires more than out-of-the-box thinking. Typically, it takes a clear vision, nuanced planning, a project roadmap, and preparedness to deal with bottlenecks. Questions that are likely to come up during the transition are – what hardware to use, what version of software to go with, what features are best added. Not knowing the answers can deeply deform the project, and cause burnout.
"These are big decisions, and they need their hands held to get it done right. There're too many options," he says.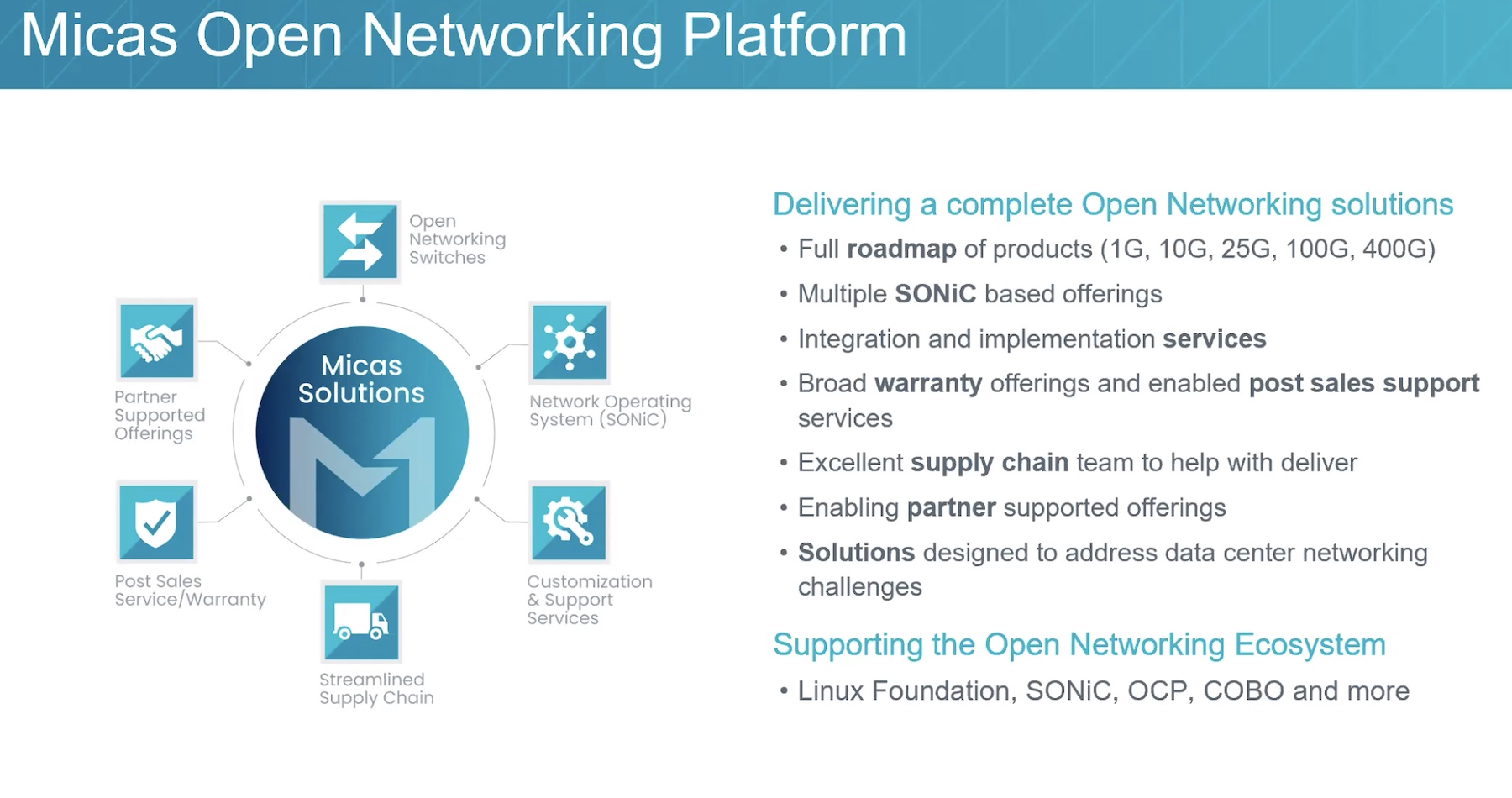 Critical support that offers an extra level of care can get teams through this without big issues. Micas Networks helps organizations "take steps in that process by figuring out ways to chunk it off into different stages".
It is building a hardware platform based on Broadcom chips that provides customers the option to build custom switches and run them on an open network operating systems (NOS). As of now, they are working with SONiC, but there are others in the roadmap.
It normally takes a lot of conviction to get big companies excited about the potential of a new approach like open networking. The giants of the industry are not wont to derail from their set path and convert overnight.
It's not mainstream yet, says Simmons, as companies are hesitant to make that transition in one go, but they're showing interest in having more custom hardware in their stack.
So Micas Networks adopts a two-prong approach, one that is long-term and takes substantial street credibility, and another, near-term, that shows more potential to get things moving in the right direction.
It starts with building out a product portfolio of whitebox switches. "The goal is to go engage with the big cloud guys and build hardware for them, and find opportunities for joint development projects. We have an excellent engineering team and with our background, we think it's a good fit long term," he says.
The near-term goal is to engage customers with the hardware and NOS options, and "work with them to understand their requirements, and help them through that transition from a proprietary network to an unlocked network."
One of their talking points is SONiC. As an NOS, SONiC has a broad ecosystem growing around it, and like all mature open-source products, it has a big community. "People are really beginning to adopt it and there's a lot of players, including us, that can support it."
Micas Networks' offers basic services, custom features to help with development, and support services to help customers test and deploy.
White Box Switches
While on one hand, Micas Networks is helping customers transition to open networking and harden SONiC as they go, on the other hand, it is working on expanding its own product line. "Specifically, around AI, we're doing some product development with Broadcom," Simmons shared.
As of today, their open network switches portfolio comprises four categories – 1G, 25G, 100G and 400G switches, all based on Broadcom. They are set to reveal a 400G 128 port switch at the OCP Summit this week, and will later launch a new 400G product aimed at AI workloads by the yearend.
Micas Networks prides on a broad and nimble sourcing network. "One of the things about proprietary networks that's been a challenge especially during COVID is that the supply chains are super long, and whitebox switching can help with lead times and allow people to make this evolution faster," noted Simmons.
Broad warranties are offered post-sales on all products to ensure a good experience in the long term.
"We believe that there's a real opportunity in open networking. There are some great products out there and with SONiC being where it's going right now – it's becoming stronger, more enabled," he told.
In Conclusion
In the past, protectionist mentality has cost companies mindshare, a fact that is driving so many to test out new ideas with their core audiences. The open networking movement is a part of that. But teams can quickly feel inundated making the transition chaotic and exhaustive. To end up with a network that is ultimately resilient and supportive of new technologies, one needs to understand the needs and what options work best for them. In that regard, Micas Networks' efforts are well-directed. Their support service will help a lot of companies overcome the early frictions they face while heading down that path. Additionally, their choice of whitebox hardware will provide ready solutions that make open networking a success.
To check out their solutions and services, be sure to check out Micas Networks' website. For more stories like this one, keep reading here at Gestalt IT.com.