There's no difference between the data center and the campus, right? I mean, they're both networks and they both pass packets. They're both made up of switches and need to be dealt with the same, after all. Now, before you pick up the pitchforks and torches about the following statements, let's talk for a moment about the apparent gap between these two network domains.
We spend a lot of our time segmenting the campus from the data center when it comes to switches. Campus devices are typically stackable or designed to be deployed to remote wiring closets. Data center switches live in massive climate-controlled rooms with raised floors and racks for miles. Campus switches have PoE available for things like phones and access points. Data center switches have lots of fiber ports for high-speed connectivity. Campus switches only need enough redundancy to keep things going until you can pull another one off the shelf. Data center switches need full high availability (HA) and other features that keep them going in the event of a problem.
However, the biggest difference between the data center and the campus has been, for years, the operating system that runs the devices. Depending on which vendor you speak to, you could have a couple of different operating systems for both platforms. There could be a dedicated OS for data center, a dedicated OS for carrier routing, one for campus switches, and an entirely different one dedicated to edge devices. How are you supposed to train for that kind of scenario? Most organizations instead choose to train one group to handle the core network and one group to run the edge, further segmenting those teams from each other.
Unifying The System
But what if you chose, instead, to keep the same OS on both platforms? That has to be a pipe dream, right? Well, it isn't as of today. Aruba, a Hewlett Packard Enterprise Company, is launching a new line of switches featuring the latest Aruba-CX operating system. I had a chance to check out the launch of AOS-CX back when the Aruba 8400 was launched at Networking Field Day Exclusive back in 2017. The power of the AOS-CX was something that just makes you wonder why modern switch operating systems can't all work this way. Full REST API support and modular design mean that it's easy to program and design automation and orchestration around the system. This allows you to fully integrate your workflow with your network.
Today, Aruba is launching AOS-CX 10.4. They've kept the same great set of features and added over 140 access layer functions to the OS, including things like dynamic segmentation between users, always-on PoE support for reliability during reboots and upgrades, and even VXLAN and EVPN support. It's a great upgrade to the OS but it only makes sense to add a set of features like this if you have a platform on which to install it.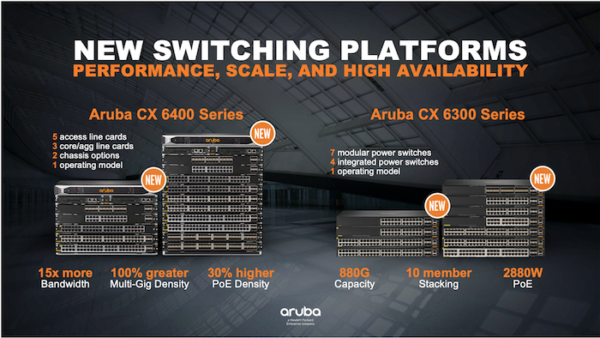 That's where the other big announcement comes in. Aruba is launching a new line of campus switches, the Aruba CX 6300 and 6400 series. As seen in the diagram above, the CX 6300 is a more traditional stackable design in 1RU form factors while the CX 6400 is designed as a chassis form factor with line cards and extra redundancy. The CX 6300 is a great solution for intermediate wiring closets while the CX 6400 is a great offering to replace existing top-of-rack switches.
You gain a lot of new features with CX 6×00 hardware as well. There is support for mGig on each port to provide full bandwidth to upcoming devices that may need it, up to 2,880 watts of PoE for those hungry devices that need all the juice you can muster, and stacking capabilities that allow you to manage and administer the devices as one cohesive unit instead of a collection of disparate hosts.
The Blend of Hardware and Software
The real key to this new hardware is the old reliable AOS-CX software platform that will be running on it. Aruba has invested a significant amount of time in AOS-CX improving ease-of-use and ability to integrate workflows. One common complaint of network and DevOps teams is that all their hard work doesn't translate well between devices. You can spend a significant amount of time trying to make your data center core switches run like a well-oiled machine. Now, try porting all that work to a completely different OS at the edge. The odds are good you can't make that work. And even if you tried, the CLI commands necessary to make it all play nicely together could be missing!
Instead, Aruba is unifying its software platforms from data center core to campus edge with a single operating system. Sure, this isn't the first time that a vendor has touted a unified OS for all their devices. But the focus and effort that Aruba has made to ensure that AOS-CX is a modern, programmable architecture means there's no legacy code floating around to cause issues in the stack. You can use any method you want to program both the existing CX 8400 switches and the CX 6×00 switches in the campus closets. Just fire up your favorite IDE and get moving!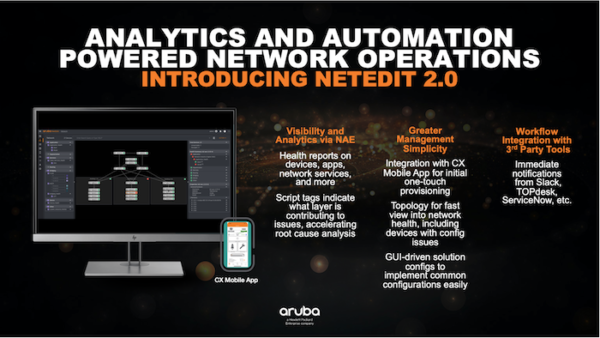 Aruba is even making it easy with a new version of its NetEdit software. NetEdit 2.0 gives you the ability to manage your device stacks from anywhere, including mobile devices. You can also integrate with platforms like ServiceNow to automatically create and assign tickets based on issues like performance or reliability. And NetEdit gives you the power to quickly categorize and label faults when they arise. That means faster troubleshooting and happier users!
Bringing It All Together
It's not enough to have the fastest switches on the planet. No one cares if you have the biggest install base or the hottest ASICs on the market. Instead, users want consistency and reliability. They want to be able to apply a single set of skills no matter which devices they're working with. Modern network architecture can only truly be unlocked by having a modern operating system combined with powerful hardware that responds to the way administrators and operations teams want to use it. Aruba has made a big step forward with AOS-CX 10.4 and the new CX 6300 and CX 6400 products. This will help extend Aruba's advantage into the campus edge where they can take full advantage of emerging edge connectivity technologies to ensure that everyone can work at the speed they are capable of achieving without feeling as though everything is fragmented.
To learn more about Aruba's newest OS and switches, please make sure you visit http://www.arubanetworks.com.