One of the most significant challenges in network operations is visibility. When a network issue happens, the disruption is quick and hard to reproduce. Many network monitoring tools address parts of the network. However, they don't offer a holistic, end to end, view of the network.
An end-user may be suffering from a bad connection, while a monitoring tool reports everything looks okay. The pandemic amplifies the visibility issue, with many end-users working from home. PathSolutions addresses the blindspot in network visibility with TotalView 12. I was fortunate enough to speak with Tim Titus, CTO and founder of PathSolutions, to discuss network monitoring challenges and how TotalView addresses those issues.
Investigating Network Visibility
There are many network monitoring tools available, many of which address aspects of the network. One system may manage Netflow, and another handles security, and so on. These tools work great and can provide detailed information to troubleshoot their respective domains. What happens when a user comes to your network operations team and says, "I had a glitch about 45 minutes ago, can you tell me what happened?" The network operations team has multiple portals to log into, switches and routers to investigate, and the issue will take hours to resolve if they can even track it down.
Plain-English Prescriptions for Complex Problems
PathSolutions offers a lightweight yet powerful solution to the problem of network visibility with TotalView 12. The TotalView 12 software deploys onto a server in your environment and begins collecting data immediately. There will be analyzed data with easy-to-understand analysis within one hour. The solution is agentless and utilizes SNMP, Netflow, and other patented collection methods to gather data from all network devices down to the interface level. TotalView licensing is simple and can cover all interfaces. Licensing can cause engineers to make decisions about which devices to monitor and which to ignore. This tradeoff isn't a problem with TotalView.
PathSolutions TotalView 12 monitors many common issues possible in a network, including STP rests, cabling faults, and duplex mismatches. They also go deep, capturing 19 error counters, device configurations, Quality of Service (QoS), and performance metrics. The data is aggregated in the TotalView Server and is consumable in multiple ways, including automated IPAM creation and network diagrams.
The monitors and metrics are processed and presented with a Plain-English heuristics engine. A network operator can look up an issue and trace the entire path from the Layer 1 link to the Layer 2 switch, all the way to the destination, with a Plain-English description of what could cause problems along the chain.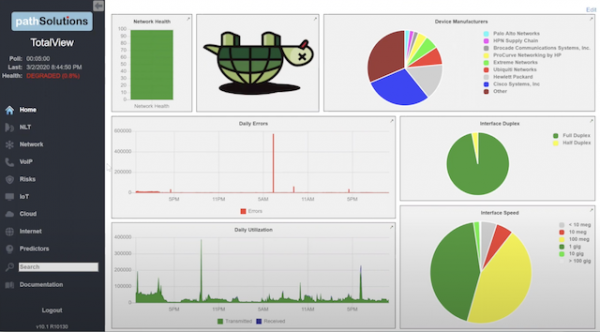 TotalView 12 doesn't stop at NetOps. It also monitors Telecom connections and SecOps issues. If a user experiences substandard call quality or drops a call, TotalView can trace the link from the IP of the VOIP handset through the chain of connections to the IP on the receiving end. The 19 error counters and performance metrics combine to find wiring faults or QoS issues along the way, leading to quick diagnosis, even if the error is not currently occurring.
Network security is also a significant issue. TotalView can detect malware-infected endpoints immediately and alert the network operations team. They get an analysis of what the device is, where it is connected, and have the option to quarantine the device from the TotalView console. There are also monitors to detect which devices are communicating with high-security servers. For instance, the accounting department should be the only group allowed to access the accounting servers. If a device in another department connects, TotalView sends an alert. This visibility is powerful and can help resolve security issues quickly.
In-Depth Visualization to the Home Office
COVID-19 has forced companies to adopt a distributed work model. The lack of visibility network operations deals with in the office is greatly magnified while supporting users working in a home office. If an employee has problems in meetings or with a VOIP connection, it is nearly impossible to troubleshoot. Ping and Traceroute don't cut it. PathSolutions has introduced a solution to the problem with its new RemoteView product. RemoteView is an application that a network engineer would provide to an end-user. It runs end to end diagnostics, collecting data from the customer's Wi-Fi signal, ISP congestion, and even laptop performance. RemoteView batches all the data together, sends it back to the TotalView server, and enables the network operations team to diagnose the issues using a single tool. RemoteView can solve significant frustration and allow users to get back to work more quickly than ever.
Conclusion
Troubleshooting network issues is notoriously challenging. Specialized tools only show part of the picture, leading engineers to reference complicated, often out-of-date playbooks to troubleshoot the problem. PathSolutions TotalView 12 simplifies troubleshooting network, telecom, and security issues, while also addressing the digital transformation caused by the pandemic. RemoteView extends PathSolutions' lightweight and powerful toolset into the home office, allowing operations team visibility into an uncontrolled environment.
To learn more about PathSolutions TotalView 12 on its website at PathSolutions and catch our Showcase at Advanced Network Monitoring & Root-Cause Troubleshooting with PathSolutions TotalView.