Today, May 13, at Pure//Accelerate Digital 2021, Pure Storage announced the latest developments concerning Portworx, the leading container storage solution acquired by Pure in September 2020.
FlashArray & FlashBlade with Portworx
The Portworx Enterprise 2.8 availability announcement includes native support for Pure Storage's FlashArray and FlashBlade product lines. This is a major update that goes beyond Pure's first-generation Kubernetes solution, Pure Service Orchestrator. Starting in July, Pure FlashArray and FlashBlade users will have expanded access to Portworx Essentials, a freemium offering that has been enhanced with no limit for the number of Kubernetes nodes for Pure customers running on FlashArray and FlashBlade.
This implementation of Portworx delivers superior capabilities: Kubernetes block and file system provisioning operations are automated, customers also benefit from what made Portworx so successful in the enterprise world: high scalability, robust resiliency, and outstanding performance. Furthermore, Portworx is one of the rare Kubernetes storage solutions with enterprise-grade data protection features such as HA, DR, and backup.
Running Portworx on FlashBlade and FlashArray means that organizations can take advantage of the data reduction capabilities offered by the storage arrays. For example, a Pure Storage customer reported a 5:1 data reduction when using Portworx on the FlashArray //X. The new expanded Portworx Essentials offering on FlashBlade and FlashArray will be available with an Evergreen subscription or through Pure-as-a-Service.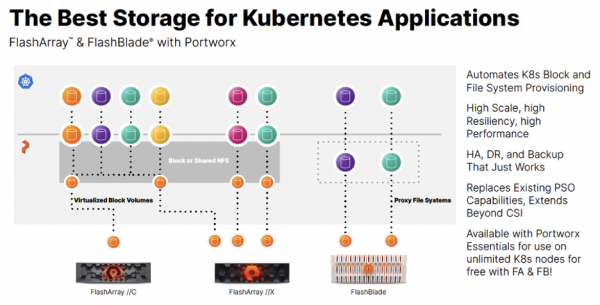 Observe All The Things
Observability is essential to ensure successful operations. Container infrastructures are specific and usually require a dedicated monitoring plane based on Prometheus and Grafana. In enterprise environments, fragmented monitoring is, unfortunately, a liability, as diluted and uncorrelated information can cause longer downtimes and MTTRs.
Pure1 is now able to consume telemetry data from Portworx. This integration provides container and Kubernetes app-centric analytics which also constitute the basis for proactive support.
Thanks to this, IT personnel has an end-to-end view of health and performance across all products and environments and can react more adequately to any potential issue. With this approach, Pure Storage also acknowledges the existence of different personas within an organization. The use of Pure1 will particularly suit practitioners who have basic exposure to Kubernetes but also need to manage more traditional environments.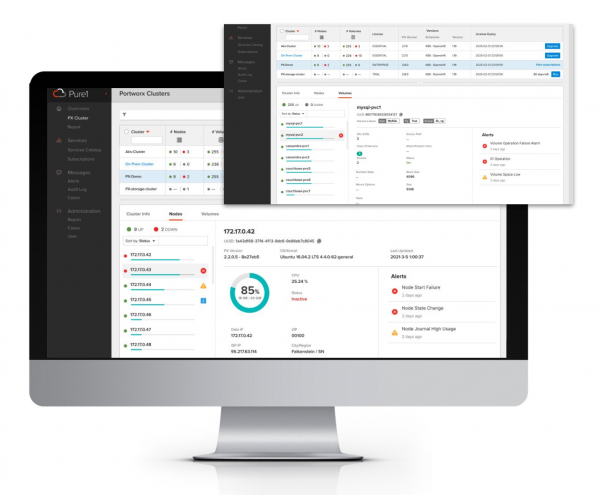 Portworx Backup to FlashBlade
Last but not least, Portworx released a reference architecture for how to backup Kubernetes applications to FlashBlade through PX-Backup, Portworx's data protection solution. The choice of FlashBlade can be explained by being a high-performance, scalable all-flash backup repository that allows fast backup and restores operations.
One of the peculiarities of PX-Backup is its ability to protect Kubernetes applications with their state and configuration, not just the data residing on the storage backend. Not only can the data be stored on FlashBlade, but it can also be tiered to the cloud, for example, to keep older copies on a cheaper tier.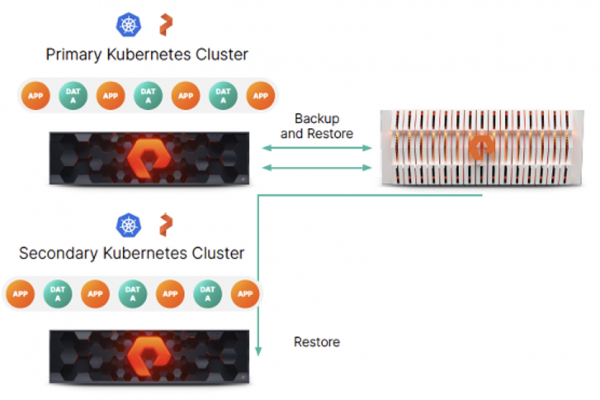 With the rise of cloud-native workloads, the industry witnesses a shift of responsibilities for backups within organizations: activities previously performed by a dedicated backup team are now delegated to hundreds of application owners.
Each of these app owners have their own policies about what must be backed up, at which frequency, and with which retention policies. While all of these individual decisions may sound perfectly rational, the sum of all these decisions and policies may create a challenge at scale with inefficiencies, wasted space, and exploding storage costs.
One of the key features of PX-Backup is its self-service capabilities. Backups can be made available to Developers or Application Owners via role-based access control. Users have control over schedules, rules, and data to be backed up, while infrastructure management remains with administrators. I strongly recommend this comprehensive article from Pure Storage about PX-Backup 2.0.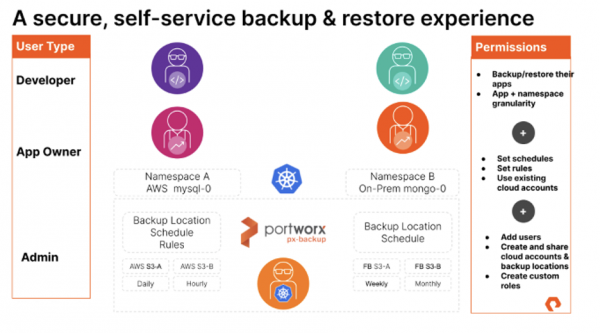 Conclusion
The Portworx announcement marks an important milestone for Pure Storage. First of all, this marks the first release where the Portworx platform (acquired in September 2020) is integrated with the Pure Storage portfolio.
Eight months later, Portworx is available on the FlashArray //X, //C, and on FlashBlade. This integration demonstrates not only the engineering and business qualities of Portworx, but also Pure Storage's commitment to delivering a consistent container experience.
But most importantly, it's also a key announcement for Pure Storage customers who can leverage their investments in Pure Storage products and benefit from what is genuinely one of the very best Kubernetes storage solutions currently available on the market, at no added cost.
When adding the Pure1 Analytics integration and the new PX-Backup features, one can only acknowledge that Pure Storage has gone through a lot of efforts to provide their customers with a superior container experience, preparing them for success in their cloud-native journey, at least from an infrastructure perspective.