What is Portworx?
Portworx is three things really, aimed at solving some problems vs Cloud Service Provider native offerings that provides orchestration for the following:
1) Portworx Enterprise – Portworx Storage Platform provides orchestration for Kubernetes workloads on any cloud or on premise.
2) Portworx Data Services – the industry's first Database-as-a-Service (DBaaS) Platform for Kubernetes
3) PX-Backup – Enterprise-grade application and data protection with fast recovery
Portworx Enterprise focuses on solving the problems of providing storage for modern cloud native applications via Kubernetes with add-on capabilities that can provide DR, Backup and automatic capacity management. I was first introduced to Portworx at Tech Field Day 24 and was impressed by their capabilities and future roadmap. This leads on to Portworx Data Services which aims to bridge the gap from on-premise database workloads within Kubernetes environments to the auto scaling options available within the hyper scalers, AWS RDS, GCP Cloud SQL and Azure SQL. Developers have truly adopted the cloud operating model when it comes to provisioning cloud native applications. In this article I would like to focus on Portworx Data Services.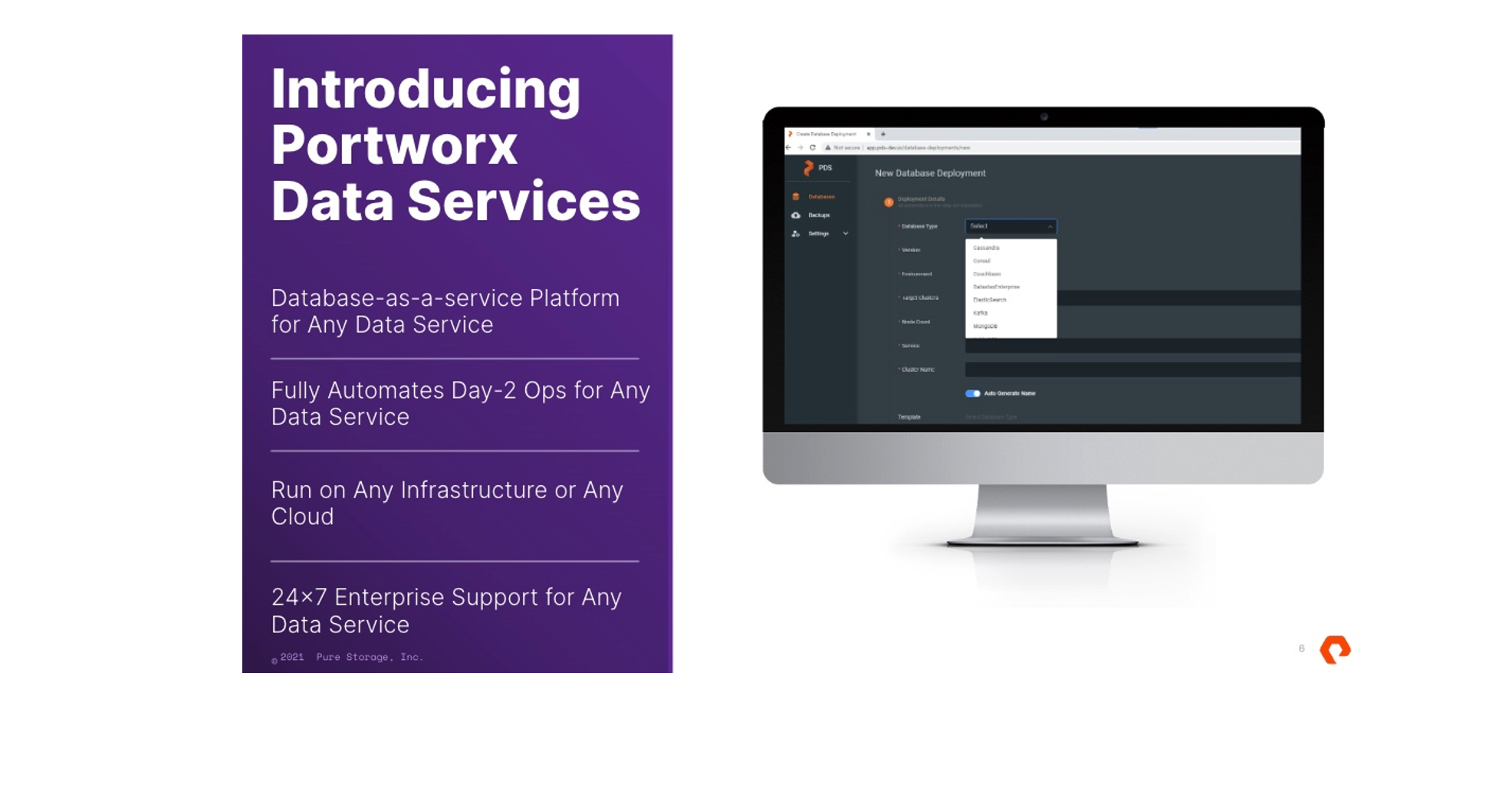 Why should I look at Portworx Data Services (PDS) to manage my Kubernetes and Database requirements?
The key reason you want to look at it is the portability provided by Portworx Enterprise. It is even storage agnostic on premise and will work with storage arrays from different vendors.
If you are running databases for your on-premise Kubernetes deployments or have already committed to your preferred public cloud offering, you are essentially locked in with that provider. This can be highly restrictive in several ways and become commercially restrictive or overly complex, no matter which hyper scaler you have chosen. I am confident a large customer will have historically preferred that you were operating within another; in this case you either had to push your preferred vendor or add overhead and complexity to deliver.
Backups, replicas, or migrations to another provider can prove cumbersome, time consuming and for an overwhelming majority, will require 3rd party software or services to facilitate. This is where Portworx by Pure Storage comes into play.
Portworx allows you to provision and migrate between providers and continuing with Pure Storage's observable mantra, allows you to adopt a more cloud-like operating model to provision storage for your Kubernetes workloads, not just in the hyper scalers, but on premise.
How does it work?
PDS is provided via a SaaS service; this provides a UI, API and Catalog of available services for users and developers to deploy. Essentially you add your Kubernetes clusters and select a data service to deploy. Policies can be defined to replicate from one provider to another, backup Kubernetes config and data, on top of PDS providing monitoring for insight to important metrics.
Portworx aims to provide the orchestration capabilities managing the storage layer, integrating with any stateful container, using any scheduler on any infrastructure.
What data services are supported?
You can choose from a wide variety of data services including Cassandra, Kafka, PostgresSQL, RabbitMQ, Redis, and Zookeeper, with more services to come.
Pure is working closely with these providers and leveraging existing relationships with the hyper scalers to enhance future feature sets.
How do I manage the DB instances and monitor workloads using Portworx?
This is the beauty of it, you do not have to worry about upgrading DB instances or architecting the DB sharding required to scale horizontally, Portworx handles all this for you. In the same way you do not have to worry about the DB server version in AWS RDS for example, you do not have to worry about it here either.
Monitoring is provided to let you keep an eye on workloads and autoscaling effectiveness ensuring you have the insight required to effectively manage applications.
Do you need Portworx Data Services to run DBaaS in cloud native applications?
Only you will be able to answer that question, but if you are struggling with the complexity of managing Kubernetes workloads, on premise and/or in one or more of the hyper scalers, then Portworx appears to be a capable solution to do so. Factoring in the portability and capability to circumvent vendor lock-in, Pure Storage have presented a real offering here that is worth taking a closer look at. Additionally, I know they are also planning to allow workloads to span multiple Cloud Providers which is the holy grail in terms of functionality. Lastly, all of this can be managed using Pure Fusion allowing this to be offered to customers on a multitenant basis.
Learn more about Portworx Data Services by registering at the upcoming Pure//Dev event on May 11, 2022 at 9am PT.
You can also see more about Portworx on the Tech Field Day 24 page here:
https://techfieldday.com/appearance/pure-storage-presents-at-tech-field-day-24/