Juniper Mist has eradicated tier 1 and tier 2 support. No longer will you speak to a human that tells you to unplug it and plug it back in again. You will speak to Marvis.
Marvis is juniper Mist's self-automated AI customer service virtual network assistant. What can Marvis do? Marvis can answer simple language queries and understands the intent. Marvis has a conversational interface designed to get customers the answers they need. Juniper Mist likens Marvis to having a CTO sitting right there as part of the IT team.
Customers using Marvis have seen a drop of 40% to 90% in user-generated trouble tickets.
Marvis was just one of Juniper Mist's exciting features presented during the first AI Field Day, held on November 18–20, 2020.
A True AI Interface

Marvis is one of the only true virtual AI-driven assistants. If you ask it a question, it gives you answers. It has NLP, NLU, and a conversational interface. Every support ticket that comes in runs through Marvis. As with all AI, Marvis is learning and getting better to correctly answer 80-90% of questions that a human asks without a human getting involved from the support side.
If Marvis cannot answer the question, it is escalated to Juniper Mist's senior engineers, eliminating the standard 'hi, what's your problem, have you unplugged it?' dialogue. Juniper Mist is also proactive, with proactive research and analysis of customer systems. Juniper Mist will have an AP show up at a user's doorstep before they know they have an issue. That's the future of support. That's where AI comes into the equation.
The Vision

The Juniper Mist vision has always been about the AI-driven enterprise. In 2016 it launched the first piece of its AI strategy as Mist when it was a standalone company. That first piece was the first AI-driven wireless network. Juniper Mist introduced a host of new features, such as service levels and event correlation using machine learning, and even ML for location services. Its vision was always to take AI and ML wider and have end-to-end insight, automation, end-to-end actions for troubleshooting, and better visibility into the user experience.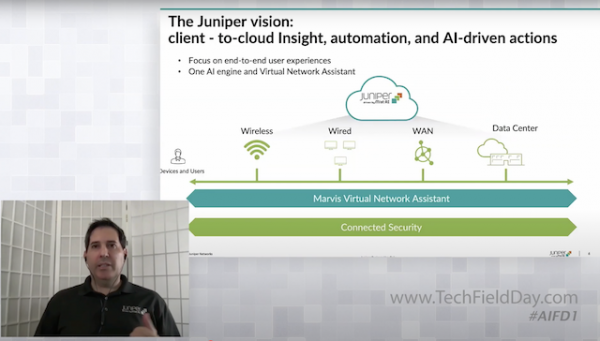 AI allows users to deliver the best user experiences, so Juniper and Mist had to evolve past just wireless AI. That is where juniper and Mist coming together with the acquisition in 2019 helped.
Since the acquisition, Juniper Mist has added the wireless piece into its AI engine in the cloud; the wired access piece has been moved into the cloud's AI engine. The wireless access piece is in the AI engine in the cloud; the WAN piece is moving in there, and so is the security piece that ties it all together.
The AI Experience
First and foremost, the Juniper Mist AI experience is about measuring and optimizing the user experience. Juniper Mist rewrote data to xx located control plane; it has real-time feeds going from access points to the cloud and real-time telemetry coming from those access points. Juniper Mist's AI experience is about the data quality that lets you look at the individual user experience, not comparing peer groups. It uses individual user experiences to make real-time decisions to optimize how the user experiences the platform.
Secondly – Juniper Mist's AI solution is end-to-end – client-to-cloud, LAN, WLAN, WAN security, and eventually datacenter, one AI engine, one cloud – all working together in harmony.
Thirdly, Juniper Mist is on its fourth or fifth generation of science algorithms, such as anomaly detection. These took the company years to perfect, but now they have near-zero false positives. AI gets better as it learns and matures.
The architecture matters, so Juniper Mist uses a modern microservices cloud – one cloud with one instance, so users don't have to install four or five pieces of cloud. Similarly, it has integrated hardware; there is no overlay, the same access points that deliver for wi-fi and Bluetooth, the same switches that are doing ethernet, etc., have these interfaces running to the cloud. Separate overlay sensors are not needed.
AIOps is making all this happen. Juniper Mist's AI is also about end-to-end security for secure user experiences.
Conclusion

Juniper Mist has been working across all verticals, from educational institutions such as MIT, retail, and SaaS companies such as ServiceNow.
Despite the drawbacks that COVID has brought, the Mist business grew 100% last quarter, with 180% bookings, and 100% of all Mist customers are using AI/ML.
Pair that with its mature AI algorithms, and Juniper Mist seems to be a pioneering force in AI.