The introduction and evolution of hyperconverged technologies have dramatically changed the datacenter solution landscape. Compared to traditional three-tier solutions with discrete compute, storage, and network layers, hyperconverged solutions represent a significant decrease in complexity. Because of this, solutions are now easier to architect, implement, and administer. However, there's still room for innovation within this space, and HPE believes it has an answer for a few of the flaws of traditional hyperconverged solutions with HPE Nimble dHCI.
Hyperconverged Isn't a Perfect Solution
With a hyperconverged solution, it's no longer required to purchase and implement separate layers of servers and storage arrays in order to create a virtualized hosting environment. These solutions aggregate compute and storage resources within a single server, assemble multiple servers into a cluster, and present all available storage resources to the cluster as a logical pool.
This is a great approach for customers that potentially need to start small and grow incrementally, as cluster compute and storage resources are both expanded simultaneously with the addition of a node.
Because of this, an HCI-based architecture works best when resource demand for both compute (CPU and RAM) grows fairly linearly along with storage consumption, as both resource types are increased when the environment is scaled.
However, if one of these types of resources is consumed at a faster rate than the others, this can result in unused compute or storage capacity, which somewhat negates the value proposition of the architecture.
In the face of this dilemma, some customers end up turning back to traditional three-tier architectures to meet their scaling requirements, but they often end up sacrificing the simplicity of management in the process.
HPE Nimble dHCI Bridges the Gap Between CI and HCI
With Nimble dHCI, HPE has set out to provide a solution that delivers the ease of implementation and ongoing administration of HCI solutions but allows compute and storage layers to scale independently.
The bundled solution consists of HPE FlexFabric network switches, HPE ProLiant servers, and a Nimble hybrid or all-flash storage array. This stack is fully supported as a single solution by HPE, just as you would see with a traditional Converged Infrastructure solution.  But the ongoing administrative experience has been significantly integrated and simplified and more closely resembles that of an HCI solution.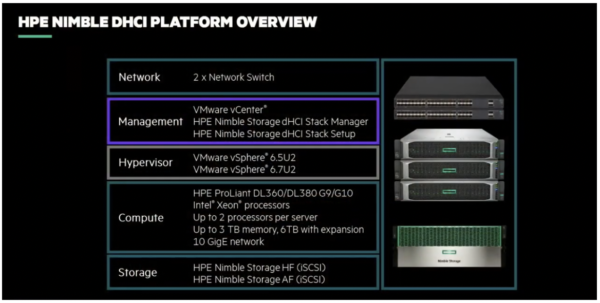 Bringing everything together, the full stack is connected to InfoSight, which simplifies the troubleshooting and support experience significantly through AI-driven recommendations and streamlined access to top-tier engineers.
All of this represents an interesting option that may appeal to customers whose technical requirements don't align with HCI, but who would nonetheless benefit from the simplified deployment and management experience of that type of solution.
Conclusion
Hyperconverged solutions have done a great deal to simplify the way data center infrastructure is approached. However, these types of solutions do have their flaws, and they are not a good fit in every situation. HPE has recognized this and attempts to bring the best attributes of converged stacks and hyperconverged solutions to the market in the form of HPE Nimble dHCI.
Although some confusion may result from the characterization of this new type of solution, there are interesting and valuable aspects to HPE Nimble dHCI that should be appreciated by customers whose requirements aren't met by the other CI and HCI options.
For more information about the HPE Nimble dHCI platform, check out HPE's presentation at Tech Field Day Exclusive with HPE Storage 2019.