As silicon space continues to demand a premium in the construction and operation of data centers, IT practitioners need a way to improve performance while also being conscious of latency and costs. Xilinx offers a solution thanks to their FPGA market dominance, providing an adaptable way to create the composable data center of the future. In their recent appearance at Tech Field Day, Xilinx describes how their new approach to the data center will help network engineers to adapt to growing amounts of traffic and data.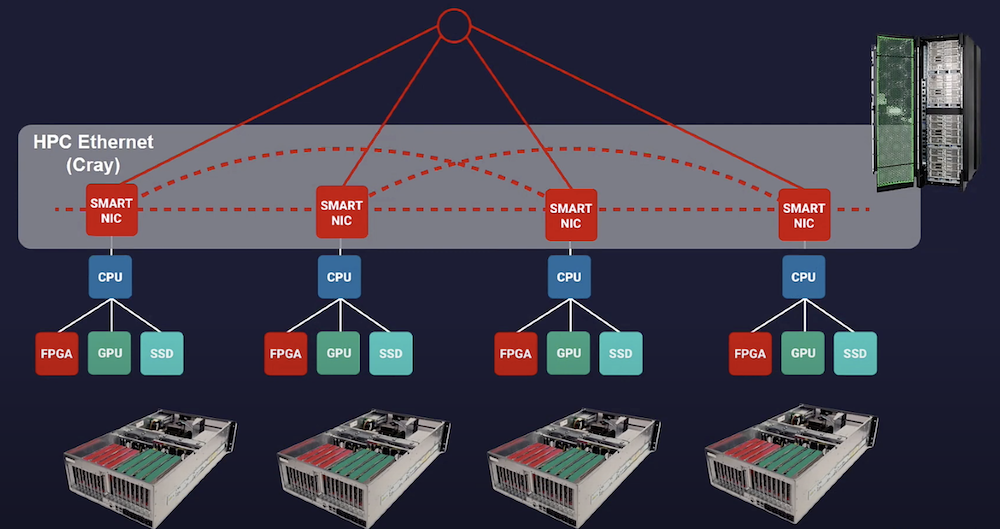 FPGA vs. ASIC
When it comes to creating scalable hardware, a question often asked is whether to build on an FPGA (Field Programmable Gate Array) or an ASIC (Application Specific Integrated Circuit). To understand the differences between the two aptly named circuits, here's a brief, high-level overview.
FPGAs, like the name implies, are built to serve many purposes and are then "field" programmed to fit into wherever they're needed. This ultimately makes them very flexible, able to be quickly adapted to suit whatever purpose they may need to serve at a given moment. In practice, FPGAs are often built with an on-board CPU, allowing the FPGA core to tackle high-speed acceleration operations while the CPU handles mundane, non-critical processes.
ASICs, on the other hand, are purpose-built to serve a specific task or function, meaning they can be configured to operate at high workloads, but remain dedicated to that task once created. This leads to a high upfront cost due to the engineering of the chip, but ASICs are often created at mass scales to amortize the cost.
Xilinix, FPGAs, and the Composable Data Center
As we continue to see the slowing down of Moore's Law and the decline of CPU capabilities in comparison to other forms of hardware, innovations in FPGA hardware architecture allow manufacturers to achieve more despite lesser CPU capabilities. Xilinx is one such player in this space, and are using FPGAs to tackle a problem faced by many of today's network engineers.
With growing loads of data being accumulated daily, the data center, as it were, is ill-equipped to analyze and execute on such massive amounts of data, much less handle the increased amounts of network traffic imposed by decentralized workforces. Xilinx, through the help of FPGAs and their new SmartNIC, have found what they believe to be the solution to this issue.
Xilinx calls their approach the "composable" data center. By leveraging FPGAs, this approach allows networking engineers to restructure their data center at a moment's notice, adapting to workloads as they happen by simply loading in a new bit stream.
Delving into the Composable Data Center and SmartNIC
At their recent Tech Field Day appearance, Xilinx described the capabilities of their composable data center architecture, and how smart SSD FPGAs and their SmartNIC technology are crucial to enabling modern workloads with high efficiency. Ivo Bolsen, Xilinx CTO, puts it best, saying that a key feature of FPGAs is their ability to bring computing power directly to where data is being stored, allowing for lower latency with higher performance.
He continues, describing the ways Xilinx has broken traditional barriers surrounding FPGAs regarding their general difficulty by providing an easy-to-use development environment where IT practitioners can take advantage of the power of FPGAs without years of programming expertise. Adding in the composable SmartNIC to the architecture further speeds up processes by offloading processes from the CPU and tackling dedicated workflows.
Zach's Reaction
With many nervous about how the slowing of Moore's Law would affect the feasibility of a scalable data center in modern operations, it's good to see that Xilinx is unafraid and eager to tackle the issue head-on with their new smart SSD, FPGA, and SmartNIC topologies. As data loads and remote traffic continue to grow, the Xilinx composable data center offers an efficient way to keep operations running smoothly.
To learn more about Xilinx and their new composable data center architecture, be sure to watch the rest of their Tech Field Day presentation.