To keep up with massive amounts of data in the modern enterprise, networking and data center engineers need their data transfer devices to operate at the speed of light. Thankfully, with their developing silicon photonics technology, Intel is doing just that. During their Networking Field Day appearance, Intel showcased the capabilities of this science fiction-sounding technology and described how it fits into the modern data center.
Keeping Up with the Demands of the Modern Data Center
If we've heard it once, we've heard a thousand times that the amount of enterprise data is growing, and at a somewhat alarming rate to boot. Although many are concerned with how we can possibly store all of this data, networking professionals are perhaps more concerned about how we can move all this data with speed and at scale.
In spite of the overall shift of infrastructure to the cloud, especially following the rise of remote work due to COVID-19, the on-premises data center remains the tried-and-true method for organizations to house their most critical data and applications. But, with petabytes of data moving around the enterprise, the data center needs to be able to process high amounts of data at high speeds. For many, ethernet cabling isn't cutting the mustard, so an alternative method is required.
Enter, Intel Silicon Photonics
Intel has what they believe to be the answer to the problem of massive scale data transfer through their new silicon photonics pluggable optical transceivers. A project now over four years in the making, Intel's silicon photonics leverage silicon as an optical medium to transmit semiconductor lasers in a fiberlike manner to quickly transfer data over long distances. In practice, silicon photonics offer a more effective method for data transfer at scale than other alternatives.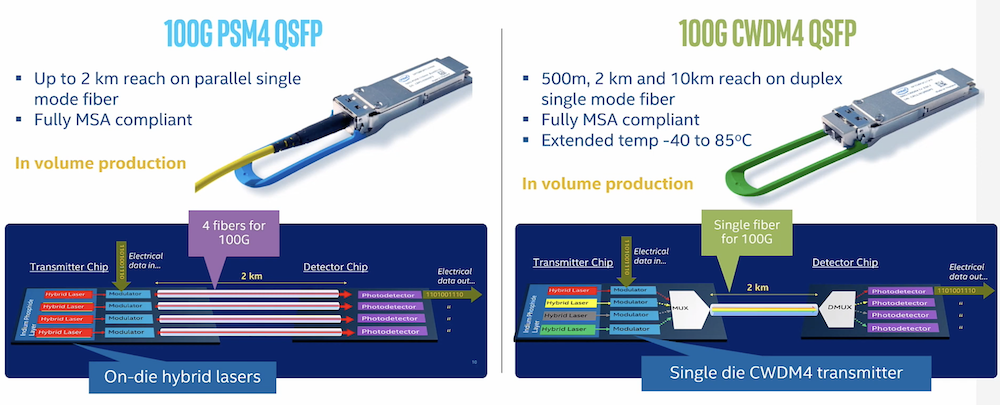 For example, at the highest end, Intel's newest line of silicon photonic transceivers clock at 200 GB/s FR4 and 400 GB/s DR4 with several kilometers of reach, making them ideal for moving mass amounts of data over long distances. In modern data center operations, this ability to transmit data at scale is crucial to ensuring fast, reliable performance.
Digging Deeper into Silicon Photonics
At their Networking Field Day presentation in May, Intel representatives displayed a number of their new networking products, including the upgraded silicon photonics transceivers. Robert Blum, Senior Director of Marketing and New Business for Intel's silicon photonics division, detailed some of the full capabilities of the new transceivers.
In his presentation, Blum noted that the new transceivers are capable of operating uncooled from -40 to 85 °C at a fixed wavelength, making them useful in both data center and industrial operations. On the subject of reliability, Blum also noted that they've only seen two device failures across a billion device hours with the silicon photonics lasers, quoting the non-hermetic packaging and superior laser construction as the source for such performance.
That packaging also allows for the transceivers to be both built and installed at very grand scales due to its small size and unsealed nature. For massive data center operations, such reliability at scale can prove to be a game changer when you need to move a lot of data quickly across long distances.
Zach's Reaction
Honestly, the new Intel silicon photonics technology is mind-blowing. The combined throughput, reach, size, scalability, and manufacturability of Intel's transceivers add up to a highly efficient and effective way to transfer massive amounts of data. I can't wait to see how future iterations of the technology will continue to surpass generations previous to meet the demands of growing data loads.
Learn more about silicon photonics and the rest of Intel's networking portfolio by watching all of their Networking Field Day presentations, visiting their website, reading this related blog, or watching this video.