Storage disaggregation allows IT professionals to make the most of their server architecture, even with users and applications operating from anywhere. By partnering with Lightbits Labs, a development showcased at August's Storage Field Day event, Intel has created a way to optimize storage through disaggregation, maximizing performance while using resources efficiently.
Achieving Storage at Scale through Disaggregation
With so many locations at play across the enterprise, from data center to edge, ensuring that storage is available across all of those locations proves critical to today's IT practitioners. Resource utilization loads need to be balanced across cloud and on-premises implementations, and these storage solutions also need to scale as organizations grow while also keeping up with performance requirements.
By disaggregating storage through software, IT practitioners can effectively dole out storage resources as needed to any part of the enterprise. That way, storage resources aren't limited by physical connections; anywhere in the network that needs storage can call on the requisite drives, and then that data is properly and securely routed to said storage drives, wherever they may be.
Introducing Lightbits Labs with Intel Optane
Intel, masters of server hardware, have partnered with Lightbits Labs, makers of storage disaggregation software, to create a solution to benefit enterprises that need to expand the purview of their storage. By applying Lightbits' software to Intel's Optane persistent memory, IT organizations can optimize their storage layout to accommodate nearly any workload while ensuring maximum performance.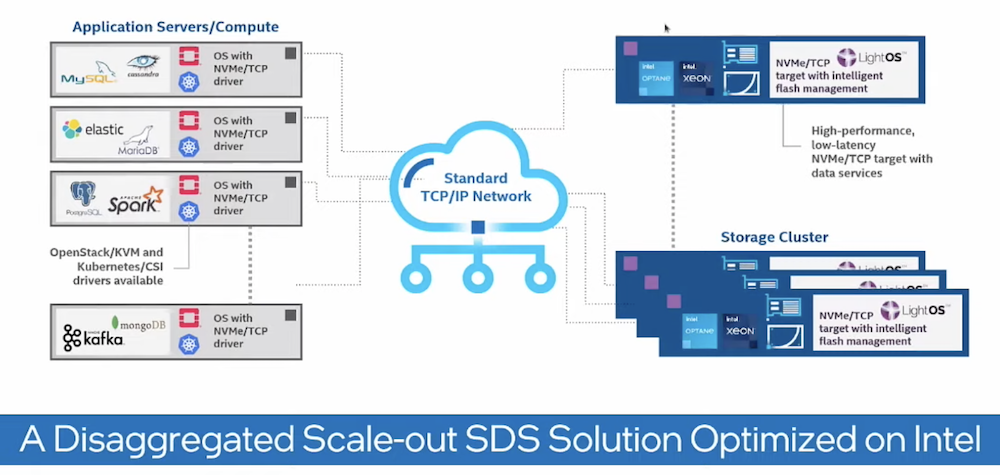 For data services, Lightbits' LightOS product leverages NVMe virtual block devices to provide Flash-like performance but with array-like features. In practice, this approach makes the storage experience very similar to traditional storage methods from a management perspective, but with increased scalability and performance across the board.
Intel + Lightbits in Further Detail
When presenting on the partnership at a recent Storage Field Day event, Intel's Vivek Sarathy was joined by Sagi Grimberg, CTO/Co-Founder of Lightbits Labs, to discuss storage optimization in the data center. During their presentation, Grimberg shared information regarding Lightbits' storage disaggregation capabilities when used with Intel Optane.
Because it builds off Optane, as well as the rest of the Intel Xeon scalable platform, Lightbits' LightOS enables the creation of a single, localized cluster containing all of the server targets required to store. Then, when applications need to write to said target, Lightbits ensures that it both actively writes to the needed storage, as well as replicates to a secondary server for redundancy. Multiple applications can be run simultaneously in this way, making optimal use of each memory component while allowing organizations to operate anywhere and at scale.
Zach's Reaction
As organizations' operations continue to scale and expand, Lightbits' software allows IT practitioners to make the most of their Intel-based infrastructure to ensure maximum performance while also making use of only the requisite amount of storage resources. In that way, Intel and Lightbits optimize your storage infrastructure, increasing return on investment while keeping performance at its highest levels.
Learn more about the new and exciting things coming out of Intel like their Lightbits partnership by watching all of their Storage Field Day presentations.