Today's IT infrastructure faces interesting challenges. More data is being created than ever now. But making use of it with the current IT processes and aging infrastructure is another worry. Migrating to new technology is both expensive and disruptive. It begs the question, is it possible to find a solution that won't be technologically obsolete five years from now, but that makes datacenters efficient and sustainable? 
The Data Paradox
Every business wants to have data-driven operations. After all, when a business collects all the data, it can do more analysis, and that gives it the power to make better decisions. But the problem is, today businesses have so much data that they can't possibly process it all. In fact, a May 2021 Forrester survey shows that about 70% of organizations gather data faster than they can use it. This puts them in a data paradox.
Organizations still must comply with security and compliance requirements for all their data. A simple way to do that is through automation of operations which, according to IDC, 89% of businesses have as their critical or most important priority in the next two years. But companies still worry that their data won't be recovered after a cyber attack.
As modern ways emerge to find meaning in all of that data, modern IT infrastructure will be essential.
Caught between Two Data Management Worlds
All of the above factors introduce interesting data management challenges.
What if an organization has datasets hosted on different systems? One approach is to consolidate them into one storage platform. This could help reduce costs, provide a way to scale environments, and even increase performance.
Another reason to update storage platforms is that modern storage management uses built-in AI automation. Automation simplifies storage management, freeing up expensive staff to concentrate on solution development.
Modernizing Storage Infrastructure
PowerMaxOS 10 is the latest software for Dell PowerMax that is built over 30 years of storage innovation. Past innovations paved the way for PowerMaxOS software to be updated without disruption in just 6 seconds. This ensures companies can easily adopt new innovations – without costly and complicated data migration procedures.
Deployed in over 95% of Fortune 500 sectors, PowerMax arrays were built to consolidate all sorts of workloads. They support rich data services for open systems, mainframes, file, and virtual environments.
The PowerMax 2500 and 8500 have disaggregated storage and compute. This is why they deliver the highest performance at scale. A new feature called Flexible RAID is another reason these new systems deliver high storage performance, resiliency, and efficiency. Flexible RAID provides single-drive upgrades without disruption.
For customers concerned with energy efficiency, PowerMax provides 2.8x more performance per watt, seven times the capacity per array in half the rack space, and up to 80% power savings per TB than the previous generation. The arrays are architected for high density and adaptive cooling that helps reduce energy consumption saving up to $207k in electricity cost over five years.
The ability to support so many workloads at scale is what drives another big energy saver – datacenter consolidation. Dell guarantees a 4:1 reduction ratio with the PowerMax 2500 and 8500 with no preassessment required. Dell has seen customers cut both power and cooling costs when using PowerMax to modernize aging storage infrastructure. In one case, a customer reduced their physical footprint by 88%, and cut power and cooling costs by another 50%. 
The Future of IT Automated and Secure
But can the PowerMax help with automation and data security?
When workloads need to be scaled up or down to make sense of massive amounts of data, it becomes next to impossible to keep up with the storage administration tasks. The PowerMax is the first array in the industry to perform provisioning and other storage administrative tasks for open-system block, file, and mainframe workloads with a single unified REST API toolkit.
The ability to consolidate diverse workloads and data types reduces an organization's attack surface and simplifies security administration for that data. For even more protection, PowerMax cyber vault replicates data to an isolated, air-gapped vault that is separate from the production network. It can provide expedited, snapshot-based recovery of compromised production data to respond to cyberattacks. Dell also maintains PowerMax Ansible scripts, and supports Kubernetes containers to streamline DevOps and ITOps. This simplifies storage administration and makes use of existing automation.
This leaves companies with one last challenge – protecting the data. PowerMax arrays were designed with classic datacenter hygiene principles. First and foremost, they are purpose-built to prevent unauthorized access. This is accomplished using:
Hardware root of trust (HWRoT).
Requiring digital signatures before firmware updates can be applied.
Hardware-based data encryption via FIPS 140-2 certified self-encrypting drives (in case a drive is removed).
Secure access controls and tamper-proof audit logs.
Multi-factor authentication (MFA) for admin access.
CloudIQ is also used to prevent unauthorized access, by identifying security violations by setting up legal configurations, system monitoring, and alerts if the array goes out of compliance. CloudIQ also automatically tracks data patterns and detects anomalies, giving early warning of malware infections.
Finally, the best way to survive an attack is to recover completely. PowerMax systems use secure immutable snapshots, enabling full data recovery from cyberattacks within seconds.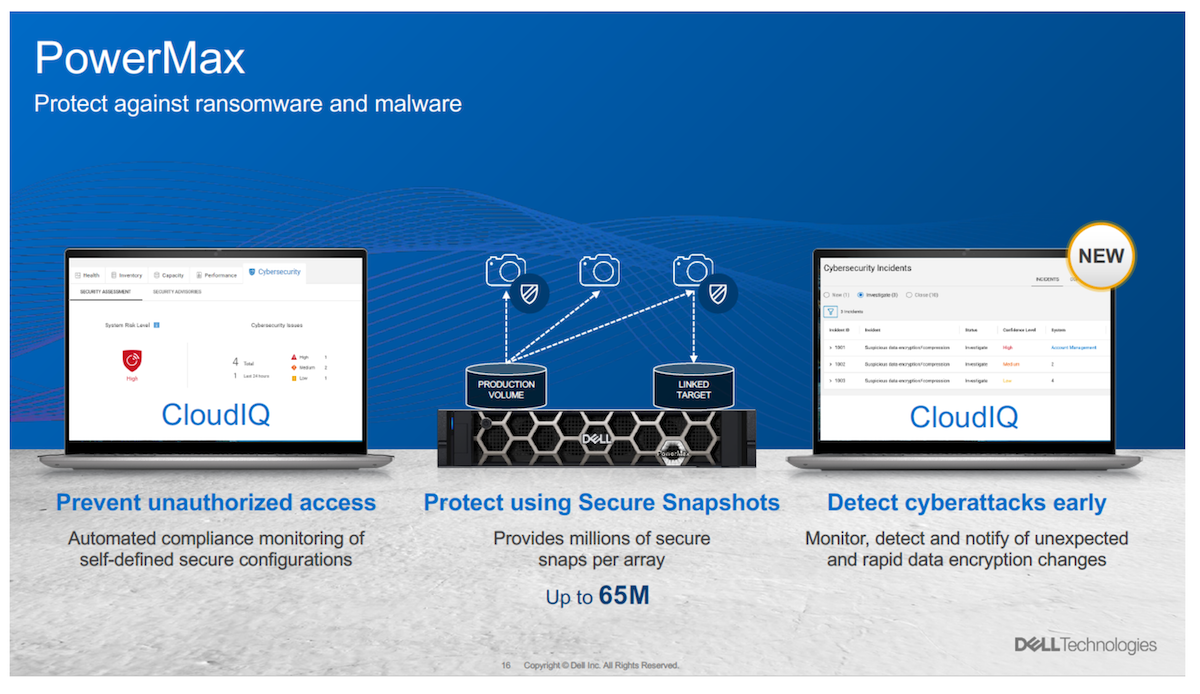 It's Time to Modernize
The IT sector is in the midst of an enormous change, as we approach late-stage digital transformation. Organizations need to operate in the future as well as in the past, making sure to meet efficiency and sustainability goals in parallel.
Storage platforms like the PowerMax 2500 and 8500 provide a great way to consolidate workloads of all flavors, saving money on energy and cooling cost right away. They are built to protect data from unauthorized access, and CloudIQ reinforces that protection. It's built to work with modern tools like Ansible and Kubernetes containers, and since users can upgrade PowerMaxOS software in just seconds, they can keep their storage continuously modern.
Watch Dell's presentation of the PowerMax technology at this past Tech Field Day event to learn more.