If downtime is costing your company money, Aruba, a Hewlett Packard Enterprise company (Aruba), may have the right solution. Aruba has developed an artificial intelligence for IT operations (AIOps) application for companies running HPE's Aruba networking gear. This application utilizes secure, anonymized data to develop the best use-cases for maintenance and decrease downtime for your individual IT operations.
Unified Architecture
Aruba AIOps has a unified infrastructure; this includes campus, branch distributor environments, and home offices. These environments encompass multiple wireless and wired devices, including APs, gateways, switches, and WANs.
The 55 million connected devices across the Aruba AIOps program send telemetry to the cloud allowing modeling across multiple environments, multiple devices, and end-to-end root causing. In the cloud, Aruba can train and deploy models that generate user-visible outcomes, self-correcting outcomes, or outcomes that improve client direction or product – that is, Aruba's AIOps in a nutshell.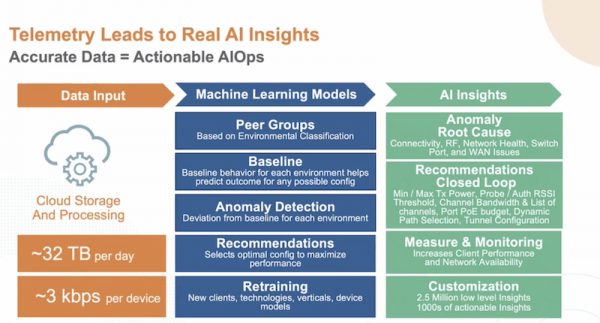 Why Do I Need AIOps?
Using efficient analysis and pulling the right data from your artificial intelligence for IT operations (AIOps) applications is essential to driving modern strategic business decisions. More and more, companies look to AIOps to gain a competitive advantage, improve IT performance, and reduce extremely costly downtimes and disruptions. If revenues are impacted, downtime can cost a whopping $72,000 per minute, according to a study by Digital Enterprise Journal (DEJ).
One of the most critical parts of any sound AIOps system is efficiently extracting the quality, granularity, adaptability, volume, and diversity of the data fed into the program.
Aruba's AIOps gathers telemetry from all connected devices and clients to get the necessary data quality, including states, configs, stats, metrics, and events. For its AIOps, Aruba uses intelligent edge pre-processing to reduce data overwhelm and improve the value of the data being sent and analyzed.
Aruba's AIOps has over a million network infrastructure devices, including AP, switches, and gateways. From there, it collects data such as fingerprint information from the 55 million end-client devices, which include iPhones, cameras, and laptops from over 65,000 customers.
This wide variety of customers gives Aruba's AIOps diverse information from universities, enterprises, fast food chains, stadiums, and more from a range of device types. From this diverse set of data, and all these customers trying different things, AIOps can figure out what is best of breed and what is best for every customer using their system.
But, What About Privacy?
As with all data gathering and analytics systems, privacy is at the forefront of every customer's mind, so is personal data protected within Aruba's AIOps?
According to Aruba, even though the jobs are multi-tenant, the PII information is not leaked between customers. Those people who work on secure data are mostly on the modeling. The models can learn exciting things about underlying behavior without knowing anything about the clients themselves. The data that's making the models is anonymized. No PII information is used to build models of the optimal transmit power for APs for a specific environment.
Aruba's AIOps has device type classifiers that use fingerprints from the devices, but the model doesn't collect the end-user names or which ranges of Mac addresses are which device type. It just receives the fingerprints, and the model outputs a range of probabilities of whether this is most likely to be an iPhone or a Samsung TV. So there's no leakage of personal data that would be visible for other customers. The anonymized data goes to low-level models; these low-level models generate outputs that enrich higher models.
So What?
Well. If you currently use HPE's Aruba networking gear, you now have an efficient and secure way to extract your network information data and make it user-actionable based on rich data input from 55 million other devices – which may have experienced similar challenges. With Aruba's AIOps, you should be able to fix issues within your network as they happen and with future updates, perhaps even before you even really know they are happening.
Will it save you money? Probably.
More details about AIOps with HPE Aruba can be found in their Cloud Field Day presentation earlier this year. We are also looking forward to getting a deeper dive into Aruba AIOps during their presentation at AI Field Day in November!