The edge has emerged as a dominant sector, and the center of all of IT's focus, as organizations embark on a mission to consolidate their workloads. But the world at the edge is not a new discovery. It has existed since before cloud and datacenters, and in fact, been so ubiquitous that it has been taken for granted until now.
Understanding Edge
The edge is where the physical sites are – oil rigs, mines, solar farms, retail stores, gas stations, supermarkets, points of sale and places of business.
"When we think of the edge, we think of small sites – where the data is being generated," said Bruce Kornfeld, Chief Marketing and Product Officer, StorMagic, at the Edge Field Day presentation of their solution SvSAN with HPE.
These sites are each a tiny datacenter, producing and processing information 24/7. But their effectiveness, has always been on the low, compared to the traditional datacenters that we know of. The edge applications must sync with a set of remote servers to process the data. There's typically a time lag between sending that data over and receiving feedback. This has impacted the applications' responsiveness and availability for years.
These are the sites that StorMagic serves. Ideally, data processing for these applications should occur on a local infrastructure so that the analysis comes back in real-time. But the edge has been an afterthought until now.
Faster Processing at the Terminals
StorMagic sees edge technology as "the method to improving business agility and creating new customers". So it presents a holistic, software-defined storage solution for the small outfits that cannot use cloud, and need to run their applications locally.
To a vast majority of the users, the cloud is the silver bullet for all things compute. So why is it different at the edge? Many of these applications running at the edge are time-sensitive. "The Internet has a tendency to go down once in a while, and some customers just can't handle any kind of downtime," Kornfeld points out.
Data takes longer to travel back from cloud servers, causing latency and impacting the performance of these applications. There is nothing high-speed internet connectivity or nimble servers can do about it.
To make things worse, cloud services aren't budget-friendly, and frankly an overkill for small IT requirements. "If you're an edge site and you're using the cloud, cost is probably the thing that jumps up as something that needs to be relooked at when designing the infrastructure," says Kornfeld.
Bringing computing power closer to where these applications are – on the edge, potentially solves a lot of these issues. But while experimenting with edge computing over the past few years, experts have faced a few roadblocks.
For one, there is an enormous amount of raw data waiting to be processed at the edge. A big driver of the data explosion is the work businesses are doing at the edge, AI being a big part of that, Kornfeld says.
With the influx of users, devices and applications, downtime is out of question.
Secondly, they found that the edge poses a fundamental security risk. Physical security of the edge servers has been a sticking point since day one. "Datacenters typically have raised floors, air conditioning and badge access only. Whereas at the edge, these servers can be anywhere. It can be under a desk, under the checkout counter, in a weird place in a manufacturing plant, or in a mineral mine," reminded Kornfeld. So securing assets at the edge demands a novel approach.
With the edge shaping out at the current speed and spewing data non-stop, Gartner predicts that by 2025, 40% of enterprise storage will be setup locally at the edge. These trends all point to the fact that edge environments need to be made available and protected.
This begs the question – how do companies manage all these locations and keep everything running with no full-time IT staff on-site?
Building Independent Always-On IT Environments at the Edge
For nearly 15 years, StorMagic has worked with only one mission in sight – to solve the edge data problems. It has put all its effort in enabling small sites store, secure and manage data at the edge. 100% uptime and security for mission-critical environments is the cornerstone of its solution.
"We are not focused on hyperscalers and massive numbers of nodes. We're not talking about datacenters. We think small. Anywhere a customer needs a couple of servers to run applications locally, that's what we do," says Kornfeld.
Today, StorMagic has customers around the world, and a majority of them, small businesses that own one or two sites each.
As a virtual SAN vendor, StorMagic is a trusted name in the retail sector, and several other verticals where physical sites are a way of life. "Our product is not just a one-vertical market solution. It is used in many vertical markets. Our largest customers are in retail because they have a lot of stores typically."
StorMagic SvSAN
StorMagic SvSAN is a hyperconverged data storage solution that is designed for edge and small and medium businesses (SMBs). A software-only product, it is a 2-node solution that runs on commodity x86 hardware. Vendor agnostic, it has only one requirement – "We really don't care what the model of hardware is, how old it is, the CPU, memory, disk drives, none of it. The only caveat is both servers need to be able to run the same version of the hypervisor," said Kornfeld.
SvSAN supports three key hypervisors – VMware, Microsoft Hyper-V and KVM.
If you're wondering why two servers, it's because it is the optimum configuration. A 2-node cluster has the smallest footprint and yet, promise big payoffs in terms of availability. With two servers working in tandem, when one goes down, the surviving server provides redundancy and failover. In times of failure, the virtual SAN software running as a virtual machine (VM), automatically moves over from the failed node keeping the applications working without downtime.
SvSAN may have small setup, but it's complete by itself. It relies on synchronous mirroring, a technique that replicates data between servers in real-time, ensuring the exact same data resides in both nodes at all times, thus eliminating a single point of failure. The servers are centrally managed.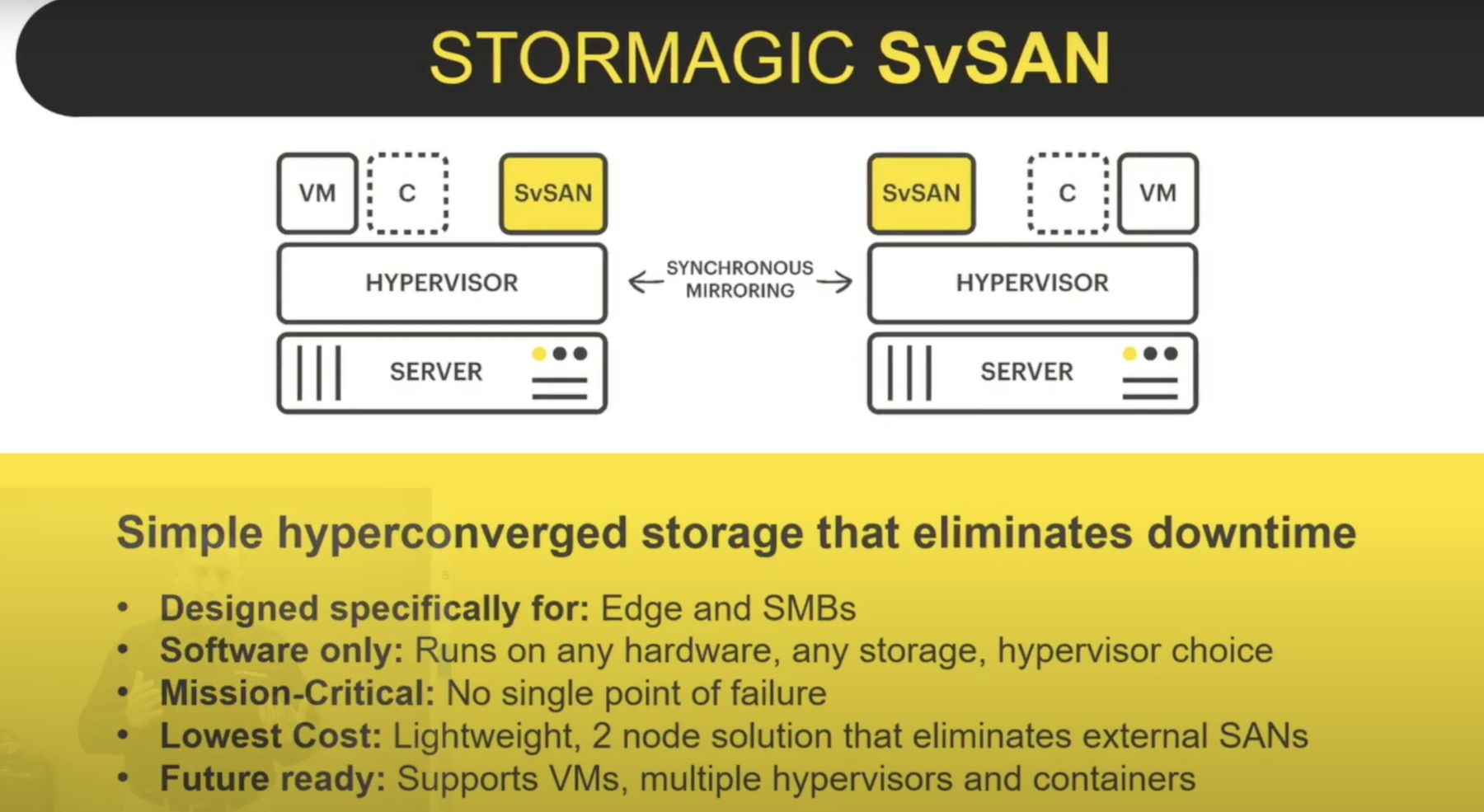 While this configuration works perfectly for most companies, there are some that like to prepare for contingencies. For them, StorMagic supports a three-node configuration. "Typically, our customers deploy 2 nodes and that's what we do really well, but some want a third server because they want to be able to take a server offline for maintenance, and still have a highly available cluster," shared Kornfeld.
While SvSAN keeps the cluster running like breeze through a variety of failures with just two servers per site, effectively minimizing the cost blowout, it also keeps networking expenses in check. Kornfeld told that it requires only a 9KB per second connection to run SvSAN, and can withstand 3000 millisecond latency which is an excellent bargain for small sites with limited resources and narrow needs. With way less servers to buy, install and manage, customers wind up saving a lot on CapEx out of the gate.
StorMagic addresses the problem of security with a built-in encryption feature that encrypts data as it comes through. This ensures that only encrypted data is saved and replicated to the storage servers. Using the native encryption function saves users the cost of encryption and brings down the OpEx further. However, StorMagic allows customers to do the encryption themselves, should they want to do so. StorMagic offers a native encryption key management solution (SvKMS) but customers are welcome to use their own.
Kornfeld highlighted that scaling is different with SvSAN than it is with other HCI products. StorMagic lets users scale storage and compute independently. Storage can be expanded by adding drives to the full capacity of the servers. To scale compute, users can add any number of compute nodes based on their workloads.
Enhancing the capability of SvSAN, StorMagic recently announced the StorMagic Edge Control, a software as-a-service solution that simplifies SvSAN cluster administration. Designed to provide a comprehensive management for SvSAN environments in all locations through a single pane of glass view, the software makes managing and monitoring deployments much easier and effortless.
Wrapping Up
In an economy where vendors typically aim to serve big companies with large setups, and do not go far to support the smaller outfits, StorMagic bridges that divide. It understands that SMBs' needs are often overlooked, and they need a solution to fuels up their competitiveness. At a small footprint, SvSAN creates a fast and powerful highly specialized edge environment that guarantees the resilience and uptime every application must deliver its users.
For more information on StorMagic SvSAN and Edge Control, be sure to check out the demos from the recent Edge Field Day event.