If you've tuned in to recent enterprise IT news, you've probably heard about the groundbreaking announcement by Intel regarding their new generation of their Xeon Scalable processor platform, Ice Lake. Intel presented at a Tech Field Day exclusive event this April, detailing their new release and its capabilities, as well as how it stacks up in comparison to their preexisting Xeon processors.
What is the Xeon Scalable Platform?
Intel's Xeon scalable platform is a family of processors designed to serve as the foundation of an organization's on-premises data center. When layered into a server stack, Xeon provides companies with an agile server platform that can scale efficiently and effectively to meet their needs.
The Xeon platform started back in 1998 with a 4 or 8 core option, codenamed "Drake". Since then, over 50 million Intel Xeon Scalable processors have been shipped and deployed in various data center environments ranging from cloud to the intelligent edge.
Enter, Ice Lake
As of early 2020, Intel announced a new generation of Xeon scalable processors would be generally available to the market. Code-named "Ice Lake," this third-generation promises to expand the boundaries of the Xeon platform to new heights.
Specifically, Ice Lake is designed to help facilitate cloud and edge use cases, enabling organizations to leverage AI in these locations for improved processing. With expanded capabilities and performance specs, Ice Lake offers major upgrades compared to older Xeon generations.
Ice Lake vs. Previous Generations
In their exclusive Tech Field Day event surrounding Ice Lake's release, members of Intel's Data Center Processor Architecture and Data Platform groups detailed the abilities of Ice Lake. One presentation, in particular, with Intel's Director of Datacenter Performance, Ram Ramakrishnan, described how the new release compares to Cascade Lake, the 2nd generation of Xeon, both technically and by performance.
Thanks to Ice Lake's new "Sunny Cove" architecture, the 3rd generation of Xeon features anywhere from 8 to 40 cores per socket, almost doubling the 4-28 cores available with Cascade Lake. The L1/L2/L3 of each of those Ice Lake cores is 48 KB, 1.25 MB, and 1.5 MB, respectively. That's an increase from Cascade Lake's 32 KB/1 MB/1.375 MB.
Ice Lake also features two more memory channels than Cascade Lake with a total of 8 and an up to 3200 DIMM speed, marking an increase from Cascade Lake's up to 2933. Ice Lake provides more PCIe lanes, a total of 64, and an improvement to PCIe 4.0 over the previous generations' 48 lanes of PCIe 3.0.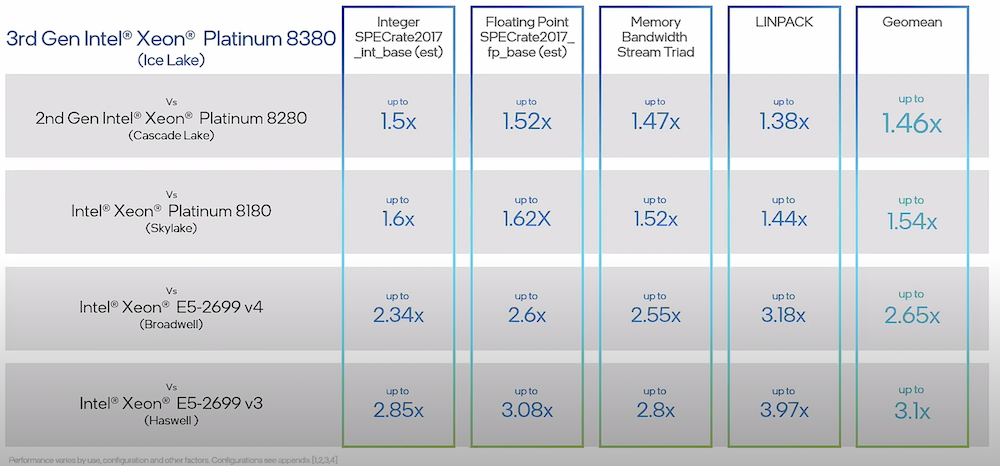 Outside some of the more technical specifications, Ice Lake also provides platform adjacencies not available in Cascade Lake, including the members of the Intel Optane persistent memory family and their E810-C ethernet adapter. In total, Ice Lake provides a wholesale upgrade compared to Cascade Lake as well as other key features like their SGX security solution and more.
Zach's Reaction
Pound-for-pound, Ice Lake provides marked improvement compared to Cascade Lake, enabling higher performance for high-demand workloads like AI on the edge. In practice, there's no doubt we'll see Ice Lake being used in innovative and industry-changing ways.
To learn more about the specifications of Ice Lake, watch the rest of their exclusive Tech Field Day presentation or check out their website.