How SD-WAN is Proving Itself During the COVID-19 Pandemic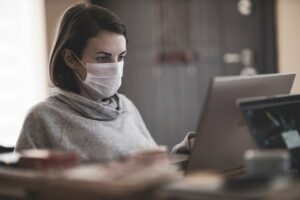 Allowing workers to work from anywhere is considered an important part of digital transformation (DX), but who expected millions of global workers to have to socially distance almost at once? Now that COVID-19 has forced so many to work from their homes, we are relying on the internet more than ever. Remote workers are relying on Unified Communications as a Service (UCaaS) meaning lots of VoIP traffic. This means video usage is way up as well. They are also using VDI and SaaS applications in the cloud.
Just one application, Microsoft Teams, which allows chat and video collaboration, saw user growth of 37% in one week to 44 million active users. Zoom, the popular video conferencing application saw its daily active users jump from 10 million to over 200 million in three months!
Home Network Connectivity
Home networks and internet connections are generally not supplied by employers. This means they could have drastically different performance levels than enterprise networks which typically come with guaranteed service level agreements (SLAs) from carriers. For this reason, home networks may have poor connectivity compared to the enterprise. Yet, these home networks are supporting more applications than ever before, as family members are sharing the network and often using bandwidth-intensive video and gaming applications.
As we self-isolate, Internet connectivity has proven itself to be essential to our work and personal lives, and thankfully, SD-WAN has proven to be an important technology supporting this work-from-home transition.
WANs allow organizations to extend their computer networks over large distances, connecting remote branch offices to data centers. WANs typically have network congestion, packet delay variation, packet loss, and outages.
SD-WAN solutions address these network problems and bring more value to the company deploying them via a software-defined approach. At branch locations or homes, routers can be either enhanced with newer edge hardware devices or replaced with virtualized appliances that can control and manage application-level policies and SD-WAN offers a software overlay over multiple commodity Internet links.
Management takes place via a centralized controller which can set policies and prioritize traffic. SD-WAN provides assured performance in line with set policies and traffic prioritization needs. As a result, it can ensure important applications like video conferencing sessions can be prioritized over non-essential applications such as YouTube or music streaming.
The rapid shift to teleworking is just one scenario SD-WAN was made to handle.
Even if it were possible to send IT personnel to every worker's home to set up their networks, social distancing guidelines wouldn't allow this to happen. As a result, the SD-WAN solutions' zero-touch provisioning (ZTP) is crucial.
SD-WAN Application Performance
Then there is the need for network management. Having to manually configure thousands of users on various networks is time-consuming. Thankfully, SD-WAN allows for centralized management of the network.
In addition, SD-WAN provides assured application performance even under the single link brown-out condition.
Many contact center agents are working from home, yet they must remain at peak productivity because these centers in banking, healthcare, e-commerce, among others are seeing increases in call volumes. Real-time voice communications need a reliable connection to provide a good end-user experience.
Thankfully, technology companies are helping to get companies through these challenging times. In a way, the unified communications and SD-WAN spaces have been preparing for this rapid work-from-home shift for a while.
Many are doing even more to assist. Microsoft Teams has a free trial offer and Google Meet video conferencing is now free for anybody with a Google account.
VMware SD-WAN by VeloCloud
VMware, a leader in the SD-WAN space, not only has a solution to the many challenges businesses face, but they also have a generous offer to share.
Let's start with their solution and how it is helping organizations today.
VMware SD-WAN by VeloCloud®  supports secure, reliable access for traditional and SaaS applications, including VoIP, UCaaS, Collaboration, and VDI, from providers such as Microsoft 365, Zoom Meeting, Vonage, Ring Central, Windstream, VMware Horizon Cloud, and more.
The solution offers optimal teleworking for enterprise work-at-home users through a hyper-scale model with a global network of 2,000+ cloud gateways in 100+ PoPs. It is available as a service backed by 120+ service providers worldwide.
It provides assured performance for applications via Dynamic Multipath Optimization™ (DMPO). This technology provides automatic link monitoring, auto-detection of provider, and autoconfiguration of link characteristics, routing, and quality of service (QoS) settings. It delivers sub-second link failover for blackout and brownout protection to improve application availability. It remediates link degradation through forward error correction (FEC), activating jitter buffering, and synthetic packet production.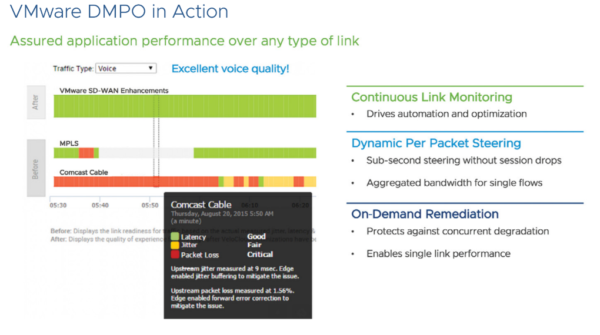 VMware SD-WAN by VeloCloud delivers one of the fastest and easiest ways to set up a home office, reducing provisioning and deployment time from days to hours or minutes. The company uses Zero Touch Provisioning (ZTP), which allows remote users to initiate and complete home deployments by clicking on an activation link in an email message, providing the activation code, and pulling down the configuration.  All of this can be done with no IT onsite or online, no pre-staging required, and no security risk if a home edge device is lost.
With so many home networks to manage a centralized approach makes the best sense. Cloud-based VMware SD-WAN Orchestrators are designed to simplify not only the end-user configuration and deployments but also ongoing troubleshooting and management of all home networks. Application-based policies are pre-defined to provide a standardized template for simplicity and ease of use. These policies are also customizable and entirely dictated by business directives, allowing for flexibility when needed.
Home networks are potentially handling myriad consumer applications, but business applications demand assured quality levels. Netflix, gaming, FaceTime, streaming audio, and other bandwidth-intensive applications should not impact the home worker's Zoom call and SaaS application access.
DMPO helps with this challenge. Also, Deep Packet Recognition (DAR) leverages a database of 3,000+ applications, including Salesforce.com, Office 365, Workday, Zoom Meeting, and more, laying a foundation for application recognition. Applications can then be classified in terms of priority based on the business policy. VMware SD-WAN subsequently steers applications based on the real-time network condition and the available transport link to support the desired quality.
DMPO works with one or more Internet links. Recent test runs of VMware SD-WAN by VeloCloud with UCaaS from RingCentral on a single link showed that voice quality measured by MOS (Mean Opinion Score) was excellent even at a 14% packet drop. In comparison, voice quality rapidly degrades, starting at a 5% mark of packet drop. This type of quality improvement can benefit any real-time cloud application (e.g. Zoom, Microsoft Teams).
To achieve business-grade resiliency in a home network for mission-critical applications such as telehealth, executive collaboration, and Office 365 access, consider adding 4G/LTE access or a second wired broadband connection from a different provider. This will help to augment the primary connection by leveraging the VMware SD-WAN overlay intelligence and DMPO.
VMware is currently offering a free 60-day trial with up to 50 units, or a 90-day free trial with up to 100 VMware SD-WAN Edge 510 or Edge 510-LTE, hosted Orchestrator, hosted Gateway, and more.
Conclusion
Internet connectivity has proven itself essential to businesses and consumers during the pandemic. Many home networks were not set up to handle today's increased application loads but thanks to SD-WAN, enterprise-quality work can get done on home networks while other applications are simultaneously being utilized. Additionally, in this era of social distancing, the ability to leverage centralized management has proven itself to be invaluable.
We don't know how long we will need to shelter in place or when our offices will be at full capacity. We don't even know if we will be required to return to our homes in the future. What we do know is that the Internet and technology, such as SD-WAN, have helped tens of millions of workers be productive in an incredibly challenging time. SD-WAN is truly proving itself.