VMware SD-WAN by VeloCloud: Not your Daddy's WAN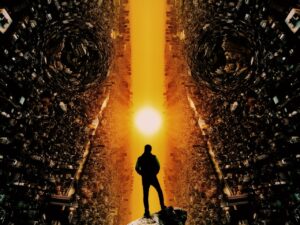 Here we are in 2020. While some experts may argue that we have not yet entered the next decade, we can all agree that we have entered a new era of enterprise IT. We may not be able to say exactly when this era started but we can see that digital disruption is happening, whether we like it or not, and that cloud adoption is increasing. It's also clear that these trends are leading to increased demands at the edge of our enterprise footprint in the branch. So why are you still running a WAN that was designed back at the turn of the millennium? You deserve better. And, luckily, you can have better, now.
To arm the business you support with the technology infrastructure they need in 2020 and beyond, you'll have to ditch your Daddy's WAN in favor of a brave new WAN; an SD-WAN. And, as you might have guessed, that is exactly what VMware SD-WAN by VeloCloud provides. But before we get there, let's start by exploring the trends mentioned above a bit more. Then we'll look at some of the general benefits of deploying an SD-WAN. After that, we'll be ready to take a look at VMware SD-WAN by VeloCloud specifically. Starting with the basic building blocks and functionality, then digging into some of the key features, and finally looking at some of the specific benefits VMware SD-WAN by VeloCloud can bring to bear for you and your company. Best of all? We don't have to wait for the official start to the next decade, we can dive in right now!
Enterprise IT Trends
Just to level-set, let's flesh out the trends at play here a bit more. After all, if it ain't broke don't fix it, right?
Whether you call it digital disruption, digital transformation, or something a little less buzz-wordy, the fact remains that things are changing or have already changed. Almost every organization is now completely dependent on digital communications and digital assets. Modern applications, digital workspaces, and intrinsic security now shape the entire company, not just the IT team.
One of the triggers for the many of the changes we lump under that digital disruption moniker was the rise of the cloud. Starting with SaaS, and quickly followed by IaaS, PaaS, and all the other 'aaS, we are now hurtling headlong into a multi-cloud reality. We simply must be able to place workloads in the environment that best suits their needs, without sacrificing efficiency or experience, and have the ability to shift those workloads seamlessly between public and private cloud offerings as our needs evolve.
All this digital disrupting and multi-clouding has had profound effects on the requirements and demands on our branch locations. They need to connect to each other, to HQ, to your datacenter, and to a myriad of cloud services. Remote users need to be able to connect into them. And let us not forget that shifting our applications out to online services has greatly expanded their need for Internet bandwidth.
In order to meet these new demands, a new type of WAN is needed. One that overcomes the traditional WAN challenges. Legacy WAN designs led to complex and slow operations. They made it expensive to scale bandwidth. They often provided poor application experience, especially when backhauling cloud services through a central hub. And they've mostly done a poor job of keeping up with the increasing security threats present today. In short, legacy WAN's can no longer meet the needs of our evolving business and IT requirements.
SD-WAN Benefits
The answer, of course, is SD-WAN.
As I've said before, SD-WAN is not a specific protocol or single technology. SD-WAN is really more of a concept or methodology. To make things more confusing, there are at least four ways to consume and operate SD-WAN. But while it may be hard to concretely define software-defined wide-area networking, it's easy to see the benefits.
SD-WAN applies the key tenets of Software Defined Networking (SDN) to the enterprise WAN in order to provide agility and efficiency from a simple, secure, and cost-effective system. It allows you to increase your level of visibility and control (so that you can optimize the end-user experience) through virtualization, automation, and centralized management. Additionally, an SD-WAN can make cloud adoption easier with gateways or on-ramps while also increasing your resiliency with multiple low-cost internet connections.
VMware SD-WAN by VeloCloud
And that brings us to the real star of this post: VMware SD-WAN by VeloCloud. But why talk specifically about VeloCloud? Why not one of the 50+ other vendors who claim to offer SD-WAN. Well, this little graphic may give you one clue: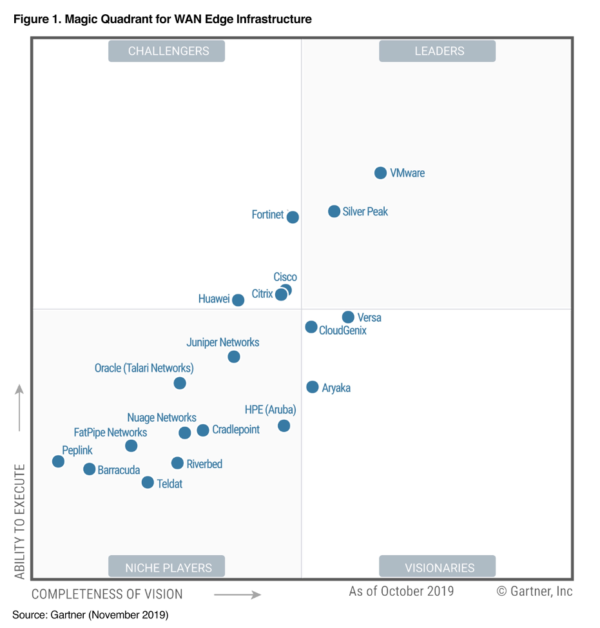 But Gartner is just one analyst, and "WAN Edge" is only a partial proxy for SD-WAN. Let's dig a bit further into what VeloCloud is offering and see if we come to similar conclusions.
VeloCloud Components
Let's take a peek at what a VeloCloud deployment looks like.
First, it's important to know that VMware SD-WAN by VeloCloud offers unique flexibility in both deployment and management models resulting in four distinct modes, which are illustrated below: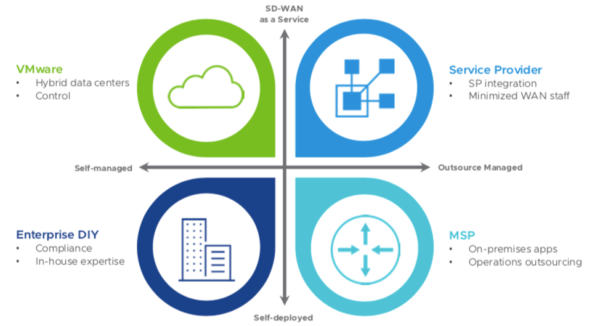 Whether you choose to manage it yourself or outsource, deploy it yourself or consume it as-a-service, the building blocks are all the same.
Right up top (figuratively) we find the VMware SD-WAN Orchestrator. One of the core principles of software-defined networking is the separation and centralization of management and control away from distributed forwarding. That's what the Orchestrator does. In other words, it's a secure and scalable, multi-tier and multi-tenant capable management portal. This is where you turn business intent into infrastructure policy. Oh, and it can be hosted in the cloud or on-premises.
Next up are the VMware SD-WAN Gateways. These are cloud on-ramps that are deployed all around the world by VMware and their service provider partners. They are stateless, scalable, and redundant. And they ensure optimal data paths for network services between any branch, any application, any cloud.
The final pieces of the puzzle are the VMware SD-WAN Edges. Remember that distributed forwarding I mentioned above? The Edges take care of that. More specifically, they provide secure connectivity, recognize and steer applications, and perform QoS. The VMware SD-WAN Edge can come as a hardware or virtual appliance, allowing them to deliver their highly available services at a branch location, in a datacenter, or in a public cloud. Zero-touch deployment? Yes. OSPF support to integrate with existing networks? Checkmark. Host VNFs? Sure.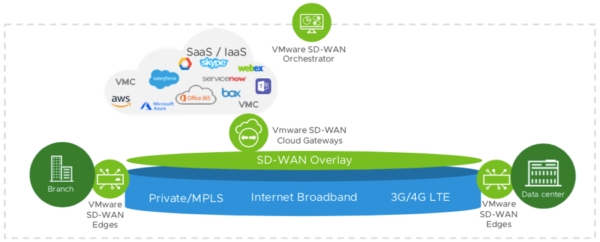 This is a big part of what VMware means when they talk about virtual cloud networks. And it's a big part of how they're delivering on their promise of an end-to-end virtual services platform.
VeloCloud Features
VMware SD-WAN by VeloCloud is a feature-rich WAN platform. If I went into all of them here, it would quickly turn this post into a whitepaper, or maybe a book. Here's a quick list of some of the key features you should probably know about:
Dynamic Multipath Optimization (DMPO)
Zero Touch Provisioning
Security Service Chaining
NFV Infrastructure
Application Visibility
Application Performance Monitoring
Any Connection Type
Network Agnostic Virtual Overlay
PCI Data Segmentation
Multiregion SD-WAN
Cloud VPN
For a deeper dive into the full set of features, click here.
VeloCloud Benefits
Now that you know why SD-WAN is needed now, and the basics of how VeloCloud is deployed, it's time for the good stuff. What are the specific benefits of using VMware SD-WAN by VeloCloud?
It makes sense to start with simplified WAN management. By applying automation to initial configuration you get zero-touch deployments. Beyond day zero, you get simplified operations through one-click service insertion. Then, combine that automation with profile-based management to get a simple and easy way to enforce business level, outcome-driven policies across the WAN – all with zero CLI. Add in global WAN visibility and you have the full picture.
Making things easy doesn't make any sense unless those things also making things better. VeloCloud provides assured application performance by using policy-based application prioritization to improve application performance and reliability. That DMPO (Dynamic Multipath Optimization) feature I mentioned above plays a big role here. Use smart application policies to optimize the performance of your most critical business applications – and due it over any transport!
By now you know that a primary driver for both digital disruption and SD-WAN is "the cloud." Well, VeloCloud's Gateways offer a managed on-ramp to the cloud, which eases cloud adoption and supports a hybrid or multi-cloud strategy. Not only do you get direct cloud access, but you also extend your visibility and policy control to cloud. Not to mention the reduction in latency, virtual tunnels, and overall complexity.
I usually have a policy of putting security first. Mea culpa. The final benefit I'll highlight today is all the choices in edge security that come along with VMware SD-WAN. First, you get end-to-end segmentation though policies, groups, and profiles (allowing for PCI compliance). Then, when you connect VeloCloud up with NSX, you get a seamless handoff between that SD-WAN segmentation and the NSX routing domain. I mentioned choices though, didn't I? That's where the Edge's VNF capabilities come into play. Learn more here.
In summary? This is definitely not your Daddy's WAN.