Why SD-WAN is Gaining Momentum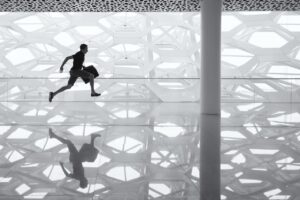 Companies all over the world are embracing digital transformation (DX). They want to become more efficient at what they are offering as well as automating their processes. While new business models are a key driver for DX, it is generally assumed that more cloud-based applications are going to be used. These require certain bandwidth levels to be met to ensure proper performance. Workers need to be productive regardless of where they are and applications could be emanating from numerous clouds and data centers. Networks must be adaptable enough to ensure the proper level of service is provided so the business can function properly.
Thus, corporations are looking for new ways of ensuring they have the right underlying WAN to support their transformations. Their existing WANs were potentially built at a time when connectivity needed to be optimized from a few data centers to known offices. WANs can span very long distances and can lead to challenges such as network congestion, packet delay variation (also known as jitter), packet loss, and outages.
The change in the way we do business has also necessitated a change in the way we build our networks. Just like with DX moving businesses to a new future driven by software, so too does our WAN structure need to be software-enabled. That's where SD-WAN comes into play. According to Futuriom, the market for SD-WAN among enterprise users is growing at 33% while almost 77% of service providers are actively deploying the technology now.
SD-WAN brings tremendous benefits to organizations as it leapfrogs the traditional WAN solutions it replaces. WANs allow organizations to extend their computer networks over large distances, connecting remote branch offices to data centers and each other while delivering applications and services. SD-WAN solutions address network problems like packet loss and jitter and bring even more value to the company deploying them. As SD-WAN has become proven technology, organizations are eager to achieve the numerous benefits this technology provides. These include but are not limited to easier management, enhanced security, better application performance, and lower cost.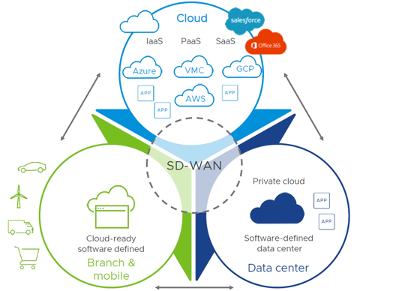 Ease of Management and Cloud On-ramp
The numerous benefits include a simplified setup process for branch workers. SD-WAN products can be physical or virtual appliances and are placed in offices of all sizes as well as corporate data centers and the cloud.
SD-WAN enables a cloud-based platform for deploying and service-chaining additional network services, including security and accelerated cloud connectivity. This adds flexibility to network deployments and allows the network to keep up with the needs of the business without excessive manual intervention. SD-WAN solutions can deliver services from any app on any cloud to any device. This includes cloud-native apps, containerized apps, and traditional apps. It is the glue that connects the cloud to branches, mobile devices, and the data center or private cloud.
Improved Application Performance
At branch locations, routers can be either enhanced or replaced with SD-WAN appliances that can control application-level policies and offer a network overlay. In this manner, multiple commodity Internet links can replace dedicated circuits. SD-WAN can utilize multiple WAN transports simultaneously to maximize bandwidth as well as ensure application performance. This requires building an overlay network, as well as monitoring and adapting to the change in the underlying WAN transports in real-time.
Both service providers and enterprises can take advantage of more flexible networking and while enterprises also can enjoy replacing costly MPLS circuits, carriers want to replace the revenue they may lose as a result while also growing their revenue as a whole. Recently, in fact, Brooks Brothers replaced their MPLS circuits with an SD-WAN solution from VMware and saved 20% across 500 global locations. Providers can use SD-WAN to offset the move customers are making from traditional leased circuits while expanding their offerings.
SD-WAN solutions can be managed by the enterprise. They can purchase the equipment and connectivity and build a solution that meets their needs. They can also work with an MSP to manage a solution for them. They can purchase SD-WAN as a service otherwise known as over the top (OTT) or SD-Internet. Finally, they can purchase an offering from the service provider which is integrated with a vendor's platform.
Companies who are busy with DX and don't have the bandwidth to deal with connectivity can choose from the latter two solutions to meet their needs. These would be good options for companies who are less technical or who do not have a large IT or networking staff in-house.
Security
In addition, SD-WAN can enable cloud-based virtual private network (VPN) overlays, leveraging Internet broadband while providing additional security benefits.
SD-WAN can offer increased security with a stateful firewall and can ensure a tight coupling of networking and security. Organizations can also leverage secure VNF on SD-WAN appliances as well as cloud security.
VMware DMPO
VMware SD-WAN can deliver a resilient overlay that takes into account the real-time condition of WAN links. One example is VMware's Dynamic Multipath Optimization™ (DMPO) whose features include:
Automated Bandwidth Discovery: Once WAN links are discovered, DMPO tunnels are established between SD-WAN edges and  VMware SD-WAN Gateways.
Continuous Path Monitoring: DMPO performs continuous measurements of performance metrics: loss, latency, and jitter of every packet on every tunnel between any two DMPO endpoints, the VMware SD-WAN Edge or the VMware SD-WAN Gateway. VMware SD-WAN per-packet steering allows independent decisions in both uplink and downlink directions.
Application-Aware Per-Packet Steering: DMPO identifies traffic using layer 3 to 7 attributes; for example, IP address, protocol, and applications. VMware SD-WAN performs application-aware, per-packet steering based on business policy configurations and real-time link conditions. The business policy contains out-of-the-box smart defaults that specify the default steering behavior and priority of 3,000 applications. Customers can immediately use the dynamic packet steering and application-aware prioritization without having to define policies. In other words, voice and video conferencing traffic as well as perhaps CRM SaaS applications will enjoy higher priority transport across the SD-WAN.
Bandwidth Aggregation: DMPO utilizes all available links to deliver packets and performs resequencing at the receiving end to ensure there are no out of order packets as a result of per-packet load balancing.
On-Demand Remediation: Forward error correction is utilized when under the brown-out condition.
Smart QoS Scheduling: A 3×3 matrix of nine traffic classes is used to determine prioritization and QoS treatment. 3,000 applications are preconfigured and can be changed to meet business needs.
VMware SD-WAN DMPO enables application-aware, dynamic per-packet steering; on-demand remediation; and overlay quality of service. DMPO ensures optimal SD-WAN performance for the most demanding applications over any transport (Internet or hybrid) and any destination (on-premises or in the cloud).
As you can see, SD-WAN solutions provide immense benefits to organizations, lower cost, improved management, better application delivery, and for these reasons, it is gaining momentum among businesses and carriers alike. For more information on VMware SD-WAN by VeloCloud, please visit VeloCloud.com.