Why SD-WAN is a Must for Digital Transformation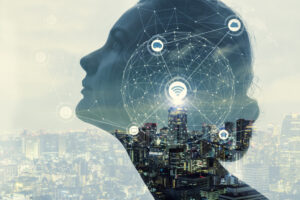 The world as we know it is becoming digital before our eyes. Digital Transformation (DX) describes the evolution of organizations as they strive to run more efficiently and productively while potentially leveraging new business models. It often means an upgrade or replacement of applications that enable a company to leverage the latest technologies.
DX is perhaps one of the biggest challenges facing organizations because it is a continuous journey. Companies need to simultaneously look at the competitive landscape and figure out how to stay relevant with their peers while also looking to grow their business in new areas.
An enterprise implements DX to become more efficient, nimble, and to be able to compete more effectively with digital-native competitors or adjacent companies looking to expand into new areas. Oftentimes, DX involves new business models.
In many cases, this means a conversion of a business model from capital to operational expenditure. In other words, going from owning to leasing. Jet engine companies are able to now lease thrust to airlines instead of selling them an engine. This is an implementation of charging for usage but also handling service. For such models to work, a tremendous amount of data must be sent continuously to the jet engine company so they can ensure they have technicians available when an engine needs maintenance.
Enterprise Application Trends 
Digital transformation is creating massive amounts of data flowing around the world. Data not only needs to be collected but it needs to be sent to various clouds for analysis. Quite often, this needs to be done very quickly.
The sources of this data are growing exponentially as well thanks to the Internet of Things (IoT). IoT devices are typically electronics, connected to the Internet, not including personal devices such as PCs, laptops, servers, and phones. They generally transfer data to and from other objects without human intervention. Examples include smart speakers, electronic thermostats, video doorbells and in the business world, sensors and cameras. IHS Markit predicts the installed base of IoT devices will rise to a staggering 73 billion by 2025.
Artificial intelligence or AI is a rapidly growing field of computer algorithms that mimic human intelligence and have the ability to learn. While not a new concept – we seem to have entered a golden age of AI as the cloud has made the technology available broadly and inexpensively. Manufacturing companies are undergoing DX, developing applications that integrate Internet of Things with Artificial Intelligence on monitor assembly lines to ensure there are no manufacturing defects.
Such bandwidth-hungry applications need a new way to properly handle the massive amount of traffic being transmitted. Using existing technologies is insufficient. Moreover, the use of clouds has reduced the predictable nature of data flows, from and to data centers.
These and other initiatives and technologies are being adopted within the enterprise. In fact, an ESG Master Survey on technology spending intentions shows just how quickly.  76 percent of respondents have multi-cloud environments, 36 percent have IoT initiatives underway, 67 percent have one in five applications delivered by software as a service (SaaS), and 17 percent cite mature digital transformation initiatives. Today's distributed enterprise must ensure appropriate levels of connectivity to ensure success for all of these initiatives.
What is SD-WAN?
In a many-to-many world of digital transformation leveraging numerous clouds, SD-WAN is a must. Software-defined wide-area networking, or SD-WAN, is a flexible, enabling solution allowing companies to more easily support DX. A WAN connects local networks over a wide area. It is a critical component in allowing organizations in disparate locations to communicate effectively over distance – to other offices, to customers, partners or anyone else.
Software-defined refers to the idea that the packets of data being transmitted over the WAN can be sent over various pathways or based upon predetermined factors. Traditionally, connecting to a WAN was done via a single carrier such as AT&T, Verizon, or Comcast. SD-WAN begins to shine when two or more pathways or carriers are used providing increased performance to traditional data centers and the cloud.
Voice and video conferencing traffic are bandwidth-taxing, real-time data. Packets associated with both must have a high priority. Software can determine which route these packets should take based upon real-time analysis of the current traffic being sent.
Broadband connections as well as MPLS, LTE, satellite links, etc., can vary in quality over time. Utilizing SD-WAN ensures the proper traffic gets to its destination based on the correct priority. It routes according to defined business policies in real-time. In this manner, it can enforce and deliver packets at the performance level required by various applications.
Benefits of SD-WAN
With this in mind, here are five primary benefits to SD-WAN which show it acts as a solid enabling technology for the current and future needs of virtually every enterprise:
Agility: SD-WAN makes IT more agile as it allows for zero-touch deployment and cloud orchestration enabling branch offices to quickly modernize via new applications. The needs of those new applications can quickly be configured in a software-based platform and increase user productivity.
Cost-effective: SD-WAN is often far less expensive than costly MPLS circuits and moreover allows numerous low-cost broadband and other connections to be aggregated into a virtual circuit. SD-WAN allows circuits to be utilized more effectively for load sharing and assured communications. The ability to create virtual circuits through software ensures reachability and high performance even without SLAs from service providers on legacy circuits.
Simple: SD-WAN is simple to set-up and deploy thanks to management and orchestration in the cloud. Complicated configuration is replaced with centralized control and provisioning. The need to have expensive knowledge workers in remote sites to configure devices is gone. SD-WAN appliances can be deployed quickly by existing personnel with a minimum of effort.
Efficient: SD-WAN is efficient as it is the best way to take advantage of numerous circuits to provide the multiple benefits seen here. Rather than having circuits serving in a backup role only, SD-WAN can ensure those circuits are carrying a portion of the traffic at all times. That efficiency allows IT organizations to pay for the circuit usage they need instead of overprovisioning. It also enables leverage when negotiating for circuit price increases.
Secure: There are various types of security available from encryption to network security, application protection, and threat protection. All of these security functions are built into the software running on SD-WAN devices. This integration level ensures that critical data is always protected at all times and communications between data centers or to the cloud are never in the clear.
How SD-WAN Enables Digital Transformation
In order to fully take advantage of DX benefits, companies need to ensure all their offices – including branches, can take advantage of the latest technologies. Quite often, branches have lagged in connectivity. Using tools like VMware SD-WAN Orchestrator, organizations can leverage cloud orchestration for simplicity of management and agility of implementation. Also, they gain branch networking cost-savings and gain better connectivity to the cloud.
As companies make the move to cloud, they often also take advantage of Microsoft Azure Virtual WAN integration. VMware SD-WAN gateways, as an example, are integrated into the Azure global network. This reduces latency and provides optimal routing. In addition, organizations can take advantage of one-click secure connectivity from VMware SD-WAN to Azure virtual WAN.
As companies undergoing DX deploy new applications and evolve the way they consume current ones, they need applications that can rely on numerous clouds to work properly. SD-WAN can be utilized to ensure performance levels can be met in order to use this multi-cloud architecture fully. Inefficient networking connectivity can reduce operational efficiency as well as increase costs for moving data in and out of various cloud environments.
As these applications move to cloud and multi-cloud environments, backhauling all this traffic to the data center causes additional latency. SD-WAN provides direct access to the cloud, using a design that combines a mix of public Internet with private circuits for enterprise WAN transport that gives organizations more network uptime. In addition, it achieves assured performance and operational simplicity while cutting the costs of MPLS-driven WANs.
SD-WAN is Truly a Must for Digital Transformation
The digital transformation journey seemingly never ends. You must not only compete in your market space but also design new, flexible organizations that can bob and weave as opportunities present themselves and new entrants emerge. M&A may factor into this strategy which means they need an extensible, flexible infrastructure that they can easily adapt to work with the newly acquired companies. Tying new acquisitions back into your core network can be a years-long nightmare of interoperability challenges if done with the wrong infrastructure.
None of this can be done optimally if connectivity is sub-par. Just as a speedboat can't get up to full speed if the water is filled with obstacles, DX requires networks that can scale to meet the changing needs of an organization. If new big data applications are called for, they need to be harnessed quickly and efficiently. This means networks need to be designed today that can handle the needs of tomorrow. As the DX journey continues and the world gets more competitive, the companies that have invested in SD-WAN will have an advantage.