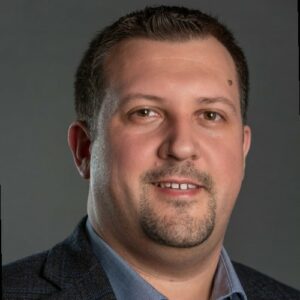 A.J. Murray is coming to Networking Field Day 21. A.J is an experienced IT Professional with a demonstrated history of working in the computer and network security industry. Skilled in Windows Server, VMWare, Network Design and Implementation, he's a strong leader with a proven track record of success. Recently obtained a Master of Science in Managing Innovation and Information Technology focused in IT, Innovation, Management, Leadership, Databases, and Enterprise Networks from Champlain College Graduate Studies.
Connect with A.J on Twitter, the web, or the Tech Field Day web site.
How did you get into technology and IT?
I started going to college for a general education associates and wound up in a C++ class. I loved it so much I switched my major to Computer Systems Management. The last class I took was Networking and I totally fell in love with it! Pursued my Bachelors in Networking and Info Sec from Champlain College, and then went on to get my Masters in 2015.
What do you do now?
I'm a Network Deployment Engineer with a Cisco Partner, Red River. I work with our customers to deploy new solutions into their environment.
What was your first computer?
My first family computer was a Commodore 64, we got second-hand (I think…). I remember it had this chess game on there where the pieces would attack each other. It was pretty fun to play! My first personal computer was a Compaq Presario laptop. Today I'm using a 13″ MacBook Pro.
If you weren't working in IT, what would you be doing instead?
I suppose there are two possibilities here: in high school, I went to the tech center and I was in the aviation maintenance program. They taught you how to work on planes and helicopters. I had a lot of fun doing that. Also, my last job before jumping into IT was at a car dealership working as a detailer. I really enjoyed taking dirty trade-ins and cleaning them up and making them look new again. A lot of hard work, but very rewarding.
What are your biggest challenges?
Project Managers (just kidding our PM's are the best!) I would say managing customer expectations from a scope creep standpoint. Just making sure the primary project objectives are being completed, sliding in minor changes that make sense, and getting appropriate change orders for the bigger stuff.
Where do you see IT going in the next 3-5 years?
Automation. It's already started, obviously, but it seems only really big enterprises are automating – simply because they have to. I think we're going to see that start to trickle down to even small/medium-sized businesses as they realize the benefits.
What are you most excited about seeing at the event?
EVERYTHING!
What do you do in your spare time (hobbies)?
Hunt (deer and turkey), hike, I dabble in photography, and of course, I like to write articles for my blog.
How do you manage your work/life balance?
I am lucky enough to work from home unless I'm onsite with a customer. So I have full control over my work schedule. This gives me a ton of flexibility, and I love it!
If you could have ONE superpower, what would it be?
Flying. I've done a lot of flying in the last few years and I just love looking down on the earth from high above, so to be able to do that anytime and take people with me would be awesome! I'd use it to treat the family to the special view and save time when traveling.
What is your favorite movie?
Has to be the Back to the Future series. Time travel is one of those things I've always daydreamed about, for fun of course.
What is your favorite kind of ice cream?
There's a local ice cream shop called the Village Scoop. They have a flavor called Peanut Butter Pie. It's amazing! I typically eat it out of the small dish they serve it in.
Thank you A.J! We are looking forward to seeing you Networking Field Day 21!