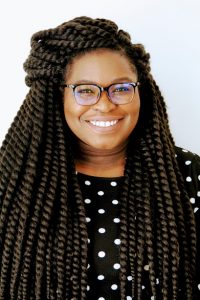 Outside of keeping up on pop culture, watching "trash TV" (me too, Stephanie!), and spending quality time with friends and family, Stephanie likes to travel. This is a great thing, because Stephanie will be traveling to Security Field Day as a first-time delegate!
You can connect with Stephanie at @StephAndSec on Twitter, the web, or the Tech Field Day web site! 
Before we talk Technology, let's talk SUPER POWERS! If you could have ONE super power, what would it be and how would you use it?
Mind reading whenever I want to. I spend a lot of time overthinking, it would be nice to just zip inside and figure out what people are thinking so that I can move on. Of course, I wouldn't want it to be an uncontrolled and unpredictable thing, because that would be very annoying.
I may even use it vigilante style, if I could. Use it to track down human traffickers. I'd have to do that in limited amounts, though, because that seems heavy on the soul.
What was your first computer?
A Toshiba laptop for school. I think it only had 2GB of RAM, smh.
How did you get into Technology and IT?
I was a journalism major who liked to play around in technology. I figured out that I hated journalism, and when switching majors, my mom suggested computer science. I changed my major and the rest is history. Got my first tech job a year later as a chat tech for a web hosting company.
Very cool, Stephanie! Tell us what you do now.
I am the Information Security Analyst for a global law firm. I respond to alerts from all sorts of security solutions, and I also work on projects from POCs to cybersecurity awareness programs. My role is very broad.
What do you find are your biggest challenges?
Staying on top of every security threat out there, both in knowledge of them and the ability to mitigate them. Feeling adequate enough to do my job (imposter syndrome is real). Office politics (not so much at my current place of employment.)
Where do you see IT going in the next 3-5 years?
It is tough to tell, honestly. I'd predict that AI and ML may be a bit of a fad that is fading or may take off in a major way. More migration to the cloud. It can literally go anywhere.
What hobbies fill your spare time?
This changes a lot. I read a lot; some self help, some fiction. I watch TV and play video games. I attend tech events. I am currently the chapter lead for WoSEC Houston. I co-host a podcast. I write. I connect with people. I love Zumba. It all just depends on how I feel. I'm noncommittal like that in my day-to-day after work activities.
How do you manage your work/life balance?
I prioritize work/life balance as a necessity, and not simply something I want, because it is a necessity for me. I shut off work when I need to and I make sure to have something on the side that I enjoy, which is currently doing things like this, or collaborating with other tech people. I have experienced heavy burnout that had to be placed on medical leave in the past and I do not want to do that again, so it is a must have.
What are you most excited about seeing at the event?
I am not sure what to expect, so I am not sure how to answer this question. I think I am just excited to be in the room.
It will be awesome, for sure! Just curious, if you weren't working in IT, what would you be doing instead?
Depends on which part of the multiverse you're looking at. I could be a journalist right now, hating my life and struggling to make ends meet. I could be a psychologist, another passion of mine, that counsels people. Maybe a world traveler? Oh, and probably a New York Times Best Selling Novelist.
What is your favorite movie? Tell us about some of your favorite parts or characters.
I don't really have one. I'm more a show type of girl than a movie buff. Current favorite show is Lucifer. It's about the devil and how he comes to Earth because he is tired of torturing souls in hell. I'm a Christian, but the humanization of the devil is hilarious to me. I love the way he literally tells everyone he's the devil and no one believes him. He has this power where he can extract what someone desires just by staring at them. He doesn't lie, and even though he's the big bad devil, he follows this moral code of punishing those that deserve to be punished. So happy Netflix picked it up.
And my favorite question… What is your favorite kind of ice cream and your favorite way to enjoy it?
Blue Bell Cookie Two Step. I typically eat it alone because I don't always feel like buying all the bells and whistles. I buy a pint and work on it until it is finished, whether same sitting or multiple sittings. Depends on the week.
That's awesome, Stephanie! Looking forward to seeing you at Security Field Day 2 in just a few short weeks! 
Security Field Day 2 is happening June 19-21, 2019. Mark your calendars, so you can catch the presentations live!