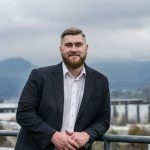 We'd like to welcome our newest delegate to the Tech Field Day community: Falko Banaszak! Falko is a Consultant and Solution Architect in the BCM space. He will be attending Cloud Field Day 14 as a delegate and took a few minutes to tell us a little about himself.
Check Falko out on Twitter @Falko_Banaszak, on the Tech Field Day Website, or his website. 
How did you get into Technology and IT?
When I was in High School (called "Gymnasium" in Germany) I had the chance to attend the first ever computer science advanced course at my school. Since taking the computer science advanced course at my school, the fire in me for computer science and IT has been kindled ! After I finished High School I knew I wanted to work in IT so I decided to start a vocational training to get hands-on experience and successfully graduated as a computer science expert within the system integration subject area!
What do you do now? Tell us a little about your current role.
Currently I'm employed as a Consultant & Solution Architect for all kind of BCM architectures at SVA GmbH Germany. My role is very widespread and includes, Pre-Sales together with Solution Architecture and Design of Backup, DR and BCM infrastructures paired with Post-Sales to constantly review, adjust and tweak those infrastructures.
What are your biggest challenges?
Getting together all people from different departments to speak about proper data management and BCM solutions and therefore find a proper solution for the company / customer which suits their needs and fits their strategy, be it on-premises or hybrid / multi-cloud. Wherever you put your data to, you need to ensure that data management, backups & restores as well as a DR concept exists.
Where do you see IT going in the next 3-5 years?
Due to the fact, that Ransomware is a crazy thing nowadays I foresee a lot of investments in Backup, DR and BCM infrastructures. The current need and the current threat situation for "proper data management" in a hybrid or multi cloud / multi datacenter environment is bigger than ever in my opinion.
What was your first computer? What was great about it? What is your go-to computer now?
My first PC was a thick Tower PC with Windows 95 on it. I remember it clearly, because after that OS I switched to an openSUSE, and came back to Windows with Windows 7 on several tower PC's. My go to computer for work now is a Lenovo ThinkPad T15 which I love very much. I maybe switch to a MacBook in the future, since my smartphone / tablet equipment now is all Apple as well!
How do you manage your work/life balance?
I'm in the lucky situation, that my employer sees every employee as an "entrepreneur in the company", which means that you need to take your time whenever you think it is right to do so and the decision lies in your hands. In the end only happy, satisfied and well cared customers are the key to success. This success does not come from working within a main "work time" like 9 to 5 or by being "available" all the time throughout the day. In addition to these great conditions I really like riding my bike, go hiking or enjoy a walk.
If you weren't working in IT, what would you be doing instead?
I would probably open up a barbecue joint and try to be successful with great food!
What do you do in your spare time? Do you have any hobbies?
I have a lot of "active" hobbies consisting of Hiking, Mountain-biking, going for walks to reset my mind and get away from the desk as well as my passion about cooking, food in general and BBQ!
What are you most excited about seeing at the event?
As this is my first event ever I'm very keen on meeting the delegates and get to know all the people! Furthermore I'm very excited to see the vendors presenting cool things and great technology!
What is the coolest thing you're working on right now?
I just started an additional journey to get a degree as a Business Continuity Manager and becoming part of the BCI institute. That journey is really interesting and I'm very excited how this "thing" goes in the future.
Who inspires you?
That is a good question but I can definitely say, the IT Community and my IT bubble out here. Once I got into it and started blogging I realized how many people in the IT community spend their time on creating content to help others. That is truly inspiring to me!
As a child, what did you want to do when you "grew up"?
I really wanted to be a classic firefighter, but then I discovered IT!
What super hero movie character would you like to be and why?
Probably Daredevil because he is the most relaxed and aware of his surroundings without having real superpowers like spider webs and co.
What is your favorite thing about what you do?
To get to know a lot of customers within my projects, collect experiences and to meet great people along the way!
If you won the lottery and could retire, what would you do with your time?
I would open up a barbecue joint and deliver great BBQ!
Thanks for sharing, Falko! Be sure to see Falko as a delegate at Cloud Field Day 14 June 22–24!