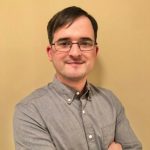 We are excited to welcome Vince Schuele as a delegate at the upcoming Networking Field Day: Service Provider event in December! Vince has worked on networks for the U.S. Army for over a decade before becoming a networking service provider. You can see more about Vince on Twitter at @Schuele22 on the Tech Field Day Website, or at his personal site, https://stubarea51.net/. Without any further ado, let's learn a little more about Vince!
How did you get into technology and IT?
I have always been interested in engineering and solving hard problems with critical thinking. I decided to get a degree in electric engineering with a focus on power but the Army had other plans for me. After a few years of the Army's broad leadership track I was given the opportunity to do network engineering and jumped on it. Some good leaders afforded me a few awesome opportunities to lead engineering projects and I instantly knew this is what I wanted to do.
What do you do now? Tell us a little about your current role.
I'm a consulting network architect with IParchitechs and we have a broad range of work. I mostly work on service providers, white box, and large enterprise data centers.
What are your biggest challenges currently?
It seems everyone always say time with this so I had to put in some thought to decide what my biggest challenge was outside of having enough time in the day.
I would have to say it is trying to make decisions on whether a new technology, trend, or buzzword is here to stay. There's been so many things come and go it can be hard to predict. Everyone wants the newest thing but I find it equally as important to know when to say that is a bad idea and it's hard to do.
Where do you see IT going in the next three to five years?
I see the shift towards automating and scripting continue to happen. As automation continues to mature it becomes more and more evident that this will become common place.
I also continue to see the rise of white box and disaggregation as a disrupting force in the market.
What was your first computer? What was great about it? What is your go-to computer now?
The first one I remember is Compaq Presario with a Pentium 4. I could play Starcraft on it, which I thought was the coolest thing ever at the time.
Now I use a Macbook Pro. Mostly just for ease of use, setup, and connecting the rest of my devices. I bought into the apple ecosystem and like that I don't have to think very hard about my home setup. My phone, computer, apple TV, etc… all just work together without any tinkering.
How do you manage your work/life balance?
I found a work from home job post military and try to make sure I spend time doing the things they want to do. I also have a great relationship with my employer so they understand when I am available or when I am for sure out.
If you weren't working in IT, what would you be doing instead?
I would have loved to become a professional skier but that's a pipe dream. I'd probably be in management or electrical engineering for power grids.
What do you do in your spare time? Do you have any hobbies?
I used to ski and spend as much time in the mountains as I could but living in Georgia and several wrist surgeries have derailed that in recent years.
I also collect comic books; mostly Marvel.
What are you most excited about seeing at the event?
This is my first event and I'm really excited about being a part of it. Mostly just being able to nerd out with some of the smartest people around on service provider technology.
What is the coolest thing you're working on right now?
Several projects using segment routing and traffic engineering.
Who inspires you?
It has to be one of the great innovators of our time but choosing one is tough. I'd probably have to go with Steve Jobs.
As a child, what did you want to do when you "grew up"?
I wanted to be a Soldier and I ended up doing that for more almost a decade.
What is your favorite thing about what you do?
Helping people realize their goals. This could be by providing mentorship, technical solutions to long standing business problems, or just putting people in positions to be successful.
Some of my most rewarding memories of work over the years are people that took advantage of opportunities and achieved what they otherwise thought was impossible. I hope I get to continue to help people in anyway that I can, that's ultimately what keeps me going. Solving technical problems is just an added bonus.
If you won the lottery and could retire, what would you do with your time?
Probably move to the Alps with my family and enjoy the scenery everyday.
Thank you for sharing, Vince! We are excited to have you on board as a delegate and are looking forward to seeing you in action at Networking Field Day: Service Provider!
Vince will be attending Networking Field Day: Service Provider, December 8-10, 2021, as a delegate, so be sure to tune in to see him in action!