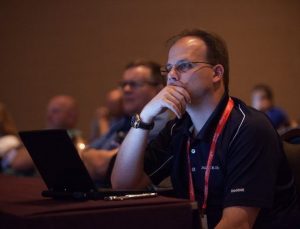 We are excited to welcome Nico Stein as a Tech Field Day delegate! Nico will be joining us at Tech Field Day Extra at Cisco Live US 2019 in just a few weeks! 
Nico was born in Germany, and moved to the US in 2010. If he could have one super power, it would be unlimited brain capacity! Let's get to know more about Nico and don't forget to connect with him at NicoAStein on Twitter, the web, or the Tech Field Day web site.
What do you do now?
I work at a medium-sized financial institution and have a team of 5. As part of my role, I focus on networks, storage and virtualization. But given our smaller size and team, I might spend a day doing a Server upgrade or troubleshooting DNS. (It's always DNS!)
How did you get into Technology and IT?
Starting with Windows 3.1/Dos things were always not working. I spent hours trying to get a printer to work or fine-tuning my autoexec.bat. And I was like, "hey this is actually all very cool!", so it became a hobby of mine and eventually my profession.
Where do you see IT going in the next 3-5 years?
I believe we will have more autonomous, self-healing networks and a continuing shift from infrastructure design to business needs driven design.
What are your biggest challenges?
The discrepancy of user facing systems appearing very easy to use and getting good at hiding the complexity, while the underlying technology is highly complicated. This sometimes leads to different expectation in implementation times and turned around between IT and business lines.
What are you most excited about seeing at Tech Field Day Extra at Cisco Live US 2019?
Since this is my first event, I am excited to meet other delegates and exchange thoughts and stories. Always fun to see what Cisco is coming up with as well.
What is your favorite kind of ice cream?
Spaghetti Ice Cream (A German thing), the more the better!
What do you do in your spare time (hobbies)?
I enjoy working with my hands after being in the office, so it is a never ending stream of home improvement projects. I also have a weird fascination for glas blowing. And we can't forget the occasional happy hour with friends!
Cheers, Nico!
Mark your calendars! Tech Field Day Extra at Cisco Live US 2019 is happening June 9-13, 2019!