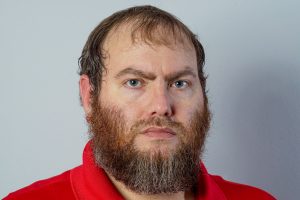 We are all fired up to have Michael Davis as a delegate at Security Field Day 2 this week! Connect with Michael on Twitter, the web, or the Tech Field Day web site.
What are you most excited about seeing at the event?
I'm excited to learn about the vendors I've never heard of before.
When you're not coming to Security Field Day, what do you like to do in your spare time?
Photography, help out at pyrotechnic displays, bbq, try to garden.
If you could have ONE super power, what would it be and how would you use it?
Pyrokinesis; mostly just amusing myself. I've always been fascinated by fire and flames.
How did you get into Technology and IT and what do you do now?
I grew up with it. From kindergarten on, I've always been around computers. It wasn't until a knee injury derailed my athletic ambitions, that I went beyond using them as a tool. 
After starting out consulting for local banks, city governments and doctors, I took a help desk role just before starting college. Over the past 20 years, I've been in educational IT at both the K-12 and Higher Education levels.
Currently, I'm a senior network engineer with a focus primarily on network security and datacenter networking.
What are your biggest challenges?
Funding, staffing and politics; the technical side of things is pretty much gravy in comparison.
What was your first computer?
The first my family owned was an 8086, the first I cobbled together was a 486 DX2 50.
Where do you see IT going in the next 3-5 years?
Increased intermingling of IoT and SCADA devices, more automation for analysis of 'big data' to provide actionable data to humans, the year of the Linux desktop! 😀
How do you manage your work/life balance?
Poorly? I'm a self-acknowledged workaholic and struggle to not work late even though I know I'm not getting compensated.
What is your favorite movie? Tell us about some of your favorite parts or characters.
Donnie Darko. How can you not love a 6′ tall, twisted looking rabbit!
What is your favorite kind of ice cream? Do you eat it alone, with toppings, in a cone, in a bowl, out of the container?
Homemade country style vanilla with fresh ripe berries swirled in.
If you weren't working in IT, what would you be doing instead?
If I had my choice, running a BBQ shack.
Mark your calendars! Security Field Day starts on THIS WEDNESDAY!