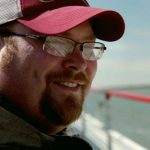 We're excited to welcome a new delegate to Cloud Field Day: Jamie Phillips! Jamie is a Site Reliability Engineer, family man, and avid Mountain Biker. You can check out Jamie on Twitter at @PhillipsJ73, on the Tech Field Day Website, or on his blog. Let's learn a little more about him!
How did you get into technology and IT?
A professor in college told me to take his class so I could talk to programmers.
What do you do now? Tell us a little about your current role.
I am currently a Site Reliability Engineer working with Terraform, Azure, and a whole bunch of other tools.
What are your biggest challenges?
The most rewarding aspect of this field is making relationships with people and that is probably the biggest challenge that is often faced. Building good relationships with trust is really tough.
Where do you see IT going in the next 3-5 years?
I think we are going to stay on a similar course as we are currently. Cloud adoption still isn't mainstream even though we like to believe it is. Infrastructure as Code is going to grow along with containers and Kubernetes. I still feel that tech, like kata containers, will gain traction for specific use cases.
What was your first computer? What was great about it? What is your go-to computer now?
I didn't really have a computer in my house until 2001 and it is was a Compaq Presario with Windows ME. The great thing was that it was a computer. For personal stuff, I use several different machines all running Linux. As far as work, it's whatever is provided.
How do you manage your work/life balance?
That is always a struggle and I have to constantly reset my expectations and control my energy.
If you weren't working in IT, what would you be doing instead?
I would be working as a Geologist. It is a wonderful field of science that I truly enjoy.
What do you do in your spare time? Do you have any hobbies?
I have tried to keep my hobbies limited, but that doesn't always work. My biggest hobby is mountain biking. What I discovered about it is that I can't let my mind drift or I eat dirt, which keeps me focused.
What are you most excited about seeing at the event?
It's the exposure to tech and ideas that I wouldn't normally see or learn about.
What is the coolest thing you're working on right now?
I am a little odd and find some strange things cool. One thing that I get to work on that I do find interesting is building Marketplace images for the different cloud providers using HashiCorp Packer.
Who inspires you?
My family.
What superhero movie character would you like to be and why?
None, while I enjoy the movies, I am just not interested in being one.
What is your favorite thing about what you do?
Helping people solve their problems.
If you won the lottery and could retire, what would you do with your time?
I would provide my skills to a non-profit and spend time with my family.
Thank you for sharing a bit about yourself, Jamie! We are excited to have you on board as a delegate for Cloud Field Day! 
Cloud Field Day is March 10-12th! Tune in to see Jamie in action with a number of excellent presenters. We'll see you there!