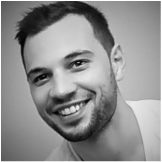 François Vergès is coming to Mobility Field Day 4 next week! François is the founder of Semifio Networks. He grew up in France where he studied in one of the top computer engineer schools, specializing in Network and Telecommunication, and moved to Canada at the end of his studies. 
Connect with François on Twitter, the web, or the Tech Field Day web site.
How did you get into Technology and IT?
I went to University to study Computer Science after high school. Before that I didn't really get involved with IT. I didn't really get introduced to IT by my family, but I knew I liked it growing up as a kid. I learned everything about it when attending University. That's when I discovered networking and started to like it a lot.
What was your first computer?
My first computer was a Compaq. My dad purchased it for my siblings and me back in 1998. I can't remember the exact model though. At that time, all I cared about was playing soccer with my friends ;).
What do you do now? Tell us a little about your current role.
I work as a Wireless Network Engineer focusing on the Wi-Fi technology. I spend about 50% of my time working on Wi-Fi project as an independent consultant, and 50% of my time teaching Wi-Fi to other network professionals.
If you weren't working in IT, what would you be doing instead?
My wife is always making fun at me because I watch a lot of wood working videos on YouTube, yet I never build anything of my own. For some reason I like it a lot, so I would probably be a wood worker, if I wasn't working in IT.
Where do you see IT going in the next 3-5 years?
If I focus on networking and wireless networking, as that's what I know best, I believe that our job will greatly evolve with the introduction of more and more software into our day to day jobs. We have been talking about it for a while now, but I feel that it is finally starting to impact any network professionals/students. It is even more apparent in the Wi-Fi industry where we are a little late on that regard. Talking about the Wi-Fi technology, I believe that the next 3 to 5 years will be very exciting with the arrival of 802.11ax and, maybe, the ability to deploy on 6GHz. I also believe that Wi-Fi will eventually come and complete any of the new 5G cellular deployments which will increase the already overwhelming demand for the Wi-Fi technology. The future is bright and I am excited about it!
What are your biggest challenges?
I really love what I do, so sometimes works doesn't feel like work, and I could go on for hours and hours. I love it but, sometimes, it can be dangerous as I would end up spending less time with my family. Thankfully, my wife is there to remind me that I really need to stop or take a break and go spend time with the family. Otherwise, I don't really have big challenges, I like to see them more as opportunities to learn more.
If you could have ONE super power, what would it be and how would you use it?
I travel quite a bit for work, so for me, I would love to be able to teletransport myself (and my family) instantly wherever I need to be. No time wasted in travelling. After a week of remote work, I could just be home instantly. That would be amazing :)! I could even bring my family with me easier and if they need to go back home for some reason, well they could just teleport themselves for a couple of hours.
What do you do in your spare time (hobbies)?
I spend most of my spare time with my family and try to make the most of it. It doesn't really matter what we do, as long as we spend quality time together. Apart from that, I love sports (especially soccer and tennis). So whenever I have the opportunity, I play some tennis and play soccer. I also watch a lot of soccer games and listen to a lot of soccer radio shows/podcasts.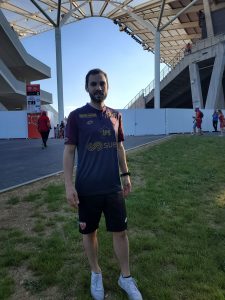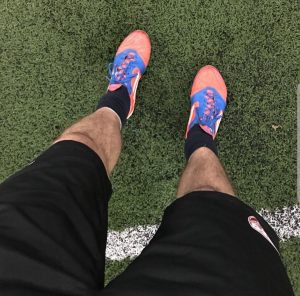 How do you manage your work/life balance?
I created my own company about 5 years ago and I made sure that I kept a lot of flexibility in the way I handle the work I do for my customers. That allowed me to be able to work from home a lot and stay close to my family. I also like to wake up early as much as possible to be able to get some work done before everyone else in the house wakes up. Then I can spend some time with the family before going back to work. Also, when I travel for work, I try to work more than usual so I can spend more time with the family when I get home. Sports is also very important for me to take my mind out of everything, so I make sure I go play some tennis or soccer to recharge the batteries.
What is your favorite movie? Tell us about some of your favorite parts or characters.
I don't really have a favourite movie, but I have some favourite kind of movies. I love french comedy and I love drama/true story movies. Unlike a lot of people in the IT industry, I hate science fiction movies (sorry :/). Examples of movies I liked: Mission Cléopâtre (FR), Intouchable (FR), The Pianist, Saving Private Ryan, Spotlight and Catch Me If You Can.
What is your favorite kind of ice cream? Do you eat it alone, with toppings, in a cone, in a bowl, out of the container?
Salted Caramel… or any kind of caramel ice cream! I prefer to eat it alone in a bowl as I don't like cones.
What are you most excited about seeing at the event?
Looking at the presenting companies, I am excited to see all of them to be honest. I would say that I am especially excited to know what Metageek has to present. I don't believe they have been presenting a lot so it might be something big! I'm excited about Mist as they are one of my favourite Wi-Fi vendor out there at the moment. I believe they will talk about their Wi-Fi 6 AP but I hope they have something else to tell us. And then, we will see who is behind the Secret Company! Otherwise, I am also very excited to spend some time with the other delegates. I know most of them but will be very happy to meet the ones I have never met before.
Thanks, François! Mobility Field Day 4 is happening August 14-16, 2019. Mark your calendars, so you can catch the presentations live!