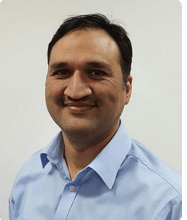 Faisal Khan is coming to Networking Field Day 22. This is not Faisal's first event. It has been a while since we've seen him as a delegate at an event, and we are excited to see him again! 
Connect with Faisal at @mfaisalk on Twitter, the web, or the Tech Field Day web site.
How did you get into technology and IT?
Well, electronics and communication always fascinated me since college life and that's how I chose bachelors in communication engineering.
What do you do now? 
I work for a Service Provider Mobily in Saudi Arabia. In my day job, I am involved in planning and architecture related to Optics, MPLS, SDN , SD-WAN, and NFV. The planning involves defining road-map, evaluate future technologies, evaluate vendors' solutions, etc. I also write on my blog at telcocloudbridge.com on topics related to SDN, NFV, SD-WAN, etc.
What is your favorite thing about what you do?
Learn, learn and learn
What are your biggest challenges?
My biggest challenge is trying to be a perfectionist in everything. This is sometimes bad in timely completion of my projects. I look for small details in things that otherwise would not mean a lot to a lot of people. But I would like everything to be perfect in order to say that I completed my project.
Where do you see IT going in the next 3-5 years?
I see a lot of room for artificial intelligence to grow further in next 3-5 years in every facet of communications and IT. There is a dearth of capable people in this field with the opportunities far outgrow then the available skill set. There is a lot of room to grow here. I would say that the fresh engineers may look and explore their future opportunities if this is what appeals to them.
What was your first computer? What was great about it? What is your go-to computer now?
Oh, that takes me to memory lane…386 desktop PC with the floppy drive working with DOS and copying files using floppy drive…I remember how we used to share files with the floppy drive. Then at one time, we heard that floppy drives can spread viruses so be careful using floppy from one PC to other. Still remember that time very well…
How do you manage your work/life balance?
It is difficult….maybe I am not good in that, but I do try to detach myself from my work at times. I would try to spend quality time with my family even if it is less time…and work on my personal goals. I do take regular walk and exercise.
If you weren't working in IT, what would you be doing instead?
Maybe singer…they say I have a good voice. 🙂
What do you do in your spare time? 
I write and read a lot… I have my blog! When I am not working, I am reading or writing for my blog.
What are you most excited about seeing at the event?
I think technology is a big part, but there are other things also. Over time, I have developed some friendships which have lasted; it is a good social opportunity.
What is the coolest thing you're working on right now?
I am trying to learn Linux and web design and I am thoroughly enjoying it.
Who inspires you?
My earlier boss; a source of inspiration, guidance, and knowledge for me.
As a child, what did you want to do when you "grew up"?
I always wanted to be an electronics engineer.
If you won the lottery and could retire, what would you do with your time?
I would travel the world with family.
Networking Field Day 22 is happening February 12-14, 2020. Mark your calendars, so you can catch the presentations live!