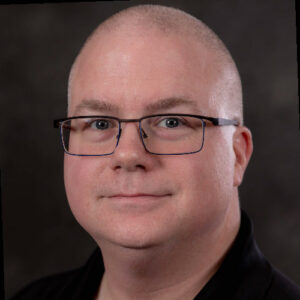 John Deegan is coming to Mobility Field Day 5 at the end of July! This will be his first time as a Field Day delegate, but he has been a follower of Tech Field Day for some time. John is a husband and father of four children. He holds CCENT, ECSE, and CWNE certifications. In addition, he tinkers around as a HAM radio operator!
Connect to John at @WiFi_John on Twitter, the web, or the Tech Field Day web site.
First things first. As a child, what did you want to do when you "grew up"?
I didn't want to grow up!
Seriously though, I think I most often dreamed of being a professional sports star. Or, failing that, some sort of a sports announcer or even sports talk radio guy. That lasted till I was in about high school.
What was your first computer? What was great about it? What is your go-to computer now?
First computer was an 8088. The great thing about it was that we had a computer, but that was about it.
My go to computer now, for work is a MacBook Pro. For personal projects, I use a Lenovo ThinkPad. Still there are days where I am able to do much of what I need only using an iPhone or iPad.
How did you get into technology and IT?
Right place, right time. I was an Elementary Education major in college, so IT is logical right? Actually, due to some circumstances, I wasn't going to be able to teach right away. I would have needed to go back to school for an extra semester or two, and I wasn't that enthused by it. For my graduation party, one of my mom's cousins RSVP'd, and when they got to talking, he mentioned he was working for a startup that was hiring…and of course, I needed a job. I started putting together the company NOC and help desk and learned on-the-job from there. The rest is history.
From being a generalist, learning to punch down cables and crimp my own, I worked the help desk. When the company moved from Centrex to an Avaya PBX, they wanted to hire someone to admin it, and I got to go back to the admin side of the shop. Working on the voice side eventually got me into project management and engineering, which got me into some really interesting projects and jobs.
Ultimately, that work opened doors to get me to where I am today and one of those doors got me into WiFi.
What do you do now in your current role?
My title is Senior Architect, Wireless. In terms of what I do, it's a bit of anything and everything related to WiFi. And just about anything else we might be asked to do. In terms of my usual days, they vary. I am part of a team, and we can all generally do the same tasks; survey, design, deploy, troubleshoot.
What is your favorite thing about what you do?
We get a chance to do some really neat projects that many others might only dream about, to be honest. Working for who I do right now, we get to support so many different businesses which mean things are always interesting.
What are your biggest challenges?
For me personally, it's re-learning things. I started doing Cisco networking in the 1999-2000 time frame, but when I focused on voice, eventually I got out of the network space entirely (part by choice, mostly by job requirements). When I stopped being a manager of a team and got back into a more technical role, I had (and have) a lot of catching up to do.
Professionally, outside of learning and trying to get and stay smart, our customers can present many unique requests and requirements. The upside is, the challenges keep things interesting and tend to present learning opportunities frequently.
Where do you see IT going in the next 3-5 years?
A couple of months ago, this answer would have probably been significantly different. With a focus on WiFi, I expected things to get more into "wireless only" offices, with densely packed users.
Now, not so much.
I think the obvious short term trends will be toward RTLS and the idea of contact tracing, along with improving telecommuting as more and more work gets done remotely.
Beyond that, while it's not a prediction, I am most excited to see what the coming 6ghz spectrum provides us. The additional spectrum should be a great benefit to end users, though it will take a bit of time before we see the devices to support and benefit from that.
How do you manage your work/life balance?
This is a constantly evolving thing, especially now. A couple of months ago, this would have been a different answer, because I was still going to the office more days than not.
With us now working from home, I'd argue the work/life balance has improved. I get to be home for dinner, and I can take lunch breaks and eat with the family. If the weather is nice, I can take a walk with my kids and dog, which helps clear my head and resets things nicely.
At the end of the day, I work whenever I can or need to, to ensure the work is getting done. But when I have a family thing or need some family time, I am getting better about leaving the phone out of reach so that I get that quality time.
If you weren't working in IT, what would you be doing instead?
Well, my undergrad degree is in Elementary Education, so I could say I'd be a teacher…maybe. I used to want to be a professional wrestler, but that ship sailed long ago when I tried and failed, miserably.
That said, I do enjoy writing and have been blogging for quite some time, either for a personal site or with a professional purpose. Nowhere close to quitting the day job and writing full-time, but I still enjoy it.
What do you do in your spare time? Do you have any hobbies?
I have four kids and a dog. What is this spare time you speak of?
In all seriousness, most of my hobbies lately tend to be projects that need to be tended to, more than anything else.
I've gotten really into fitness in the last couple of years, so if you consider walking or running (mostly on the treadmill) a hobby, then there is that.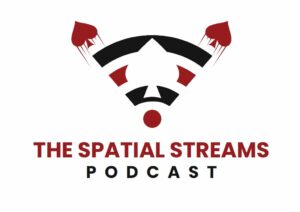 Otherwise, once I get "me" time (after the kids and dog pass out), I can usually be found at my computer either writing or working on a podcast. I have a personal blog, and I also do a completely non-technical blog covering professional wrestling.
As for the podcast, I am a co-host of The Spatial Streams Podcast, and while we did just kick it off in 2020, we tend to turn out an episode a week. Once we record, I get to spend some time editing.
So… I guess that covers my spare time?
What is the coolest thing you're working on right now?
I have been working on my home network a bit, just because I have been home and have had the time to do so. That gave me an opportunity to tinker with mesh a bit. I also have my eye on possibly tinkering with Cisco Mobility Express.
Work-wise, lots of focus on contact tracing, so it will be interesting to see how that ties into WiFi, depending on how we opt to do it.
Who inspires you?
Personally, my family… though I could say that they motivate me as much as inspire me. I want to do good for them, and that's plenty of reason to get out of bed and get to work each and every day.
Professionally, I could say I strive to do the best I can and follow the example set by many of the names in the WiFi world. Some people I routinely talk to for guidance would include Samuel Clements and Chris Avants, but that's just to name a few. There are plenty of others who drive me to do better, and I am sure those men and women know who they are. Our WiFi community is great in that regard.
What superhero movie character would you like to be and why?
Tony Stark, because he had lots of cool cars and money and an awesome suit of armor? Maybe? Plus, he's a geek, and I can relate to that.
Tough question! Especially because lately, we've got plenty of exceptionally done superhero movies to pick from. But as someone who didn't read comics outside of GI Joe when I was a kid, I credit the first Iron Man movie for pulling me in, so might as well go with Stark.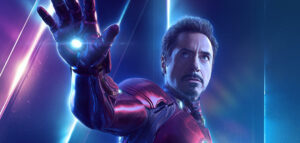 If you won the lottery and could retire, what would you do with your time?
I'd spend more time at the beach… even though sand gets everywhere. Seriously, I'd probably go back to school and finish off whatever I'd need to do to get my teaching credentials and then try to teach. Possibly work for a school teaching and supporting IT needs.
Or, just teach in IT, if the opportunity was there.
What are you most excited about seeing at the event?
Looking at the vendor list, and knowing how past events have gone, I think there's a lot to be excited about. I don't want to single out a particular company yet, but I know some of the returning presenters from past Mobility Field Day events have shown their latest and greatest innovations, so I am excited to see what that could mean for us in July. I know there may be a new company, or perhaps a surprise one, so I am excited to see what that means for us too.
Beyond that, I am looking forward to interacting with the other delegates, and seeing how the virtual setup plays out. Admittedly when I had put in to be a delegate, a major appeal was the personal interactions with the delegates and the representatives from the various companies. I am curious to see how those happen now.
Thanks, John! This has been great! See you soon on the live stream! 
Don't miss a minute of Mobility Field Day 5 happening July 29-31, 2020!