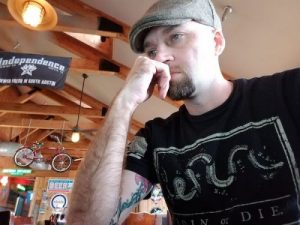 Join us as we get to know Brian Gleason and don't forget to connect with him at BytesOfCloud on Twitter, the web, or the Tech Field Day web site!
Brian was a first-time delegate at Networking Field Day 20, back in February, and will be at Tech Field Day Exclusive at Intel Data-Centric Innovation Day.
What do you do now?
I focus on the network technologies for an integrated circuit design company in Austin. I focus on network architectures and integration within LAN/WAN, wireless, and security disciplines.
How did you get into Technology and IT?
That's a long story, but, I'd dropped out of college and started working for an IT training company in Austin. The instructors were very kind and answered a lot of my questions. I started to see that tech was more than strictly programming. I started way back in the Windows NT 3.51 days!
What are your biggest challenges?
Helping other technologists see what "could" be for our network in support of business initiatives. I think technologists can make a huge impact on business success when done correctly and when we break through all the FUD (fear, uncertainty, doubt).
Where do you see IT going in the next 3-5 years?
I enjoy taking business needs and developing a technical solution. I think I will be in the VAR or vendor space working as a solutions architect.
What was your first computer?
Commodore 64
If you could have ONE super power, what would it be?
Flight.
What do you do in your spare time (hobbies)?
I teach firearms courses to individual and teams. Precision and tactical marksmanship is a passion of mine.
Please join us at Tech Field Day Exclusive at Intel Data-Centric Innovation Day on April 1-2, 2019!