Do you know David Penaloza Seijas? He is a network enthusiast, geek, passionate about networking and new technologies, and holds a laundry list of certifications! And we are excited that David will be coming to Tech Field Day Extra at Cisco Live Europe 2020 as a first-time delegate!
Connect with David at @DavidSamuelPS on Twitter, the web, or the Tech Field Day web site.
What do you do now? Tell us a little about your current role.
I work as a Lead Network Consulting Engineer for Verizon Enterprise Solutions. My job is to help customers with their networks along the design life-cycle. From design to implementation and optimization. I focus on Cisco SD-WAN, NFV, and Cisco ACI.
What are your biggest challenges?
People with closed minds. I have learned over the years to refine my communication skills, so I could not only deliver my messages properly, but also reduce the likelihood of being misinterpreted. It almost caused me to be fired some years ago, as my manager did not like my direct delivery. He felt offended.
It has happened many times that I get these comments that push me back: "you are too young for this" or "you are going too fast" or "the company is not ready for your speed" – it has been always between my and the promotions or opportunities I want to get to.
What is your favorite thing about what you do?
It might seem weird for some, but the best part of my job are the interviews with candidates, imparting training, and talking with my customer. The human interaction is the best part of my job. I wish it were more.
How did you get into technology and IT?
Since I was 9-10 years old, I was this random kid installing programs and games (a lot of The Sims!) in the computers and playing with their components. I broke my computer several times in the process of learning how to fix it. Spent hours playing games and looking for cracked programs to share with my friends and be able to play without paying the license of the games. People started asking me for help when things went south with their computers, and I did it for free for years, it was simply, my nirvana. Over time my domain grew and evolved to accommodate more complex topics, servers and networking.
What was your first computer? What was great about it? What is your go-to computer now?
It was a Pentium 3 with 256Mb of RAM if I remember well. It was enough to play The Sims, Diablo 2 and Quake! 😀
I haven't seen my "to-go" laptop, I might be too picky to choose one. My current laptop is an HP OMEN, not the best (16Gb of RAM) but it works well for now. I prefer to play in the consoles than in computers now. Planning to add another 16Gb to the laptop so it can hold many virtual routers for a little while 😀
Where do you see IT going in the next 3-5 years?
Although IT changes radically fast, people do not. I believe we will always have a mixture of new and old technologies. Some of them following the hype and some others just staying where they have been for the last 15-20 years (E.g. IPv6). We will have much more of the software-driven approach, programmability and intent-based networking, but it will, as always, rely on the fundamentals. That's what we should pay attention to, the soil on which all these fancy/shiny new technologies are built on.
How do you manage your work/life balance?
Sometimes I go out with my friends and recharge myself in their company. These days it is hard to just drop work. I have a high sense of responsibility, but my mind doesn't allow me to just drop things in the stop. It is an ongoing inner fight. I keep pushing myself to leave the office early and do other stuff, my friends help me to get out 😀
If you weren't working in IT, what would you be doing instead?
I think I could do in marketing or something where being noisy and witty can be helpful.
What do you do in your spare time? Do you have any hobbies?
I watch series, do exercises and try to travel as much as possible (I love to visit my friends at their home cities and pester them for a couple of days).
What are you most excited about seeing at the event?
P E O P L E – friends, socialization, company, hugs, smiles. For me, the event is – mostly – about meeting people I only meet once or twice a year, I do my best to make the most of it. At the events, I am a hugging machine and a chocolate dispenser.

What is the coolest thing you're working on right now?
Work to solve puzzles, integrate solutions, discuss with others and improve. Learning, it will always be the coolest thing I will be working on.
Who inspires you?
People who initially were my heroes. People like Peter Paluch, Daniel Dib, Denise Fishburne, Elvin Arias, Riikka Sihvonen. Before I knew them, they were what I was trying to get to; I wanted to be like them. They have been (and still are) leaders, influencers, minds to look up to. After I have met them (and they became my friends) they are not only the people I look up to, they are also overwhelming support that sometimes I do not feel deserving. Thanks to them I have reached the place where I am.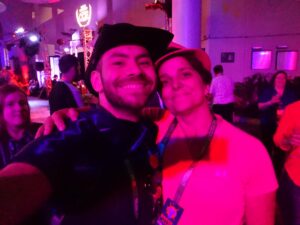 As a child, what did you want to do when you "grew up"?
I was an energetic kid with many things in mind, but I wasn't sure what I wanted to be. I always wanted to be big, to cause an impact (yes, that sounds so millennial – I am sorry), to influence somebody else's life so that person gets to higher places. I always felt like I want to be a supporter and a leader. Somebody who will not only have your back when you need it but will push you when your enthusiasm has left you. I enjoy my friend's victories and achievements like they were mine.
What superhero movie character would you like to be and why?
El Zorro 😀 – he was ridiculously rich and generous. Also, he had a cape and a hat. That guy was awesome! His sidekick (Bernardo) was perfect, he would never say a word!
If you won the lottery and could retire, what would you do with your time?
Most probably, I would be still studying and motivating others 😀 But with a house of my own – lol – and my friends and family with their needs covered.
Thanks, David! This has been great! See you soon! I hope you get lots of hugs! 🙂 
Don't miss a minute of Tech Field Day Extra at Cisco Live Europe 2020 happening January 28-29, 2020, from Barcelona, Spain!