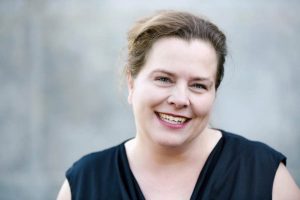 Mae Lessard is coming to Mobility Field Day 4 next week! Connect with Mae on Twitter, the web, or the Tech Field Day web site. 
What are you most excited about seeing at the event?
Everything, behind the scenes. I am very, very excited to be part of MFD4. I have been following Tech Field Day for quite some time, and was dreaming of being a delegate, really.
Hoping Cisco and Aruba can both present, as I am really interested in their offers. More IoT, more new stuff. More answers to my favorite questions: WHY and HOW?
How did you get into Technology and IT?
I got into IT because of my BFF but really, it took him a while to get me to like computers. Eventually I found myself trying to debug other people's systems because I was taking CAD classes…Picture this: a class full of Fashion Design girls working on HP-UX…not the best mix. My BFF and I would exchange on the bugs I'd see and he's give me a slew of commands to try and diagnose…I want from clueless to typing commands in a shell…but that's me, having to understand how and why and fixing stuff…
I then realized I was constantly gravitating towards computers in all I did. So I decided to try my hand at it and the rest is history…
What was your first computer?
IBM PS/2 286
Would you please tell us a little about what do you do now?
I am in charge of the wireless infrastructure for a university in la Belle Province. I also own a consulting business, writing and reviewing technical books and doing some networking jobs on the side.
Where do you see IT going in the next 3-5 years?
The trend I see in the last few years is a very quick adoption for some new techs. EX: everything cloud, without measure, without a thought about the impact. Right now everything is about automation, cloud, IoT. In reality, there is really only the right solution to a problem, if there is a problem. So this frantic run to these techs will slow down to make them well integrated instead of "another cool feature". But the convergence towards portable, mobile solutions to carry the world in your pocket or backpack will be stronger than ever.
What are your biggest challenges?
Office politics, funding, and our clients' requests which are sometimes….wacky to stay polite…
How do you manage your work/life balance?
Very badly, but I try to keep some time for my son and husband and for myself.
If you weren't working in IT, what would you be doing instead?
Studying IT? Seriously! If I wasn't working in IT, I would be studying it. Writing about it. Love writing and was lucky to have occasions to do it professionally. Have done translation, live and on paper, and technical edition which I also like to do.
If you could have ONE super power, what would it be and how would you use it?
Cure all diseases. Guess how I'd use it!
What is your favorite kind of ice cream? Do you eat it alone, with toppings, in a cone, in a bowl, out of the container?
Pistachio Pistachio by Ben and Jerrys. I cannot find it here, I would eat it in any type of vessel, as long as it makes it into my tummy!
Do you have any hobbies? What do you do in your spare time?
In my spare time, I like to hang around with my family. We love camping and skiing, birding and hiking! I also enjoy knitting and spinning (yarn), cycling, reading, gardening, baking, and cooking.
What is your favorite movie? Tell us about some of your favorite parts or characters.
My girly side would say Legally Blonde. I looove Elle Woods, who looks like a silly blonde but her sweet, caring nature, her courage and faith in life (plus hard work and smarts) end up triumphant. My funny side would say The Life Aquatic, because Steve Zissou has set his mind to find something others don't believe in to avenge his friend, and as crazy as everything is around him (including himself at times!) he manages to push through. And my Women in IT side would say Hidden Figures, because Katherine Goble is such an amazing empowered women, amazingly brilliant, intelligent, inspiring.
That's awesome, Mae! Looking forward to seeing you at Mobility Field Day 4 next week! 
Mark your calendars, so you can catch the presentations live, on August 14-16! Join the conversations, using #MFD4 on Twitter!