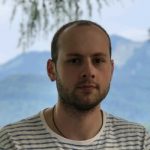 We are excited to welcome Rati Jokhadze as a delegate at the upcoming Security Field Day event in October! Rati is a CCIE Routing & Switching–certified service provider who has a fondness for data center fabrics and overlay architectures. You can see more about Rati on Twitter at @PacketStack, on the Tech Field Day Website, or at his personal site, https://packetstack.wordpress.com/ . Without any further ado, let's learn a little more about Rati!
How did you get into technology and IT?
I was interested in technology since my childhood, then Internet did the magic and I started reading and having conversations with others on technology forums, which eventually led me to land a job in the IT field.
What do you do now? Tell us a little about your current role.
I'm the Sr.Network architect of a system integrator in Tbilisi, Georgia. My job is to help customers with their networks along the design life cycle, from creating the HLD/LLD to implementation and optimization.
What are your biggest challenges currently?
Explaining to my relatives that I'm not a programmer.
Where do you see IT going in the next three to five years?
I see lots of room for expansion as the world becomes dependent on smart things and connections, so I guess we should expect to have driverless cars and xG connected toasters anytime soon.
What was your first computer? What was great about it? What is your go-to computer now?
It was an Intel Pentium 4 with rusty hard drives and floppy disk slots!
Now, it's a boring Macbook Pro.
How do you manage your work/life balance?
I don't; my wife does that for me.
If you weren't working in IT, what would you be doing instead?
I would be sitting in my chair speaking about philosophy with close ones.
Well, I technically do that, except for the fact that it's not my full-time job.
What do you do in your spare time? Do you have any hobbies?
Spare time is gold now. so I'm trying to spend time with my family apart from that I ski and speak inter-universal things.

What are you most excited about seeing at the event?
It's my first time and I'm excited to have the possibility to speak with vendor representatives and share my conclusions with other delegates.
What is the coolest thing you're working on right now?
The project that will determine my future in IT.
Who inspires you?
In my personal life my wife, brother, and parents. And in Professional life, they are a lot, mostly the ones who taught me the fundamentals and basics of computer and network engineering.
As a child, what did you want to do when you "grew up"?
Not a Firefighter, policeman, or doctor, so I don't know…
What is your favorite thing about what you do?
Understanding of why it is made that way.
If you won the lottery and could retire, what would you do with your time?
Preach…
Thank you for sharing, Rati! We are excited to have you on board as a delegate and are looking forward to seeing you in action at Security Field Day!
Rati will be attending Security Field Day, October 20-22, 2021, as a delegate, so be sure to tune in to see him in action!