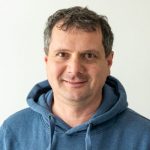 We'd like to welcome our newest delegate to the Tech Field Day community: Wolfgang Stief! Wolfgang joined us for his first-ever event at the Intel Data Center Update with Tech Field Day and is joining us again at the upcoming Tech Field Day 23! Wolfgang took some time out of his day to tell us a little about himself.
Check Wolfgang out on Twitter @SpeicherStief, on the Tech Field Day Website, or his website. Tell us about yourself, Wolfgang!
How did you get into technology and IT?
I was already interested in physics and mathematics in school. After school, I did an apprenticeship as an electrician (age 16), followed by (German) high school (Abitur). Then I went to university for a diploma degree in electrical engineering, specialized in power plants and power distribution. I had a few lectures in computer science (Intel 8086 assembler, Pascal, C), and my professor in CS recommended me to IBM Research in Rüschlikon (Switzerland). There I wrote my diploma thesis ("ATM to the desktop", which might have become a thing back in 1997 in converging speech and data via one protocol. In total, I spent a bit more than a year at IBM Research there. At IBM, I came in contact with Enterprise IT, Unix (knowing Linux already), and Networking, and decided, I will follow this route as an engineer after university.
I started a career in IT customer support at a small Sun VAR close to Munich, Germany right after my diploma degree. I've spent there 13 years, doing all things pre/post-sales support, rack mounting and cabling big iron, designing IT and storage architectures, debugging fibre channel networks, running storage benchmarks. The fun went away, once Sun was bought by Oracle, so in 2011 I decided to start a freelance career.
What do you do now? Tell us a little about your current role.
I have many!
First of all, I'm self-employed and most things I do have to do with explaining complex technology to people. My wife started a technology news site recently (data-disrupted.de), where we together try to build up a German-speaking news portal for Enterprise IT, especially for new and emerging technologies. That's also why I title myself "Technology Scout". Besides writing articles, we're also producing a news podcast (with an "explaining technology buzzwords" podcast planned) and video interviews with vendors. We especially like to talk with small and relatively unknown vendors from throughout Europe.
In 2012 I co-founded sys4 AG (https://sys4.de). The company builds IT infrastructure with open source software, our specialty is in the field of e-mail, DNS, and malware protection. As a part-time member of the board, I do mostly project planning and financial stuff there.
What are your biggest challenges?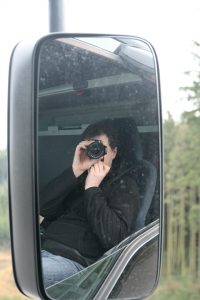 Finding time for all my interests. Not procrastinating too much.
Where do you see IT going in the next 3-5 years?
Even more cloud, mostly hybrid. There will always be data, which companies will keep on-prem, specialized software for certain industries, which can't be consumed from a cloud, or self-written software for very special purposes, which also can't be consumed out of a cloud. On the other hand, cloud techniques are way more agile and flexible than dedicated hardware, so companies will run their own on-prem cloud for special purpose stuff.
For several years already, we are in a transition from handmade IT towards automation and IT ops in a way, factories/mills are run (pets vs. cattle, infrastructure as code). I think the transition will go on for at least 3+ years. Running a secure and highly automated infrastructure will be a key component for business success in the future.
What was your first computer? What was great about it? What is your go-to computer now?
Commodore C64 as a gift when I finished school in 1986. Of course, playing games was one of the most important things at that time. What I didn't understand back then, but see today: C64 is – among others from the same time frame – a computer whose hardware can be understood in its entirety by one single person. That's not possible anymore with modern systems.
After many years of Linux, I switched to macOS a few years back and will stick to it as long as I'm in the content creation business. Currently, I use a 15″ MacBook Pro late 2014 (which will be replaced by an M1 Mac this year) and a 12″ MacBook Air from 2016 for traveling. I'm also tightly mounted to a 10″ iPad Pro for all things social networks, notes, brain dumps, and such. I still use an Android smartphone, but since LG just announced it will shut down its smartphone business, I might change towards an iPhone in the near future.
How do you manage your work/life balance?
It happens that I can earn my money by things I like to do. So I do more work/life blending instead of balance. Lucky enough, my wife does the same and thinks the same, which makes things in daily life much easier.
If you weren't working in IT, what would you be doing instead?
When looking at my education, I would probably hold a position in middle management at some power plant, power distribution provider, or a company, which produces gear for power plants and power distribution. It would most likely be in the area of renewable energy.
Also working for a technology-oriented museum would be cool. Or maybe something with sound engineering.
What do you do in your spare time? Do you have any hobbies?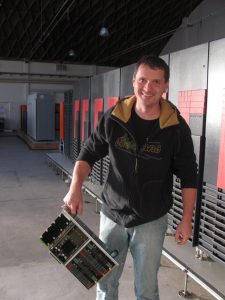 Living in a rural area, I enjoy walking and hiking in nature or riding my racing bike, accompanied by either podcasts or progressive heavy metal music. I play way too many drums and try to find at least some little time for photography.
I used to be very active in vintage computing: collecting, restoring, and running mainframes (mostly) from Control Data Corporation and Cray Research with a group of enthusiasts in Munich. I relocated from Munich towards the countryside a few years back, and thus had to give up the active part due to distance. Now I do more "paperwork" about computer companies and technologies of the past and give talks on topics which I find interesting.
What are you most excited about seeing at the event?
I love to learn about new technology and think/discuss, how technology might develop and influence our future.
What is the coolest thing you're working on right now?
Building up a news site (data-disrupted.de) and a company (sys4 AG).
Who inspires you?
People who think loud but speak quietly and have important things to say. No special or certain person/character.
As a child, what did you want to do when you "grew up"?
Always something technical with some big machinery. I remember car mechanic, train driver, and sound engineer (big and complicated mixing consoles).
What is your favorite thing about what you do?
Learning new things every day.
If you won the lottery and could retire, what would you do with your time?
Read books all day long. Hang around on the internet. Help make the world a better place. And play more drums.
Thanks for sharing Wolfgang! We are expecting to see your drumming skills at the next event! For now, we're just happy to have you joining the Tech Field Day community and participating as a delegate this week.
Now that you've had a chance to read a little about Wolfgang, come to see him as a delegate at Tech Field Day 23, April 21-23!