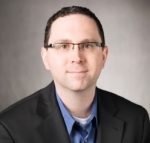 We're welcoming a new delegate to the Tech Field Day community at our next event: David Klee! David will be making his debut at Tech Field Day 23, and took some time to tell us about his experiences and journey through IT. 
Check David out on Twitter @KleeGeek, on the Tech Field Day Website, or his website. Tell us a little bit about yourself, David!
How did you get into technology and IT?
That's a great question. Essentially, I made peace with the fact that I'm a computer geek since well before it was socially acceptable. I got into technology at the age of six when I commandeered the TRS-80 at the library where my grandmother worked and spent time with my Dad and Grandfather who were both electrical engineering types. I built my first computer when I was eight when I scavenged computer parts together and made it all work. At the age of 10, I started repairing computers for neighbors and friends of the family, and made it a good source of income (and spare parts) through college. It kept me busy and learning, and I used the spare parts from upgrades to keep building new (to me) computers to keep exploring.
The shift into a more formal IT role started when I was in college, I started working on corporate networks and server systems for a few smaller organizations. I also did a year while finishing up college upgrading a corporate domain and rebuilding about 400 workstations for a state mental asylum (which brought with it a lot of interesting experiences in diverse working environments).
I fell into databases in high school, where I built out a database and reporting for a realtor friend of the family. I was hooked. After graduating college I took a job at a performing arts center where I wore multiple hats – Database Administrator, systems engineer, application developer (of which I am pretty miserable), and overall IT operations.
I started consulting in the database and infrastructure space in 2011 for someone else and launched my own company in 2013. It's been a fascinating journey, and one that (IMHO) has just started. My background lends to constant change, and it's how I named my company – Heraflux Technologies. Heracleitus is the Greek philosopher who coined the phrase "the only constant is change", and it's quite fitting based on my background and experiences.
What do you do now? Tell us a little about your current role.
I started my company in September 2013 with the purpose of using my wide and diverse background to provide consulting services and education around how database and infrastructure technologies complement – and usually don't play nice together – the C-level goals of using technology to improve business. I also recently started SQLibrium, an on-demand educational platform to provide streaming training to teach professionals how to work on these types of systems themselves.
Every day is different, and I love it. I've worked on some of the largest Microsoft SQL Server database platforms in the world, both cloud and on-premises. I get an absolute thrill out of performing tuning and availability architectures, as well as capacity management and licensing optimization, and quite enjoy watching the differences these tasks can bring to an organization's well-being (and budget).
What are your biggest challenges?
My biggest challenges are mostly from my innate drive to learn more about everything that I enjoy. That means I can never learn everything. It's difficult to keep up with the constant change in the IT industry, especially with all the focuses I want to be on top of (and stay in front of), such as Microsoft data platform, cloud, virtualization, physical compute, enterprise storage, and availability features. It's a constant battle to fulfill the needs of the customers with the need to do R&D in my lab to keep up and learn how to use the new advances in technology to solve business challenges.
Where do you see IT going in the next 3-5 years?
In three to five years, I see evolutions of the current trends in technology. Cloud is here, and organizations are moving their data to the cloud by the petabyte. Cloud data platforms continue to evolve and businesses will continue to struggle to adapt their practices and operations to utilize the full power of the cloud.
I'd love to say that intelligent automation of routine operational tasks are going to be automated to allow management staff to be more proactive in the systems they manage, but given how people have been saying this is happening 'next year' for the last decade, my goal is to see it moving forward, inch by inch, in the next three to five years.
I'm also hoping that software-defined data platforms continue to improve and that hybrid data platforms, meaning those that span both on-premises and in the cloud with a single management and telemetry plane, become more prevalent and powerful.
What was your first computer? What was great about it? What is your go-to computer now?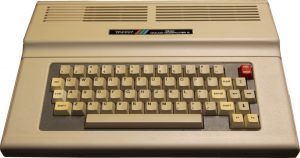 My first computer was a Tandy Color Computer 3, and I still wish I had it. After that, there was the IBM PCjr, and then a relative blur of parts bin specials, junk that I made work, and the strange overclocked rigs over the years. The great thing about each of these was that they were inexpensive (money was tight growing up) and that they provided fantastic learning testbeds. I was compiling Slackware Linux kernels when I was just starting middle school.
The current computer go-to's are a mix. Pre-pandemic, I would travel up to two-thirds of a year, so lugging around a large laptop was a mixed bag. The current laptop combo is a maxed-out 15" Dell XPS and an iPad Air. I've also got a custom-built liquid-cooled Core i9 at home with more than enough horsepower to make Excel work properly. I've also got a working desktop VM in the cloud to be used when needed.
I've also got a home test lab of two VMware machines, two Hyper-V machines, an Azure HCI rig, and about 110TB of mixed spindles and flash storage underneath it all. It's stretched to the cloud with another large footprint on both Azure and AWS. This gives me the absolute freedom to test, break, and validate virtually any scenario that I can think of with the data platform components that I work on every day.
How do you manage your work/life balance?
I prefer to call it 'work-life harmony'. I prefer to call it a work-life blend. Work is required to pay the bills and usually comes with a connotation that is negative. My love of tech and most of the tasks that I perform with my business don't really feel like work. There's always juggling, though. Balance means level, and work in IT, especially if you own your own company, means that some weeks are just not level. Customer emergencies, delays, the never-ending paperwork, and back-end tasks, etc., all contribute to an out-of-balance sense some weeks. That's where I just have to block stretches to refocus and think about the workload and making sure that I don't cross that line for too long.
If you weren't working in IT, what would you be doing instead?
I sincerely don't have an answer to this question. I have been working with technology for so long that I don't know what other thing that I enjoy that I could turn into enough money to pay the bills. I can honestly say that I'll never be out of IT. I've got so many interests that I can genuinely envision steering what I do with how the IT world is constantly changing for the rest of my career.
What do you do in your spare time? Do you have any hobbies?
The whole self-employment thing caused me to put some hobbies on the back shelf. Spare time is rare, but I love to travel and see new places and meet new people (pre-pandemic). I'll get back to that when the situation allows. I'm an avid follower of using technology in automotive applications to boost performance and efficiency. I also love to get into nature and do some light hiking with my camera.
What are you most excited about seeing at the event?
I'm really excited to see more of the bleeding-edge products and features so that I can get more tricks for how to leverage them to solve existing and new business challenges. It's also fun to be able to give back to the vendors with new ideas of how to improve their products and featuresets. It's self-serving because any of my recommendations that they implement are things that I can use to fix more unique challenges!
What is the coolest thing you're working on right now?
I'm currently working on a lot on the cloud-to-on-prem automation layers, as well as helping a few larger organizations modernize their data platform underneath growing web applications. We need to be able to scale outwards for an ever-growing customer base while keeping relational integrity intact, without massive shifts to their data design to decrease the development time. That, and we've got a couple of customers that we're helping to make more efficient databases in the petabyte ranges. It's always fun to play with big toys.
Who inspires you?
Who inspires me? Anyone that has made peace with who they are on the inside, is not ashamed of it, and use that to improve the lives of others inspires me.
As a child, what did you want to do when you "grew up"?
As a child, I always told my parents that "I want to be an inventor". I never knew quite what that meant, but when I hit my teens and started to build computers, I started to embrace it. Now, I can 'invent' reference architectures for data platforms that fill my needs to build and fix.
What movie character would you like to be and why?
If I had to pick a movie character in general, I'd love to be Doc Brown from Back to the Future. The scientific mind and looking to solve problems is right up my alley, and the pandemic hairstyle I'm rocking at the moment is going to start to look like Doc Brown any day now.
What is your favorite thing about what you do?
My favorite thing about what I do is to improve the situation for a given challenge. It could be making end users' days better because they have to wait less for a business-critical application to move to the next screen. It could be saving an organization millions of dollars in capital for a database license renewal. It could be telling them that you can take a serious problem-child process, such as data imports or analytics, and both simplify and improve the runtime of the task. It's certainly not glamorous or in the spotlight, but that's not what I want. I thoroughly enjoy the act of improving things with a measurable and impactful benefit.
If you won the lottery and could retire, what would you do with your time?
Retire? What's that? I enjoy what I do. If I were to win the lottery, though, I'd build up an even larger test lab somewhere and would spend my time traveling to out-of-the-way locales for changes of scenery, and then would park here and there and continue on educating the world on how to improve their data platforms.
Thanks for telling us about your and your journey, David! We're really excited to have you join the community at the upcoming event, and now we're going to dream about the ziplining photos you shared. We hope you're looking forward to being a part of the team as much as we are to have you on it!
Watch David in action at his first Field Day event, Tech Field Day 23 from April 21-23!